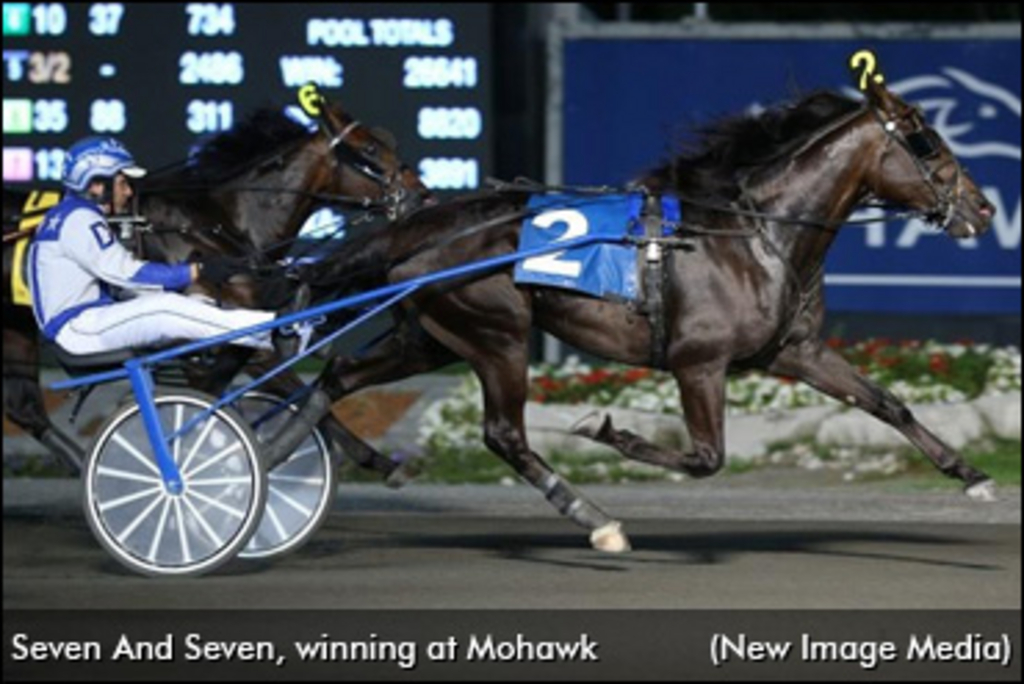 Published:
September 16, 2016 09:07 am EDT
Trainer Tom Durand heads into Mohawk's stakes program Saturday with Seven And Seven competing in the $350,000 William Wellwood Final and Dia Monde racing in the $638,000 Canadian Trotting Classic Final.
Durand is a part-owner of Seven And Seven, a Chapter Seven colt from the Kadabra mare Ally Oop, along with his wife June Durand and Allan Smith. The three entered him into the 2015 Lexington Yearling Sale. A small yearling selling in the evening of the fourth day, they bought him back for $17,000.
"My wife raised his dam, Ally Oop, and we raced her in her two, three, and four-year-old years," Durand said. "We liked the mare so much that when she was done racing we thought she could produce a good foal."
Ally Oop was shipped down to June's friend Lynn Baker, who operates a farm in Wooster, Ohio. When Seven And Seven was foaled, Baker didn't want to race him, so Durand, not knowing how much the colt was valued, entered him into the sale.
"If we were interested in him, we would buy him otherwise we'd let the public buy him," Durand said. "We bought him for $17[,000] but we really only had to buy half of the horse; we owned the other half.
"If we didn't like him and we didn't have our mare, we wouldn't have bought him back," Durand also said. "It's important to get the first foal from a mare off to a good start, so hopefully her future foals can go for a little more."
Training down, Durand noticed talent in Seven And Seven when he was traveling miles in the 2:30 to 2:20 range.
"Whenever I asked him to move and go around another horse, he did it lickety-split," Durand said. "I thought 'Man, he has a little kick to him', but you never know how far that's going to go… 2:20 is a long way to the races."
Seven And Seven had one qualifier before his first pari-mutuel start. Going in 2:01.2, Durand felt that he was capable of racing with stakes-calibre horses.
"He was really gritty in the way he chased down another horse who had already had one or two qualifiers, and he went after that horse like it was his job," Durand, who has driven Seven And Seven for all of his starts, said. "He felt like he knew what his job was; racing other horses came naturally to him.
"Usually two-year-olds don't like to chase horses down from the back, but this guy was kind of the opposite," Durand said. "He liked going after other horses, and he still does. That's how I've been racing him; let them get away and, when the time is right, let him go after them."
With six starts this season, Seven And Seven has won three, including a prelim and the final of the Define The World at Mohawk as well as his elimination of the William Wellwood Memorial, which he won off a pocket ride in 1:56.
"He's very slick gaited," Durand said of his consistency. "He's a little smaller, so he puts in more steps than the bigger horses, but when you hit the accelerator, he has another gear that he shifts into. I guess it's one of those things that they either have it or they don't, it's not like I've done anything special to make him that way; he's getting it out of his genes somewhere."
John Campbell will drive Seven And Seven in the final.
"He was a little tricky in his first few starts and had some trouble with the starting gate," Durand said. "He didn't want to get up close to it and get a little timid about it. I didn't want anybody forcing him in there and making a mistake, so I decided to take him out for a couple of starts and I'll keep him quiet and prevent anything bad happening.
"I was actually having fun driving him," Durand also said. "It was working out well and I was getting along with him real well, so I stayed on him. But I'm a trainer who drives. When you get to this level, there's a time to let somebody else take over; the little bird has to fly out of the nest on his own some day. This will be the day where he'll get to go out there and see what he can do with the master driving him."
Seven And Seven starts from post two as the 3-1 second choice on the morning line.
"I was looking over the program, and it looks like just about every horse in the race can trot in [1]:56 or better," Durand said. "In my experience with races like that, they turn out to be pretty tough, and is probably anybody's game. I don't see any horse that totally dominates in there, so the winner will be the one who gets a good trip and a little bit of racing luck."
Following the Wellwood, Seven And Seven is scheduled to race in the Valley Victory after a month holiday. He's not eligible to the Grand Circuit races at The Red Mile or the Breeders Crown.
"I don't mind the light schedule for a two-year-old anyway because the real big prizes are next year," Durand said.
Durand's other starter, Dia Monde, a Deweycheatumnhowe gelding from the Malabar Man mare Lady Bar, competes against divisional standouts Southwind Frank and Marion Marauder in the Canadian Trotting Classic Final. Also owned by the Durands and Allan Smith, he has earned $104,242 in eleven starts this season.
"He has grown into a big, strong horse," Durand said. "The Canadian Trotting Classic is exceptionally tough, and we're probably not at the level to win that race, but we're going to take a shot at it. But he seems to have a bright future ahead of him. We like and have had a couple of horses from his maternal family, and those horses get better with age. Hopefully he'll follow his family's traits. He has a brother [Looking Hanover] who has made a million dollars.
"He's a good Sires Stake horse," Durand also said. "We've got one more gold division for him and the Super Final. That'll probably be the year for him, and then we'll decide what to do with him; whether to race him in the winter or take him to Florida and get him ready for next year."
Dia Monde starts from post six for driver Randy Waples. He is listed at 20-1 on the morning line.
"I'm going to give him a very light work this week," Durand said. "I'm going to try and not train him in between to see if he races better with more rest. Once in a while, you have to experiment with these things, and I figured this was a good race to do that in.
"Realistically, I think the race is probably going to go in [1]:51, [1]:52, and that's kind of at the bottom end of his range," Durand said. "Everything has to work out for him, though he did trot in [1]:52.2 at Georgian Downs [in an Ontario Sires Stakes division], so it's probably something he can do if everything works out right."
Saturday's Maple Leaf Trot and Canadian Trotting Classic night is also 'Fan Appreciation Night' at Mohawk Racetrack. Fans on-track will receive a free program and their 'First Bet on Us.' The first 500 guests will also receive a $5 food voucher.
There will also be t-shirt tosses after each race and live music entertaining the crowd.
Doors open at 5:30 p.m. and first-race post time is 7:30 p.m.
The fields for the William Wellwood Memorial and Canadian Trotting Classic appear below.
$350,000 William Wellwood Memorial - Two-year-old male trotters
Race 5 – Approx. Post time 8:50 p.m. (EDT)
PP – Horse – Driver – Trainer
1. Real Lucky Day – Yves Filion – Richard Moreau - 20-1
2. Seven And Seven – John Campbell – Tom Durand - 3-1
3. What The Hill – David Miller – Ron Burke - 5-2
4. King On The Hill – Tim Tetrick – Jimmy Takter - 7-2
5. Victor Gio IT – Yannick Gingras – Jimmy Takter - 6-1
6. Mountain Of Love – Corey Callahan – Tony Alagna - 15-1
7. International Moni – Scott Zeron – Frank Antonacci - 12-1
8. Signal Hill – Randy Waples – Tony Alagna - 8-1
9. Jake – Sylvain Filion – Luc Blais - 15-1
10. Soho Hanover – Doug McNair – Gregg McNair - 20-1
$687,000 Canadian Trotting Classic - Three-year-old male trotters
Race 10 – Approx. Post time 10:30 p.m. (EDT)
PP – Horse – Driver – Trainer
1. Southwind Frank – Yannick Gingras – Ron Burke - 2-1
2. Waitlifter K – Brian Sears – Andrew Harris - 15-1
3. Bar Hopping – Tim Tetrick – Jimmy Takter - 5-2
4. Marion Marauder – Scott Zeron – Mike Keeling - 9-5
5. Tony Soprano – John Campbell – Bob McIntosh - 20-1
6. Dia Monde – Randy Waples – Tom Durand - 20-1
7. Winter Harbor – Jody Jamieson – Tony Alagna - 12-1
8. Brooklyn Hill – Corey Callahan – Jonas Czernyson - 20-1
9. Bee In Charge – Chris Christoforou – Per Henriksen - 15-1
10. Warrawee Roo – Sylvain Filion – Luc Blais - 20-1
To view the harness racing entries for Saturday at Mohawk, click the following link: Saturday Entries – Mohawk Racetrack.
(A Trot Insider Exclusive by Ray Cotolo)