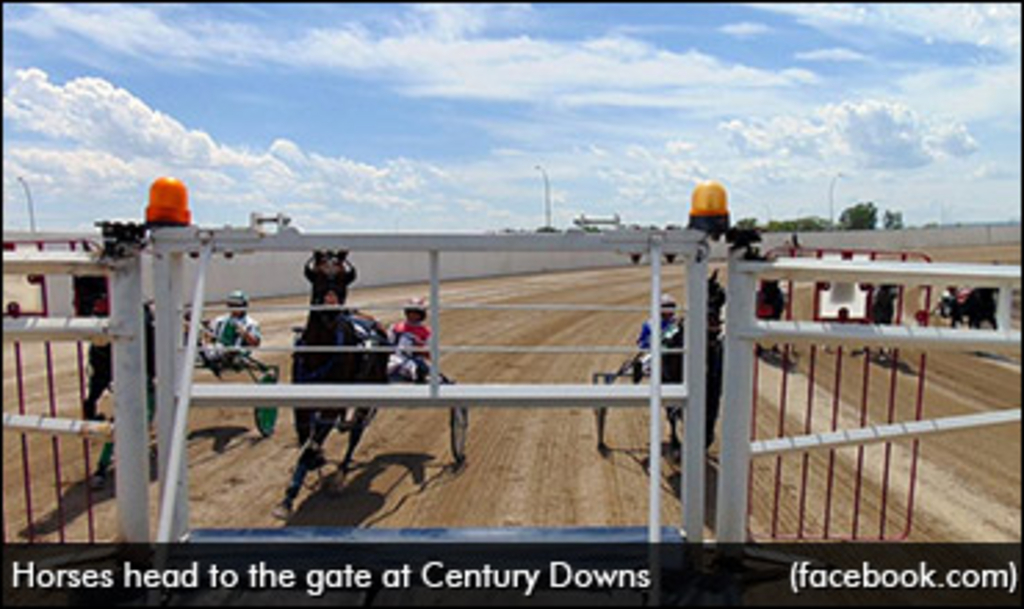 Published:
September 11, 2015 10:00 am EDT
Century Downs Racetrack and Casino is again set to showcase the top freshman on the grounds this stakes action this weekend.
The two-year-old fillies will do battle in three divisions on Saturday with a purse of $18,767 for the first two divisions and a purse of $19,067 for the third division in the Alberta Starburst Stakes while the two-year-old boys will also be contesting the Alberta Lonestar Stakes on Sunday in three divisions each with a purse of $18,767.
One of the probable post time favourites in the first division will be Divas Dragonfly (Mystery Chase – Midnight Diva). She looked awesome off her convincing win in the ASHA Filly Stake back on August 22 where she opened up four lengths using a huge third panel, reaching the three-quarters mark in 1:29.3, en route to her career-best 1:59.2 triumph. Divas Dragonfly, a Meadowlark Farms' homebred filly, is now three-for-six in her career with $26,046 in career earnings. In her next start against older foes, she was locked and blocked down the stretch crying for some racing room but got out a bit too late just failing to nail the favourite and winner that day Wrapped To Go. She looks to bounce back on Saturday as she gets to take on foes her own age.
"She closed real well in her start and came out of that race in good shape. We took a couple of days off with her so she can play in the paddock but has been jogging strong and is ready for this race," said owner/trainer Carl Archibald. "I think you have to watch out for the Rod Starkewski-trained Outlawtriggerhappy as she closed real strong against us in the ASHA Filly Stake," warned Archibald.
'Fly' as she is known in the barn may face some time off after this race but might see action in the Neal Adler Stakes on September 26.
"We have not made up our minds yet about paying the $2,800.00 supplement to get in the Neal Adler but it all depends on how she does Saturday," added Archibald. "We knew we had a great filly but we just did not know which stakes we were going to keep her eligible for."
Punters wishing to go a different direction for value might want to look at Phil Giesbrecht's Mystery Affair (Mystery Chase-Forbidden Affair), who finally gets a decent post.
"She has drawn the outside post in all her career starts and finally draws inside the car. She closed real well in her first two starts but you can excuse her most recent race as she was a bit sick. I expect her to be much better," said Giesbrecht.
Cuttingtothechase (Mystery Chase-Ideal Date) drew the tough outside post seven in the second division for driver Jim Marino. The Darryl Cutting trainee looked good chasing home Jet Blue Burner in ASHA Filly Stakes back on August 22, then tried tackling older fillies but had a tough first over trip and stalled out to finish seventh. Up to that point, she had hit the board in all of her starts and for this race she was assigned even money morning line odds.
Jet Blue Burner looks to be ultra-tough for her new connections in the third division. She was an impressive winner in her career debut in the ASHA Filly Stakes, setting a new track record for two-year-old pacing fillies stopping the clock in 1:58.2.
"I did not even have to pull the ear plugs that day. I could have gone 1:57 in that race," commented Manning. After that race Greg Manning's homebred filly was sold to his nephew, leading driver/trainer Travis Cullen. Jet Blue Burner's next race was against condition types but despite breaking twice she still ended up third.
"I believe some equipment changes were made which may have caused her to go off stride but she will be fine this weekend. She can handle any kind of track and she is so easy to train," added Manning.
Shifting to the boys on Sunday, a maiden looms large in the first division of the Lonestar Stakes and looks like the one to beat. Keep Coming (Mystery Chase-Keystone Divine) will try to finally graduate after a couple of nice second-place stakes finishes to the probable race favourites in the other two divisions -- namely Blue Star Jet and Outlaw Gettinrdone. The Dan Sifert trainee actually won the Horizon stakes back on July 19 but was disqualified and placed seventh.
The second division will see trainer Rod Starkewski send out Outlaw Gettinrdone (Blue Burner-Wind Dancer), who sports a superb 6-2-2-1 record banking $20,126 thus far. He will get the services of his usual driver, Bill Tainsh and is the 4-5 morning line choice off his 1:56.3 lifetime mark.
The third division will feature a star in the making. Blue Star Jet (Blue Burner-Movin Uptown) was a $12,000 yearling purchase. He romped in the Rising Star Stakes back on August 3 winning by six lengths winning in a snappy 1:56.4, and came right back to wire the field in the ASHA Colt Stakes in an even faster time lowering his lifetime mark to 1:56.
"He came back from his last win in good shape and he has been training real good," said trainer/driver Rod Hennessy. "He will be OK for this race and we are happy with post position two we drew."
Blue Star Jet won't have to wait too long to jump back into stakes action. We have him paid up for the Century Pace for two-year-old colts & geldings on September 27.
Hennessy also has Red Tornado in the second division but feels he is not quite ready to give his all. "He is still immature. He is not in the same league as these big boys right now, but I feel as time goes on he will turn out to be a nice colt."
Greg Manning will have another promising youngster in Royal Dragon (Blue Burner-Movin Uptown) who could very well be the main threat to Blue Star Jet.
With Travis Cullen calling the shots, Royal Dragon crushed condition types in an impressive 1:57 flat and seems to peaking at the right time.
"I have been very excited about this horse,' said Manning. "He has shown good grit and lots of promise. Both Royal Dragon and Jet Blue Burner are fresh horses and I am looking forward to the weekend."
With Cullen driving his own horse Canelo in this race, the driving assignment has been handed back to Phil Giesbrecht who also has liked what he saw in this horse.
"He was a little hot two starts ago so Greg put some ear plugs in and it seemed to settle him down. Blue Star Jet is the one we have to beat so we will see what we have with this horse," added Giesbrecht.
Century Downs Racetrack and Casino will feature ten dashes set for Friday (starting at 5:30 p.m.), followed by Saturday and Sunday's cards with a first race post time of 2:00 p.m. each day.
(A Trot Insider Exclusive by Frank Fontana)