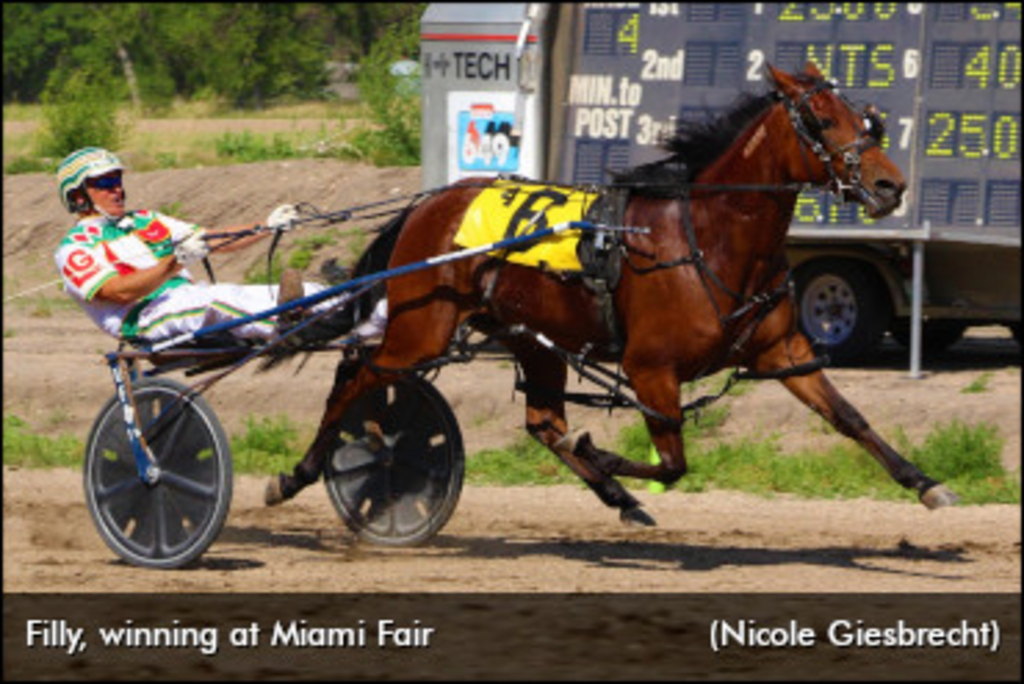 Published:
August 6, 2021 05:35 pm EDT
On Saturday (Aug. 7), Miami Fair will host the most prestigious stakes event in the province, the 73rd Manitoba Great Western Stake.
The Manitoba Great Western Stake was first hosted in 1948 where a horse by the name of Mac Armstrong emerged victorious. The current record for the fastest time is 1:58.4 which was achieved in 2000 by On The Knows.
The 2021 edition of the Manitoba Great Western Stake will be much different. In past years, heats were required to determine the winner. But with only five horses entered for the 2021 edition, there will only be one race to determine the champion. The five entries either come from trainer Trevor Williams or Richard Rey, and none of the entrants have ever finished out of the top three in a race at Miami Fair.
Rey trains Promise Me A Win, Millies Million, and Chase My Dust, and all three have been doing well so far at Miami Fair. "They all have been really good. We did some minor changes with Chase My Dust last weekend, and he responded well to it. Millies Million has been trying to catch Filly but her nose seems to be longer than ours and Promise Me A Win keeps improving every time."
Chase My Dust (Mystery Chase - Crush On Clinton) has only raced twice in Manitoba but has had an impressive start. In the young colt's two starts in Miami, he has finished first and second. His win came in the time of 2:02.4 and he has earned $2,186 in purses in that brief time.
Promise Me A Win (Armbro Baylor-Bubbles Promise) has made six lifetime starts and won twice so far with the fastest time of 2:00.4. The colt has made $4,761 thus far.
Millies Million (Armbro Baylor - Untold Millions) is the highest-earning horse in the race at $16,976 in lifetime purses. Millies Million was the top two-year-old in 2020 at Miami Fair and has continued her success into 2021. Millies Million has won six times in her 11 starts and has a lifetime mark of 2:02.1.
A longtime supporter of harness racing in Manitoba, Rey would like to see a stronger and more robust field for this year's Manitoba Great Western Stake but understands some other factors could be at play. "It's a little disappointing. It would have been nice to have all the three-year-olds in it. We have a lot of nice three-year-olds this year. It's just the way it turned out. I think the lack of entries has to do with the weather and all the smoke in the air."
Williams has the other two entries in the Manitoba Great Western Stake with Dawns Night Owl and the morning line favourite Filly. Dawns Night Owl (Andreoli Hanover - Dawns Early Rise) has won twice, and his fastest mile was 2:01.1. He has made $6,177 over his five lifetime starts and Williams is pleased with his performance to date but still thinks there is more to him. "He's a bit of a frustrating horse. He has loads of talent and hasn't been able to harness it all yet. He has been progressing really well."
Filly (Blue Burner - Miss Million Bud) has been the track star this summer. She is a perfect four-for-four heading into this stakes race. Her lifetime mark of 2:00.4 is tied for the fastest among the horses entered in this race, while her $10,781 in earnings from those four outings gives her the second best bankroll. "She has just been awesome since the get-go. She keeps getting better. She's just a treat."
Both Williams entries have had an amazing summer so far, but he wouldn't go so far as to give Filly the clear cut edge. "I actually don't know who's more talented between the two. Filly is more talented right now but as far as where their cap is, Dawns Night Owl could be better overall."
The five drivers going into the M.G.W. Stakes could also play a huge factor in the outcome. The current top driver this season at Miami Fair, Glenn LeDrew, will team up with Dawns Night Owl. LeDrew returned to driving after a four-year hiatus and has come back in full force. In 32 starts LeDrew has an impressive 20 wins, four seconds and four thirds for an amazing 0.736 UDR.
Don Howlett teams up with Promise Me A Win. Howlett was the top driver at Miami Fair in 2020 with 23 wins in 48 starts. This year he has four wins in 29 starts and is looking to add to his total.
Millies Million will have Michel Rey in the bike and they will look to upset the favorite. Michel has eight wins in 36 starts and sits only behind LeDrew in most of the driver stats this season.
Tyler Grundy has driving duties for Chase My Dust. Grundy has 28 starts and found his way to the winner's circle on eight occasions. Grundy won twice last Saturday at Miami Fair and looks to continue his hot streak.
Daryl Thiessen is set to team up with the 4-5 favourite, Filly, and continue his road to full recovery. He has made nine starts in Miami since returning from injury and has four wins.
Williams and Rey are the top trainers at Miami Fair in most categories. Rey has six wins in 18 starts and his horses have made $18,817. Williams has an astonishing 27 wins in 47 starts with more than $42,000 in earnings. The two trainers aren't new to this race either, both boasting multiple wins. Rey most recently won it in 2017 with Reys N A Rocket and Williams won in 2020 with Follow Your Nose. Both of these horses have since moved east and found success at higher levels. Reys N A Rocket is at Rideau Carleton Raceway and has won eight times from 13 seasonal starts. Follow Your Nose has spent time at Pompano Park and Pocono Downs, where she has won three times in 22 starts this year.
The five three-year-olds will go to post in the second race of this Saturday's (August 7th) card and will fight for their share of $6,425. The race day will begin at 3:00 p.m. central and 4:00 p.m. eastern. To view the entries for Saturday, click the following link: Saturday Entries - Miami Fair.
(A Trot Insider Exclusive by Trey Colbeck)