Published:
August 4, 2017 04:31 pm EDT
Trainer Ron Burke and his fellow owners of male pacer R J P were pleased with the horse's first performance for the stable when he finished fourth in his Adios elimination July 22 and even happier when he was third in the final last weekend behind Fear The Dragon and Huntsville.
They hope for another surge of good feelings Saturday when R J P races in the $334,325 Cane Pace for three-year-olds at the Meadowlands. The race, which features a 12-horse field going the extended distance of 1-1/8 miles, is the first jewel in the Pacing Triple Crown.
R J P is 5-1 on the morning line, behind favourite Huntsville at 9-5 and supplemental entry Downbytheseaside at 3-1.
"With him racing for the third week in a row, we're just hoping he's getting tighter and keeps getting better," Burke said. "We bought him because he was eligible to the Adios, but he's a big, good-looking horse that hadn't been over-raced. Those kinds of horses don't become available very often. It was nice to pick up a horse like that."
Burke shares ownership of R J P with the partnership of Mark Weaver and Mike Bruscemi, Jack Piatt II, and the partnership of Purnel Jones Jr. and Elizabeth Jones. The group purchased R J P, a son of Somebeachsomewhere out of Vysoke Tatry, from the stable of trainer Erv Miller on July 12.
R J P has won three of 18 career races and earned $160,210. He won a division of the Bluegrass Stakes last year.
In the Cane Pace, he will again see Huntsville, who has won six of nine races this year and was the 2016 Dan Patch Award winner for best two-year-old male pacer. Huntsville, the Ray Schnittker-trained Meadowlands Pace champion, is the No. 2-ranked horse in the Hambletonian Society/Breeders Crown poll and his three losses were second-place finishes to No. 1 Fear The Dragon.
Downbytheseaside, trained by Brian Brown, has won five of eight races this year. He finished second by a head to Huntsville in the Meadowlands Pace and was third behind Fear The Dragon and Huntsville in the North America Cup. His wins include the Art Rooney Pace.
The remainder of the field is Chip Walther, Art Scene, Lawrencetown Beach, Photobombr Hanover, Uffizi, Macs Jackpot, Filibuster Hanover and second-tier starters Ocean Colony and Santafes Coach. Lawrencetown Beach and Filibuster Hanover also are from the Burke stable.
"(R J P) is kind of a trip horse on the big track," Burke said, "so he's going to need a little bit of a battle to set up."
Burke has 17 horses racing on Saturday's Hambletonian Day card, including three in the day's main event, the $1.2 million Hambletonian Stakes. Burke, who finished second with filly Mission Brief in the 2015 Hambletonian and second by a nose with Southwind Frank in last year's event, will send out Dancer winner What The Hill (pictured below), Southwind Cobra, and Southwind Woody in the hopes of hoisting the trophy for the first time.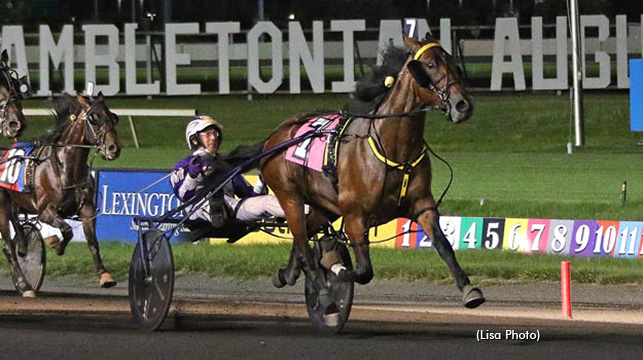 "It's kind of different this year because I don't have the favourite, but mine also aren't coming in with problems," Burke said. "They seem like everything is good with them. I have a feeling they're going to be as good as they can be. The question is whether that's good enough."
For free, printable Hambletonian Day program pages, click the following link: 2017 Hambletonian Day Past Performance Pages.
---
This story courtesy of Harness Racing Communications, a division of the U.S. Trotting Association. For more information, visit www.ustrotting.com.