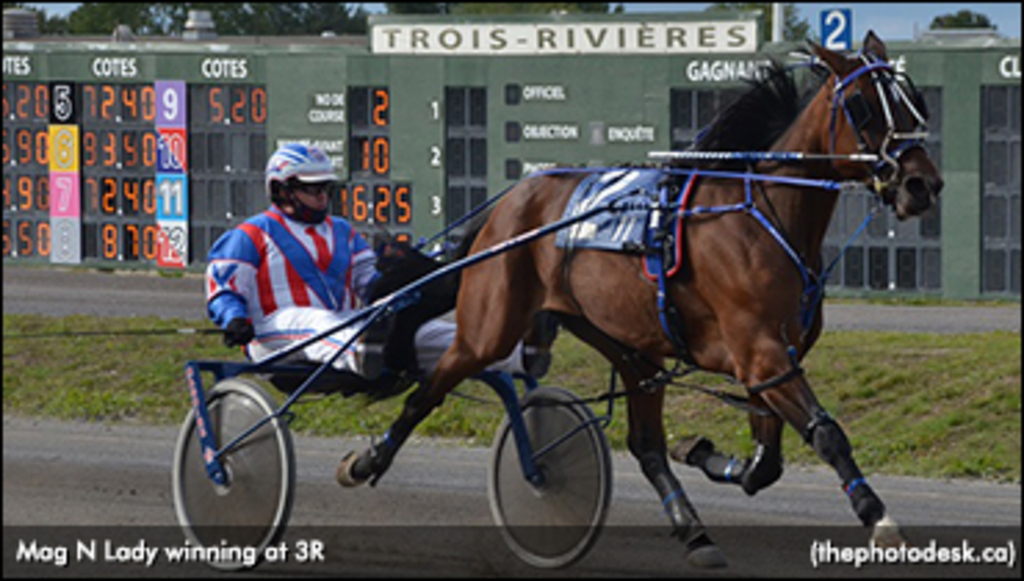 Published:
August 19, 2021 04:22 pm EDT
Coming up this Friday afternoon (August 20) at the Hippodrome 3R is the final preliminary rounds of the Breeders Trophy Series for three-year-old trotting colts and fillies.
There are two divisions, one for colts and one for the fillies, each racing for a purse of $8,000.
There are two major standouts in both divisions. The colt division takes place in the second race where Hall Win and trainer/driver Kevin Maguire is seeking his sixth win in just eight starts in 2021.
The homebred son of Angus Hall has now won five of his last six starts. He is owned by Ecuries Maguire Inc., and is undefeated in the series so far.
That could change on Friday.
His major rival, Emotions Riches, starts from post three for driver Stephane Gendron.
The gelded son of Wheeling N Dealin has three wins this year for owner/breeder Ecurie Provoquante. He also has four second-place finishes, losing three of those to Hall Win.
Two weeks ago, Emotions Riches was in winning form at H3R against older horses, wiring the field in 2:01.3.
Trainer Maxime Velaye hopes that his horse is ready to take on Hall Win again on Friday.
"He is feeling well and I hope he is ready," Velaye laughed. "I asked him but I'm still waiting for an answer.
"For sure he will need to be at his best because Hall Win is a much tougher opponent," Velaye said. "He does not compare with the horses that my horse beat last week.
"With the short field we have on Friday, the race may not have too much flow during the mile until the last quarter. Then they will sprint until the wire, so it should be a good battle."
The fillies do battle in the sixth race where Jerome Lombart's homebred daughter of Angus Hall, X O X O, is the morning line favorite and rightly so. She sports six victories this year with three of her last four starts wins, the fastest a lifetime-best 2:00.4.
X O X O starts from post two for Lombart. She is trained by Andreane Lapierre. Can she continue her winning ways?
Not if Jean Francois Maguire has his way.
He is the co-owner, breeder, trainer and driver of Mag N Lady, who last year was the best of her class in the Future Stars Series, winning the championship final and setting a track record for two-year-olds at H3R with a mark of 1:59.2.
But 2021 saw the daughter of Royalty For Life start late in the season for Maguire and with just two starts under her belt, she may or may not be ready to take on X O X O. She was second to her in their last start in the series.
"At the end of her season last year, I had a problem, but in agreement with my team, we waited until this spring to see if the problem was resolved or if it was always there," Maguire explained. "It was still there indeed. So, we had to have her operated on in Ontario, the delays were long, the post-operative also took time, so the filly really started her season late. She didn't have the preparation we would have liked, or the number of races we would have liked her to compete in.
"This explains why her season started late without the foundation we would have liked to have had. When we brought her here on July 30, it was only her second start of the season and nothing else since. I would have liked to have her race once last week, but I couldn't find anything for her.
"Ideally, I would like her to have raced at least once more after the start of this series, before the final. We will see if that is possible. I am confident that she will give us a good end to the season, even if it means racing her in Ontario later this fall. I have very understanding partners, like Richard Legris, who supports me in this process and who understand that there are sometimes ups and downs when you race horses.
"Jérôme Lombart's filly, XOXO, has a better preparation," he noted. "She already has 11 starts this year, that's quite a difference. But I am hopeful that I will soon make up for lost time and above all that she will be ready at the right time, on September 12, for the final."
The top eight point-earners will return to the Hippodrome 3R on Sunday, Sept. 12 for their respective $65,000 finals. It will be Super Sunday at H3R with purses of more than $500,000 making it the richest day of racing in Quebec for the 2021 season.
And by the way, Jean Francois Maguire and Kevin Maguire are first cousins.
Post time Friday is 4 p.m. A free race program is available at hippodrome3R.ca.
To view Friday's harness racing entries, click on the following link: Friday Entries - Hippodrome 3R.
(With files from Quebec Jockey Club)