Published:
August 19, 2017 04:26 pm EDT
Ontario's talented three-year-old pacing colts will light up Georgian Downs on Sunday evening in advance of the Innisfil oval's signature event, the $75,000 Honourable Earl Rowe Invitation Trot.
The pacing colts will kick things off at 6:00 p.m. in the first race and maintain the excitement in Races 4 and 7. Division point leader Dream Of Luck will be looking to pad his lead from Post 4 in the third $18,800 Grassroots division, squaring off against a field of seven that includes number three colt Kazimoto at Post 8 and eighth-ranked Frontier Seelster from Post 7.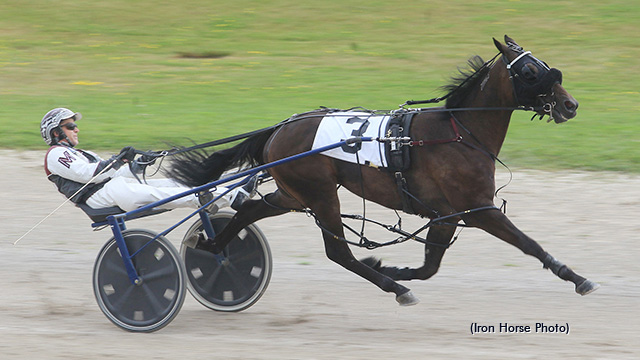 Three-year-old pacing colt Dream Of Luck, shown winning at Grand River Raceway on August 7 with Doug McNair in the race bike, will be looking for his third Grassroots win at Georgian Downs during Sunday's Honourable Earl Rowe Invitation Trot program, which features purses totalling over $174,000. (Iron Horse Photo)
"He trained down, as a two-year-old, as a top colt, but he needed time to mature," said trainer Jeff Gillis of Dream Of Luck's journey to the top of the standings. "I thought he was a Gold colt, I really thought he was a pretty nice colt, but through the winter he didn't really race very good at all. Since we put him on Lasix (May 21) he's been very consistent and he actually, I think he's getting better."
In four Grassroots appearances Dream Of Luck has recorded two wins, one second and one fourth for a point tally of 133, nine points ahead of rival Southwind General. The Camluck gelding also has a pair of overnight wins to his credit and has banked $57,009 lifetime for Mississauga, ON resident Gillis and his partners Mac Nichol of Burlington, Ont. and Gerald Stay of Buffalo, N.Y.
In addition to Dream Of Luck, Gillis will send out Major Athens in the Honourable Earl Rowe Invitation Trot, getting Post 6 for the Race 9 contest. The Andover Hall son comes into Sunday's test off a pair of seventh-place finishes south of the border, but Gillis is hopeful that the winner of $758,855 lifetime is poised for a sharper effort.
"He was racing really well until we went down to Ohio (June 10) and I didn't think he raced very good there and he's struggled a bit in a couple recent efforts, but he schooled well and I'm happy with the way he's heading into the race," said the trainer, who conditions Major Athens for Howard Taylor of Philadelphia, Penn. "Hopefully we have some trip luck. There's obviously some quality horses in there, but I think he can contend in there with the right trip."
It will be up to Georgian Downs' leading driver Bob McClure to find the right trip for both Major Athens and Dream Of Luck. Sunday's appearance will be McClure's first behind both horses, but Gillis is confident in the young reinsman's ability to put the pair in contention.
"I've got tremendous confidence in Bob. He's been very professional with me at all times, and I really appreciate that, and he's always well prepared, he's always watched replays," said Gillis. "I think he's got a bright future."
Elora, Ont. resident McClure has been on a roll in recent weeks, capturing the Dream Of Glory Trot at Hanover Raceway on August 5 and the Battle of the Belles at Grand River Raceway on August 7. In addition to Dream Of Luck he will steer Grassroots contenders Silverinyourpocket from Post 1 in the first race and Ugottobinittowinit from Post 5 in the second division.
Along with the exciting racing action, Georgian Downs has a full slate of family fun activities lined up for fans on Sunday, including a giant maze, Toy Story 3 inflatables, baseball pitching cage and air brush and glitter tattoos. All the excitement gets under way at 6 pm.
"It's a great night for racing, hopefully a lot of people come out," said Gillis.
To view the entries for Sunday, click the following link: Sunday Entries - Georgian Downs
(with files from OSS)