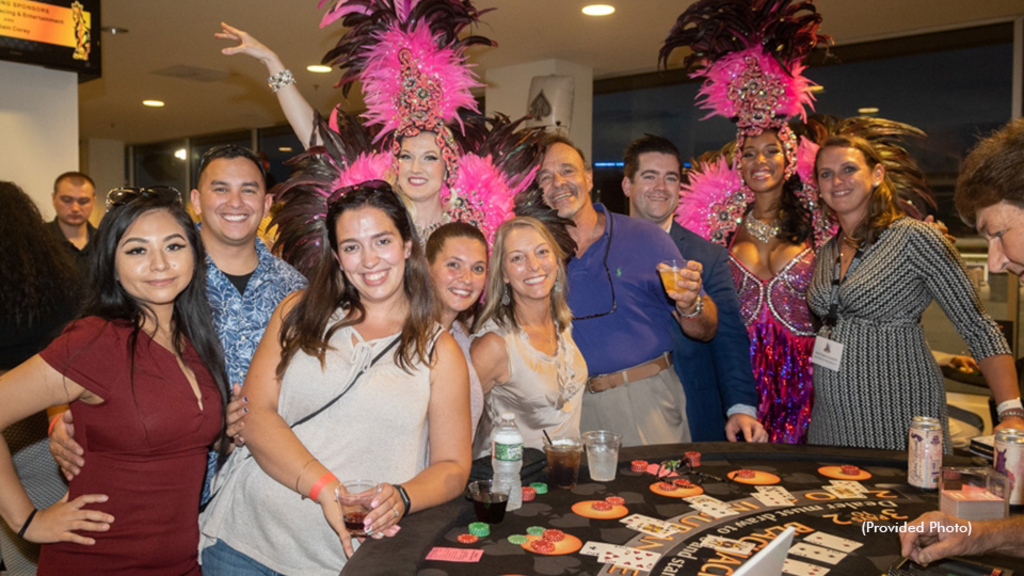 Published:
August 11, 2022 02:46 pm EDT
A fun night was had by all who attended the casino-themed fundraiser held on Hambletonian eve at the Meadowlands Racing & Entertainment facility in East Rutherford, New Jersey. The harness racing community once again showed its robust support for two of the sport's most important charities – the Harness Racing Museum & Hall of Fame and the Standardbred Retirement Foundation (SRF).
With presenting sponsorships from the Meadowlands Racetrack and the connections of last year's Hambletonian winner Captain Corey, the Aug. 5 event included nearly 200 people playing blackjack, roulette and craps and 53 competed in the poker tournament. Chips won at the table games were converted to numbered tickets and placed in the buckets representing 60 raffle prizes. The poker tournament was won by Jarret Przybylski, who will enjoy an all-expenses-paid trip to Las Vegas sponsored by Roberts Communications and the Meadowlands. The silent auction included New York Jets/Giants tickets, New York Yankees tickets and beautiful woodwork by Callie Davies-Gooch. Auction items were donated by the Meadowlands, Northwood Bloodstock & Bluestone Farms and Callie Davies-Gooch. The 75-inch TV door prize donated by Steve Schiffman was won by Richard and Renee Kauffman. Raffle prizes included an Apple Watch, Roomba, iPad, outdoor projector and 100" screen, Ring doorbell, patio heater, electronics, jewelry, autographed Yankees baseballs, $300 gift card for Big Dee's and baskets of wine and liquor. The entire event was generously supported and sponsored by The Hambletonian Society.
A buffet dinner and open bar were provided throughout the evening to go with a great night of racing and gaming. Arden Homestead Stable sponsored the bar and Hempt Farms underwrote the raffle prizes.
The important work of both charities was supported by Burke Racing Stable, Brett Bittle Racing, Bill Augustine, Freehold Raceway, Mazza Racing Stable, Dave & Mary Ellen McDuffee, Standardbred Breeders & Owners of NJ, Linda Toscano Racing Stable, Howard Taylor, Ferriero Stable, Sean Bier, BCAP, Millstone Veterinary Associates, Gaitway Farms, Millstream Farm, Team JC, Doris Nielsen and Joe Pavia. Their generosity helped to ensure that proceeds from participants' casino fees went directly to support the work of the Museum and the SRF.
A significant amount of money was raised and will be shared equally by the two charities. A formal cheque presentation will be made at the Meadowlands in September.
The Museum is planning new exhibits and conservation projects, and the SRF is caring for more than 500 horses. The money that was raised on Aug. 5 will be an important first step in achieving goals for both groups, and sincere thanks are in order for all involved.  
Charitable events have been part of Hambletonian festivities since 1991 and have raised a total of $1.4 million. 
(Harness Racing Museum & Hall Of Fame)