Published:
July 4, 2017 04:47 pm EDT
Thirty of the toughest wiener dogs in the province will shoot the cute-factor high through the summer sky this Friday night at Grand River Raceway.
The third annual Ren's Pets Depot Wiener Dog Races at Grand River Raceway is set for Friday, July 7. The event is title-sponsored by Ren's Pets Depot, and is also supported by Legendary Canine, Big Country Raw and the OLG Slots at Grand River Raceway.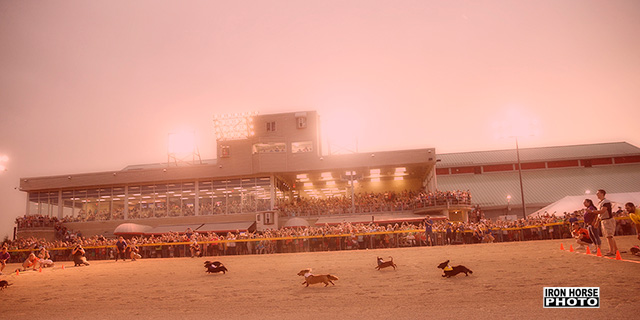 Defending race champion, Tank, is reportedly bullish about his chances for a repeat win.
Owned by harness racing driver James MacDonald and his wife Jenna, of Guelph, Tank was a winner by open lengths in last year's nine-dog Race Final. Jenna and her mother, Lynn MacDonell, raced the then two-year-old, 14-pound champ.
The couple confirmed the feisty canine was "drunk on victory" for weeks after the race. While his formal training resumed only recently, he has spent the winter chasing 1,000 pound Standardbred racehorses in pursuit of the speed and mental stamina required to clinch back-to-back titles.
Having been involved in horse racing all their lives, the MacDonalds say they've tried to temper Tank's confidence with a healthy mindset. "He's so hyped right now, I'm not sure he can even fathom defeat," said James. "Jenna and I have been trying to teach him about balancing his accomplishments with realistic expectations."
Tank will face four other three-year-olds and five two-year-olds in the middle qualifying heat. In all, the 30 Dachshunds range in age from eight months to 12 years, and from seven to 24 pounds in weight.
And, Tank isn't the only menacing name among the bunch: The Mighty Zeus, Froggy, Tank-A-Roo-Boo, Beans, Pedro Gonzales, Pippin, Hershey Kisses and Mustard are just a handful of the monikers that will have the humans-behind-the-wieners quaking in their boots.
The evening offers spectators four dog races and 10 horse races. A costume contest for small dogs has been added to the bill. Contenders will strut the red carpet following horse race #3 (approx. 7:15 p.m.). The winner will be determined by popular vote —- a combination of online voting through the track's Facebook page and an on-track ballot in the race program.
The horse races begin at 6:30 p.m. The three qualifying heats of wiener dog races will be contested consecutively starting after horse race #5 (approximately 8:00 p.m.) The top three finishers from each dash will advance to the race final, after horse race #7 (approximately 8:45 p.m.) All races are 20 meters in length. Trophy presentations to the top three finishers will take place after horse race #8 (approximately 9:00 p.m.).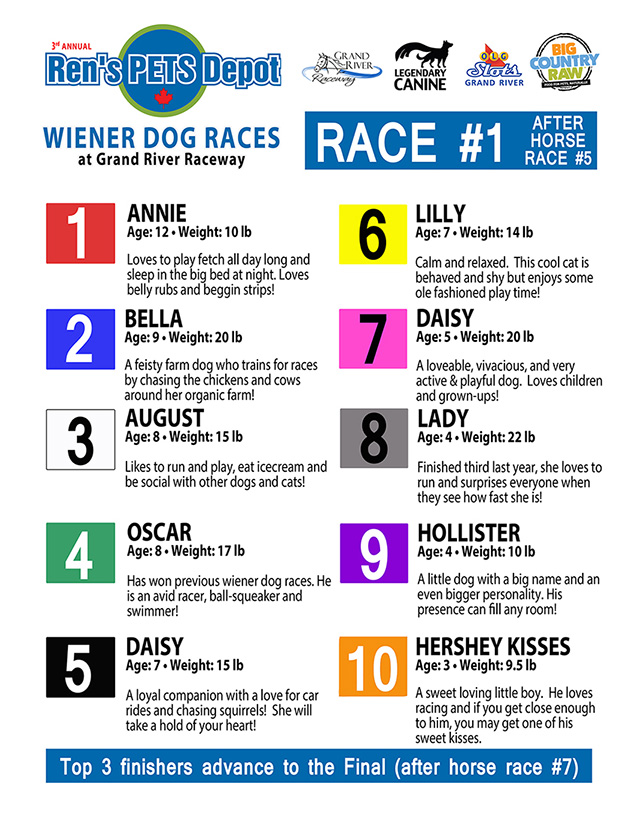 Admission and parking are always free. Although the Captain's Quarters Dining Room is sold-out, there are two other restaurants and outdoor BBQs available.
See the Grand River Raceway website for complete bios and photos of the 30 competitors.
(with files from Grand River)