Published:
July 24, 2020 05:05 pm EDT
This Sunday (July 26) Clinton Raceway will showcase the first race of the season for Racing Under Saddle (RUS).
There will be seven trotters and their riders contesting the $4,500 purse in Sunday's first race. Included in the field are three local riders and three local horses -- seasoned rider Natalie Elliott riding Talbot Eh Plus with the rail; newcomers Kendall Rahn with Bryden Houston from Post 7, and second-year rider Pam Forgie with her seasoned mount Massive Muscles.
Forgie also trains All Out Henry, who gets rider Karoline Nielsen from Post 6. Natalie, Pam and Kendall are all stabled at Clinton and are hoping to take advantage of their home turf.
RUS veteran Lets Leavem and Amber Lawson have drawn Post 2, and completing the field are two new horses on the RUS circuit: Dominuim Deo (Marielle Enberg) has Post 3 and Mystery Bet (Maggie Jones) gets Post 5.
"This year RUS had a very positive rule change regarding qualification," said the organization, "Now all riders with 10 rides in the previous three years only require one successful qualifying ride to retain their license for the current year." At this time there are currently eight horses and seven riders qualified with three more riders looking to qualify in the near future.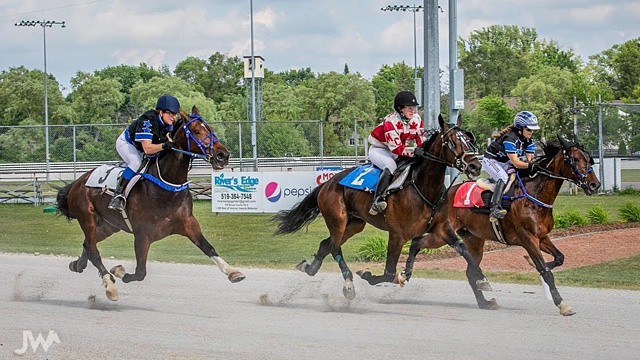 "RUS is always looking for new horses and riders. If you are interested in trying your horse, or becoming a rider please contact RUS President Pam Forgie for more information about a local rider contact."
Clinton Raceway's Sunday afternoon program gets underway at 1:30 p.m. Fans can download a program and watch the live stream on the Clinton Raceway website and can also go to RUS Ontario's Facebook or Instagram pages for a handicapper tip sheet.
To view the entries for Sunday's card, click the following link: Sunday Entries - Clinton Raceway.
(RUS Ontario)