Published:
July 23, 2021 09:30 am EDT
Fresh off her eye-popping 1:47.4 mile that set a new world record for four-year-old pacing mares at The Meadowlands last week in the $178,500 Dorothy Haughton Memorial, JK First Lady will ship to Plainridge Park on Sunday (July 25) to compete in the $100,000 Clara Barton Distaff Pace, where she has been made the morning line favourite.
Leading up to her record-breaking start, JK First Lady was racing very well this year. But she had encountered some very difficult trips that left her winless going into last week. Despite those tough outings her mare had been dealing with, trainer Nancy Takter knew JK First Lady's fortunes would soon change.
"I was really expecting her to perform well in the Haughton and knew she was sitting on a big race. She was loaded with pace in her last start in the Artiscape, but had to move late and a little wide down the stretch. So I knew she was coming in with real good form. She's a good mare; she just needed a trip to work out for her," said Takter.
JK First Lady's two- and three-year-old years almost mirrored each other for performance and earnings, and she was very good in both. But now, as an older mare, she looks like she could have really moved to the next level based on her performance in that Meadowlands win.
"Honestly, we were hoping this could be a career year for her, otherwise we wouldn't have brought her back at four because she's very valuable as a broodmare, too. The thing was at two and a little bit at three, she was a little hard to manage, a little bratty. We tried to keep her covered up a lot and teach her to race because she was a little aggressive early in her career. But now she's more manageable and can leave and let a horse go. If you would have tried to do that with her at three, she would have been off. She's matured with age," said Takter.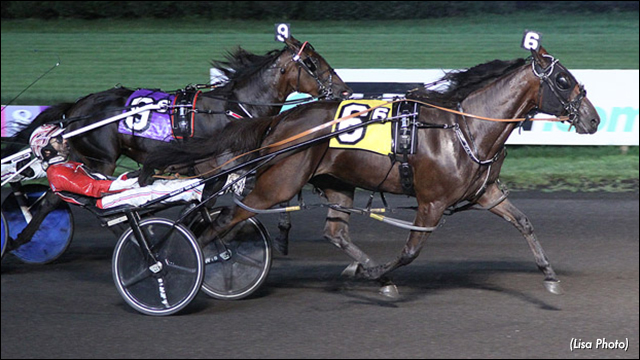 With JK First Lady coming in off such an impressive victory, it could be easy to overlook other mares in this race. And one of those is her Breeders Crown champion stablemate, Peaky Sneaky.
Peaky Sneaky was a bit of a slow starter at two and really never came on strongly at three until the last half of her season. In fact, she made 80 per cent of her total 2020 earnings in the last six starts of the year.
In her last three of those starts, she upset the heavily favoured Party Girl Hill in the Breeders Crown at Hoosier Park, finished second to JK First Lady in the U.S.S. Indianapolis at Hoosier, and finished second in the TVG final at the Meadowlands to stablemate Kissin In The Sand, who was later named the Dan Patch older female pacer of the year.
"Physical maturity had a lot to do with it; she had a lot of growing pains at two. And she wasn't always the soundest thing at two, either. If you would have told me she would still be around at four and a Breeders Crown champion, I would have said you were crazy," said Takter.
"Looking back, I would have bet my house that she was going to win the Breeders Crown. I told Yannick earlier that week she trained so well and was that sharp. She was racing good horses in that race, but also a really good group of older mares in the TVG final the next week. She beat Shartin N and Warrawee Ubeaut, and that's tough for a three-year-old to do."
However, this year didn't start out like last year ended. Peaky Sneaky finished third behind JK First Lady in that record last week — the best mile she paced since last November, and a potential turning point of her year.
"She came back from her vacation very fat this year. She had a good foundation under her, but she needed to tuck up and lose a little bit of weight. And with the racing so far, I think she's done that," said Takter.
"JK and Peaky are very comparable mares, and whichever one has the better day will outperform the other because, in ability, I think they are very close."
JK First Lady leaves from post two for driver Dexter Dunn at 2-1, and Peaky Sneaky starts from post six with Todd McCarthy aboard at 7-1.
The $250,000 Spirit of Massachusetts Trot is on Sunday (July 25) with post time for the first race set at 2 p.m. The card is also highlighted with the $100,000 Clara Barton Distaff Pace and the $50,900 Bert Beckwith Memorial Pace. With total purses in excess of $500,000, it's the biggest day of harness racing in Massachusetts this year.
(Standardbred Owners of Massachusetts)