Published:
July 20, 2018 10:40 am EDT
Eliminations for the $450,000 (est) Delvin Miller Adios Pace for the Orchids highlight Saturday's card at The Meadows, but fans of two-year-old racing will enjoy an additional treat: 66 freshman colt and gelding pacers will compete in a pair of stakes spread over 10 divisions worth a total of $312,112.
The stakes include the Albatross, a Pennsylvania Sires Stake, and a PA Stallion Series event. While most of the youngsters appear promising, two boast pedigrees that fairly jump off the page. Branquinho, a Somebeachsomewhere-Wild West Show full brother to 2016 Dan Patch Award winner Huntsville, leaves from post 4 in race 11 with Tim Tetrick driving. Proof, an undefeated son of A Rocknroll Dance-Ginger And Fred — who banked more than $1.9 million on the track — goes from post 4 in race 14 for David Miller.
The $50,000 Adios eliminations are set for races 12 and 13. The first four finishers in each elimination, plus the fifth-place finisher with higher career earnings, return for the July 28 final. The eliminations card also includes a number of "big score" wagering opportunities: a $7,500-guaranteed Pick 4 (races 4-7), a $5,000-guaranteed Pick 5 (races 11-15) and a $2,748.90 jackpot in the Super High 5 (race 15). First post is 1:05 p.m.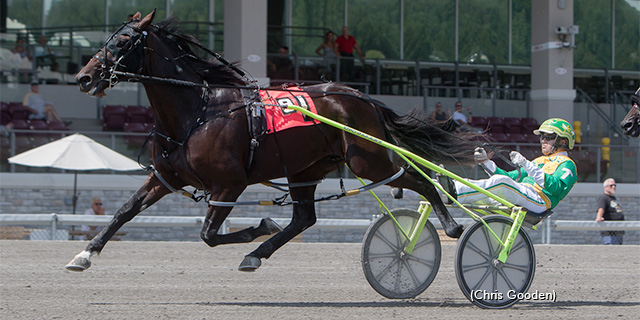 Huntsville, winning at The Meadows
Huntsville, whose 1:50 mile remains the fastest ever by a freshman at The Meadows, was the top two-year-old in the sport and earned over $1.7 million before retiring to stud. Ray Schnittker, who trained, co-bred and co-owned Huntsville, also trains, owns and co-bred Branquinho. In his first two starts, Branquinho finished third and fourth in a PA All-Stars split and a PASS leg, results Schnittker predicts will improve.
"Both those starts were okay," Schnittker says. "He's been a little bit slow coming; he hasn't been focused. But he's figured it out over the last couple weeks. He has a way to go, but I like him a lot. He's getting more aggressive now, starting to pick up the bit, although I don't think he'll ever reach the stage where he's as aggressive as Huntsville."
Schnittker named his colt for Luke Branquinho, a five-time world champion on the Professional Rodeo Cowboy Association circuit. The human Branquinho boasts more than $2.4 million in tour earnings, a total that Schnittker probably would consider just dandy for the equine Branquinho.
Proof is the second offspring of Ginger And Fred, who now is part of the Diamond Creek Farm broodmare band -— and in foal to Always B Miki. Diamond Creek retained Proof rather than consign him, a decision that already is paying off. Trained by Brian Brown, Proof won his PA All-Stars and PASS splits, the latter in 1:52.2, and Brown thinks he may improve Saturday.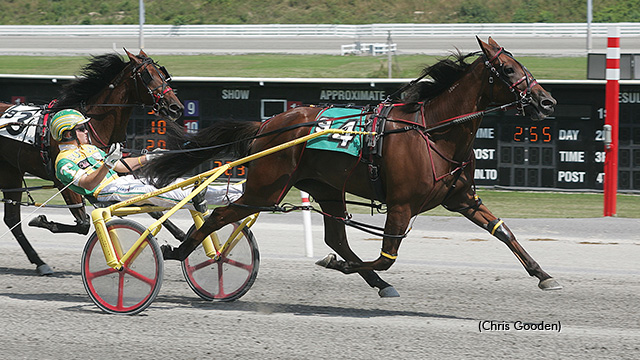 Ginger And Fred, winning at The Meadows
"He had a pretty good test last week because he wound up first over," Brown says. "There was never any doubt that he would win, but I thought he should have won it easier. When we scoped him, he was full of mucous. He should be better when we get him cleaned up."
Brown has two others in the Albatross: Jessicas Beach Boy (race 9, post 1) and Air Force Hanover (race 10, post 5), both with Miller aboard. He's especially high on Air Force Hanover, a Somebeachsomewhere-Allamerican Cognac colt — campaigned by Country Club Acres, Joe Sbrocco, Richard Lombardo and William Donovan — who captured a PASS division off a pocket trip.
"He was a June foal," Brown says, "but if you watch him now, you'd say he looks like a 'Somebeach.' He's getting a little more grabby, a little racier each time. He also scoped horrible. I hope I have them both healthy."
(with files from The Meadows)