Published:
July 19, 2017 01:09 pm EDT
Along with the Roosevelt Raceway Reunion, the Standardbred Retirement Foundation is holding a memorabilia and collectible auction of great harness racing pieces. From Dan Patch to John Campbell, the collection is very broad. There are halters from Camtastic, Andover Hall and several others, colours from current and past drivers, Harness Breeder catalogues from the early 1900s and so much more.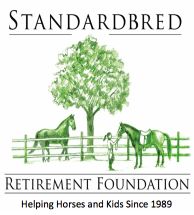 The auction will open on Friday, July 21 at 5 p.m. and because some of racing's greats will be bringing collectibles to the Roosevelt Raceway reunion, new items will be added to the auction by Sunday, July 23. The auction will close on Tuesday, July 25 at 9 p.m. Some items will be displayed at the reunion. To access, go through SRF's website (adoptahorse.org) or go directly to 32auction.com/RRR2017.
All are welcome to the Roosevelt Raceway Last Reunion event on Saturday, July 22 from 6-7:30 p.m. in the Skyboxes on the third floor next to Pink restaurant. Drivers will be signing autographs and are there to share the stories. Later in the evening they will also be available on the skirt of the track once again, but their time will be limited for autographs. Jeff Gural is generously gifting the event to the alumni. For non-alumni's, tickets are available at the door for $49 and will include a close up with the alumni, cocktails and hors d'oeuvres will be served.
The schedule for the evening for the alumni is as follows:
6 - 6:45 p.m. - Cocktails and mingling in the Skyboxes with a video by Trade Martin and Fred Hudson on the days at Roosevelt.
7 - 7:30 p.m. - Autographs during cocktails.
7:45 p.m. - Winners Circle for photographs with the alumni, and autograph session.
If you have questions or need help with bidding, please call 732-446-4422 Monday through Friday from 9 a.m. to 5 p.m. or email [email protected]. Donations are always appreciated, please contact us or visit our website at adoptahorse.org.
(SRF)