Published:
July 17, 2012 10:38 pm EDT
Grand River Raceway's Industry Day Celebration is just around the corner, and the event esteems to be one of the best days of the summer for harness racing fans. The richest card in the track's history will be complimented by a special Hall of Fame reunion and a unique bobblehead promotion.
Festivities and the TV broadcast kick off at 1:00 p.m. on Monday, August 6. Post time for the first dash is 1:30.
An 11-race card boasting nearly $700,000 in purses headlines the 22nd annual celebration of the harness racing industry. The main feature of the day is Grand River Raceway's signature dash, the Battle Of Waterloo. The race turns 15 this year and 158 Ontario-sired two-year-old pacing colts remain eligible for the $300,000 dash.
The fourth annual Battle Of The Belles will be contested for $150,000 and 167 Ontario-sired two-year-old pacing fillies remain eligible.
Leading up to Industry Day, Grand River Raceway continues to track the exploits of standout Battle hopefuls. Weekly Battle Watch reports are available at the Industry Day Celebration website
An Ontario Sires Stakes $130,000 Gold Final for two-year-old trotting colts will also be featured on the rich card.
Elimination races for all three of these stake events will be contested on Monday, July 30 (post time 7:05 p.m.). The top 9 finishers will advance to their respective finals on Industry Day.
As always, Industry Day offers many other harness racing delights.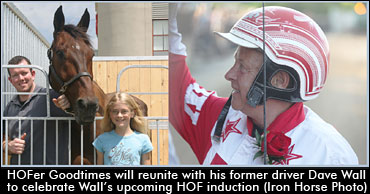 Canadian trotting superstar Goodtimes and driver Dave Wall will reunite for the first time in nearly a decade. The reunion celebrates Wall's forthcoming induction into the Canadian Horse Racing Hall Of Fame (on August 16). Goodtimes was inducted in 2004. Wall drove the world champion more than 100 times in his illustrious career. When the John Bax trainee retired in 2003, he was the richest Canadian-bred trotter in history with 50 victories and career earnings of $2.2 million.
Wall and Goodtimes will lead the post parades for races two and three on Industry Day. As a testament to the Standardbred's gentle nature and versatility, Wall will steer from the racebike for race two, and from the saddle for race three.
Fans are then invited to meet Wall, Bax and Goodtimes during a photo opportunity from 2:30 p.m. to 3:30 p.m.. Photos will be shot compliments of Grand River Raceway and the Canadian Horse Racing Hall Of Fame. Standardbred Canada's I Love Canadian Harness Racing Fan Club will also be on-hand with the Wheel Of Fame, awarding Fan Club merchandise.
Collectable Jody Jamieson Bobbleheads will be awarded to 200 lucky patrons to commemorate the 15th anniversary of the Battle Of Waterloo. Jamieson is a three-time winning driver of the race, including the first edition to be raced at Grand River Raceway in 2004. (The race was contested at Grand River Raceway's now defunct predecessor, Elmira Raceway, from 1998 – 2003.)
The afternoon includes a complete roster of side attractions, including:
The eighth annual Drivers' Edition of the Bouncy Pony Stakes.
Facepainting, balloon artists, bouncy castles, horse crafts, colouring contest, and pony rides (1:00 – 4:00).
Mascot Obstacle Race: Grandy The Grey looks to extend his win streak in the 2012 Mascot Road Show against seven furry foes (presented by Racetracks Of Ontario Marketing & Promotions).
Online Handicapping Challenge, presented by Standardbred Canada's I Love Canadian Harness Racing Fan Club (starting August 3).
$500 Cheerleading Squads: $250 awarded to each cheerleader representing the winning horse in the Battle Of The Belles and the Battle Of Waterloo.
OHHA's Best Of Show Competition: $500 in prize money to be won by the caretakers of horses racing on Industry Day, as judged in the following categories:

1. Best Of Show Head-To-Toe
2. Horse & Groom
3. Harness Shine
4. Above & Beyond

For complete OHHA Best Of Show details in PDF, click here
Special guests joining the Industry Day festivities include: Battle Of Waterloo Ambassadors Napoleon & The Duke Of Wellington; award-winning Clydesdale post parade leaders from Carson Farms; Joanne Colville with The Painted Pony, and the Fergus Pipe Band. The broadcast team includes Ken Middleton (WEG), Greg Blanchard (Western Fair District) and Darryl MacArthur of Grand River Raceway's Paddock Report.
(Grand River)