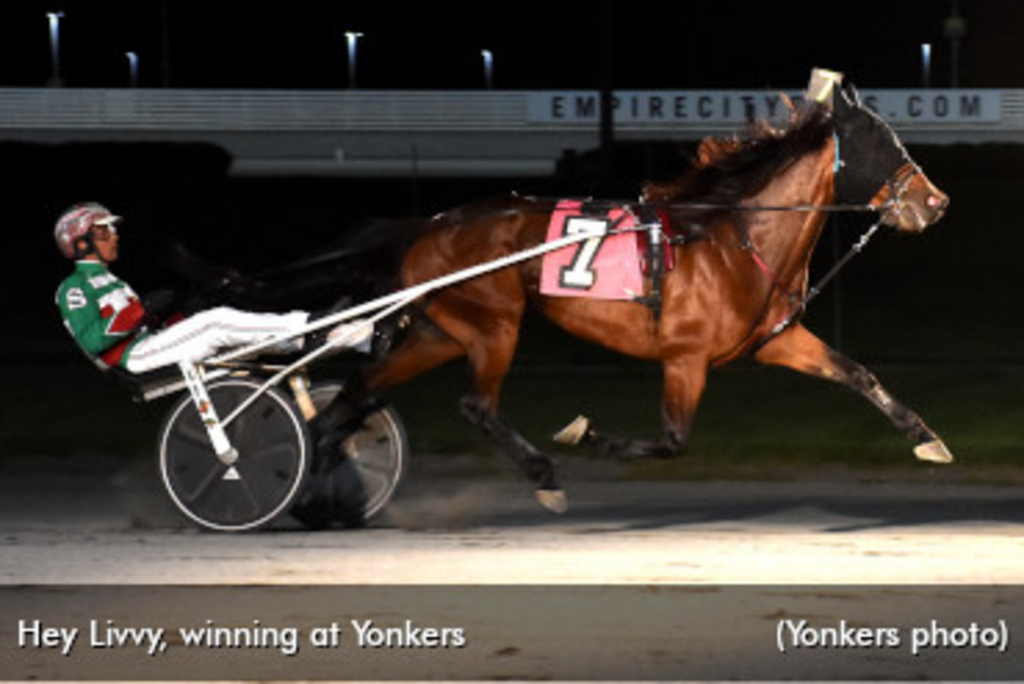 Published:
July 1, 2021 09:51 am EDT
When harness racing shut down in Ontario, Jeff Gillis faced a decision to either weather the storm at home or to ship his O'Brien Award-winning trotting mare Hey Livvy stateside. Despite her not being a great traveler, Hey Livvy went south and has since showed her class and impressed her connections while on American soil.
"In fact, she's not staked to a lot of things down here for that reason," Gillis told Trot Insider regarding his mare's difficulties travelling. "Last year, we paid her into everything and we weren't able to travel with COVID. She's not a great traveler to begin with, but necessity is the mother of all invention so we were forced to change her routine. That in part is what took her so long to get her started down here. I hesitate to use the word 'success' because it can be fleeting in this game, especially with trotters — temperamental ones even more so."
Hey Livvy's first mile of the year came on May 21 at Yonkers in a qualifier, where she strolled to a 1:53 mile in rein to new driver Jordan Stratton. Stratton remained in the sulky for her next two starts, the first a 1:54 win in the Open Handicap at Yonkers and the following another victory at that class but in a 1:52.4 mile — a track record for aged trotting mares.
In Canada, Trevor Henry was the driver tasked with keeping her together and was retained to drive courtesy a piece of ownership. Henry helped develop the six-year-old Donato Hanover mare into the Grand Circuit contender that captured the $220,000 Armbro Flight last year en route to divisional honours in Canada.
"I like to bust [Trevor's] chops a little bit about that, but the truth is that he was instrumental in getting her to this point. Jordan has done a phenomenal job and Trevor texted as much to me the other night. It's not an ego thing — we all want what's best for the mare. They've both done a fabulous job; I couldn't be happier."
Stakes-wise in the states, Hey Livvy is not nominated to any upcoming American Grand Circuit events. However, Gillis doesn't have any immediate plans to bring her back to Canada.
"We're going to kind of take it a start at a time," Gillis said. "She obviously will be coming home for the Armbro Flight and the Maple Leaf Trot, which are actually in reverse order this year. Her schedule between now and then is a little bit up in the air."
At the top class in Yonkers, Hey Livvy landed a handicapped spot from Post 7 in her most recent victory. She will move one slot wider on Friday (July 2) and start from Post 8 in the $42,000 undercard feature on Messenger Pace/Yonkers Trot night, carded as Race 10. Jordan Stratton again has the assignment on the 2-1 morning line favourite.