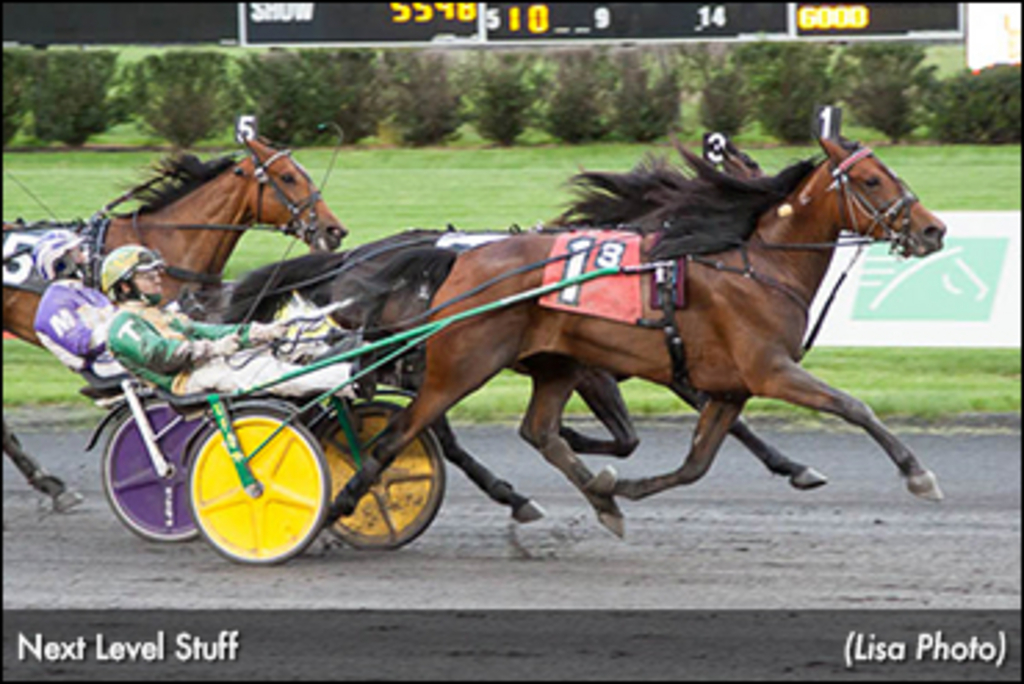 Published:
June 10, 2021 03:59 pm EDT
Next Level Stuff finished last season on a roll and her winter recess did nothing to halt her momentum. The four-year-old female trotter has two wins and a second in three starts this year and heads to Saturday's (June 12) third round of the Miss Versatility Series at The Meadowlands as the morning line favourite in the second of two divisions.
Over her past eight starts dating back to September, Next Level Stuff has six victories. Her triumphs include last season's Breeders Crown for three-year-old fillies and wins in both previous rounds of the Miss Versatility Series for mares.
For her career, Next Level Stuff has won 15 of 26 races and $683,066 for breeder-owner Runthetable Stables and trainer Jim Campbell. A daughter of Swedish-bred star Sebastian K out of Nantab, she has finished worse than second only three times in her past 20 starts.
"You've always got to hold your breath when one finishes up good whether they start back good," Campbell said. "So far, she has. She was on top of her game at the end of last year and she's carried that momentum forward. But she's had to because it's a tough group out there. She's got to be at her best."
Next Level Stuff, with regular driver Tim Tetrick, will start Saturday's Miss Versatility division from post four and is 9-5 on the morning line. The eight-horse field also includes the past two winners of the Hambletonian Oaks, 2019 champion When Dovescry (5-2 second choice) and Sorella (4-1).
Those three horses hold the top three spots in the Miss Versatility Series standings, led by Next Level Stuff's 70 points.
"We're not in with Manchego, but it's a tough group," Campbell said. "Today's racing is different from years ago because there are so many horses that can go fast. It all depends on what type of trip and how the race sets up that makes the difference whether you win or lose."
Manchego, last year's Dan Patch Award winner for best trotting mare, is 2-for-2 this season with victories in the Arthur J. Cutler Memorial and Maxie Lee Memorial. She is the 4-5 morning line favourite in the first Miss Versatility division, starting from post seven with Yannick Gingras driving for trainer Nancy Takter.
For her career, the six-year-old Manchego has won 35 of 58 races and $2.84 million for owner Black Horse Racing. She is a three-time Breeders Crown champion and two-time Dan Patch Award winner, with her previous trophy coming at age two. The daughter of Muscle Hill and Secret Magic is the fastest female trotter in history, with a time of 1:49.
Racing begins at 6:20 p.m. (EDT) Saturday at The Meadowlands. The Big M and TrackMaster have teamed to regularly provide free past performances for each race card. Past performances can be found on The Meadowlands website.
(USTA)