Published:
May 11, 2020 09:24 am EDT
As racetracks begin to plan for the return to Standardbred racing in Canada, our members should be too! It's not too early to begin to renew horse eligibilities, make your ownership transfers and renew your SC membership, if required.
With qualifiers and racing drawing nearer in your jurisdiction or at your racetrack, Standardbred Canada recommends that you begin to conduct your business early – online via eShop, or by email, phone or fax. We want to mitigate risks for everyone including our SC Field Representatives while ensuring efficient service for our members during the rush. Your co-operation is very much appreciated during these challenging and unprecedented times.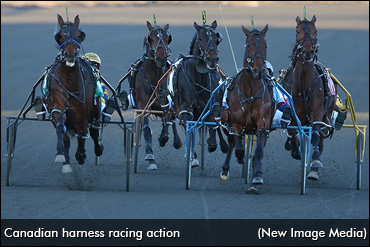 Our main office building remains closed to external visitors and guests but we are hopeful that we'll be back working from our head office in Mississauga soon! Mail is still being received and distributed, fax machines are being checked, emails are being read and phone calls are being answered as quickly as possible and our Member Services staff are available from 8:30 a.m. – 4:30 p.m. (EST) from Monday to Friday to assist you.
During the COVID-19 pandemic SC members can continue to transact business online via eShop, or by email, phone or fax. If you wish to download and print a specific form to scan and email, mail in or fax, click here.
Membership Renewal
For any SC member whose birthday is between March 19 and July 15, your membership has been automatically renewed until July 15, 2020. Please ensure that your membership fee is paid by July 15, 2020 to avoid expiration.
If your SC membership expired before March 19, 2020, you will need to renew your membership prior to your horse racing. Memberships that expired prior to March 19 were not part of the fee deferral program. This is for SC membership only, NOT APHRC. The APHRC membership expires on your birthdate and there is no extension.
eShop
You can conduct most of your 'horse-related' business with Standardbred Canada online via SC's eShop. If you have an SC online account and are logged in, you are ready to do business on eShop, and if you don't, you can register here to set one up.
Did you know you can pay eligibility fees, renew your membership, make stake payments, complete a mare report, complete a location report for microchipping, post a horse on the Horses For Sale board, pay an SC invoice and much more, right from the comfort of your home and laptop? Click here to see all of the services that are available through eShop.
For a directory of SC staff and their phone numbers and email addresses, click here.