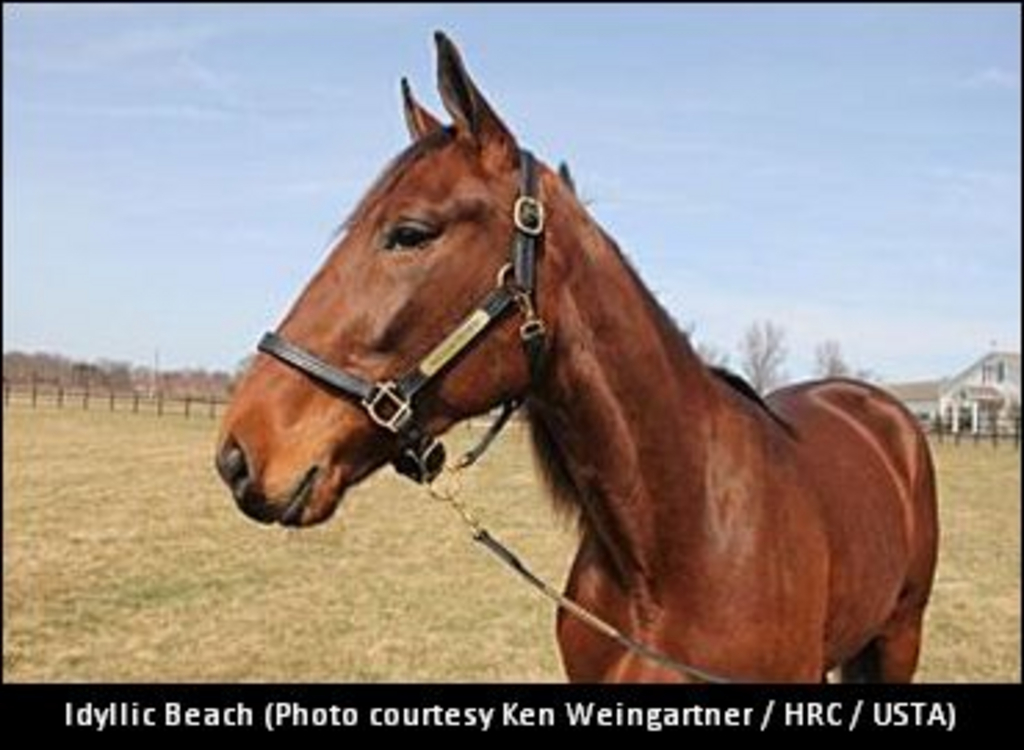 Published:
May 10, 2017 12:49 pm EDT
Last season's three richest two-year-old female pacers – Idyllic Beach, Someomensomewhere and Agent Q – will make their seasonal debuts on Thursday (May 11) when Harrah's Philadelphia hosts the first round of action in the Pennsylvania Sire Stakes series for three-year-old female pacers.
Idyllic Beach was the 2016 Dan Patch Award winner for best two-year-old filly pacer after capturing eight of 14 races and earning $647,678, second to only colt Huntsville among all two-year-olds. Someomensomewhere was the Breeders Crown winner and Agent Q was the Pennsylvania Sire Stakes champion.
Someomensomewhere and Agent Q meet in the first of Thursday's four Pennsylvania Sire Stakes divisions while Idyllic Beach is in the third division.
Idyllic Beach and Someomensomewhere are from the stable of trainer Jimmy Takter. Idyllic Beach hit the board in all 14 of her starts last year and her wins included the Shes A Great Lady and Kentuckiana Stallion Management stakes in addition to a division of the International Stallion Stakes.
Someomensomewhere was trained by Erv Miller last year. She won four of 14 races and earned $486,380 for then-owners Nick Surick Stable and KDM Stables. In addition to winning the Breeders Crown her victories included the Kindergarten Series championship and a division of the International Stallion. She is now owned by Diamond Creek Racing and A B M Stable.
Takter also sends out Somesleazetoplease in the fourth Pennsylvania Sire Stakes division.
"There are quite a few good fillies," Takter said. "I don't think anyone really stands out, but it's a deep group. The fillies I have are nice fillies so hopefully they can stay with them."
Idyllic Beach, by Somebeachsomewhere out of the O'Brien Award-winning Idyllic, heads to her opening day assignment off two qualifiers. She finished second both times. She is the 2-1 morning line favourite in her division and is owned by Christina Takter, John Fielding, Brixton Medical Inc., and Marvin Katz.
"She qualified good," Takter said. "She was maybe a touch flat her last qualifier, but we've been qualifying with an open bridle and she maybe didn't pay attention like she normally does. It's her first start of the year. They're going to need a couple starts to get their feet right. But I expect her to be right there."
Someomensomewhere won once in six races on five-eighths-mile tracks last year, but excelled on the big tracks at Lexington and the Meadowlands, posting three wins and two seconds in five starts. Harrah's Philadelphia is a five-eighths-mile oval. She is the 5-2 morning line choice from Post 1 Thursday, with Agent Q at 3-1 early from Post 5.
"It's going to be interesting on a five-eighths track," Takter said about Someomensomewhere, a daughter of Somebeachsomewhere-Omen Hanover. "She's kind of had a little problem in the turns in the past. We've been working on that. Hopefully we can get her so she can go shorter turns. I'm happy with how she's progressing."
Somesleazetoplease, a homebred half-sister to Takter's two-time Dan Patch Award-winner See You At Peelers, finished second twice in the Pennsylvania Sire Stakes series last season and finished her campaign with a win at Philly. It was her only victory in seven races. She has raced once this year, finishing second to four-year-old Twinkle at the Meadowlands.
"She raced really good," Takter said. "She closed very good (in :26.4). She's coming back very nice. She was on and off last year. But by the same token she was very immature in a lot of ways. It looks like this year she is a little stronger."
Agent Q, a daughter of Western Terror-Teenage Paige trained by Aaron Lambert for owners Martin Scharf, Rochetti Cassar Racing, and Robert Muscara, won three of 10 races last year and never finished worse than second. She missed by a nose from Post 10 in the Breeders Crown and also finished second in the Shes A Great Lady.
---
This story courtesy of Harness Racing Communications, a division of the U.S. Trotting Association. For more information, visit www.ustrotting.com.