Published:
April 28, 2011 11:18 am EDT
The Saskatchewan Sires Stakes Committee is pleased to announce that for the first time in the new millennium a race is now in place specifically for Saskatchewan-sired
colts. It has been a long time coming and breeders around the province are very excited about it.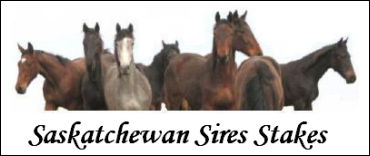 The SSS will be going ahead with its first stakes race in September, 2012, which has been approved by Saskatchewan Liquor and Gaming Authority. It will be an annual race and will feature eliminations which will be raced for a purse of $2,500. The final of the stakes event will be the richest stake race in Saskatchewan with a purse of $10,000 (guaranteed). The SSS event will surely help the province's breeders to promote their product, bring in top quality sires, and encourage owners to purchase or breed Saskatchewan-sired horses. Owners from any province can own colts eligible to these races.
An incentive program has also been introduced which will pay breeders (broodmare owners) an annual bonus based on performance of their Saskatchewan-sired horses. The new bonus structure will pay $100 for each win, $50 for each second-place finish, and $25 for each third-place finish of every race of a Saskatchewan-sired horse in the same calendar year up to and including age five (beginning in 2012). The dollar amounts may not seem like much compared to richer racing jurisdictions, but for those in Saskatchewan where purses are low it's exciting for local owners and breeders to have the opportunity to earn a little more than they are used to racing for.
The new program will also help increase the overall horse population in the province, and it's another positive step into rebuilding harness racing and the breeding program in Saskatchewan.
For more information, contact Saskatchewan Sires Stakes Committee Chairperson Elaine Bell 306-742-4415 or click here.
(SSS)