Published:
April 24, 2018 10:46 am EDT
Officials with Blooded Horse Sales have announced that more than 400 horses have been catalogued for the Spring Blooded Horse Sale, which will held at a new location.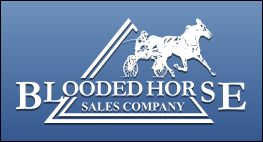 The sale will be held for the first time at the Champions Center in Springfield, Ohio – located at the intersection of I-70 & SR 41.
The sale is scheduled to take place on Tuesday, May 15.
There will be a vast array of racehorses and green prospects, as well as yearlings and broodmares. A used tack sale including stall gates, jog carts, race bikes and trailers will run from 8:30 - 9:30 a.m. and will resume with the bigger items selling after the last horse.
"We have a lot of competitive racehorses and very attractive green prospects," said the sale's manager, Jerry Haws. "There is also a nice selection of broodmares, some with foals by their side. I think buyers and sellers are going to be really happy with the facility change to Springfield. Everything is paved; the stalls are roomy, well-lit and safe; and there is dining and a bar adjacent to the arena."
Visit bloodedhorse.com to view the catalogue beginning Friday, April 27 or to order a copy.
(With files from the Blooded Sales Company)