Published:
April 18, 2016 11:14 am EDT

Sydney Seelster, (aka Pinky) the racehorse turned broodmare of Sydney Weaver that made headlines over the last few years, had her first foal on Monday, April 11 -- a beautiful filly by Pet Rock.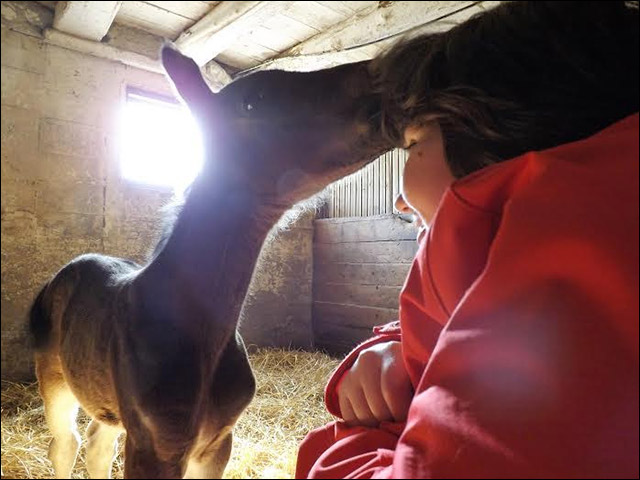 Sydney Seelster's first foal and Sydney Weaver (Lisa Weaver photo)
Beginning today, harnesslink.com is hosting a Name Pinky's Foal Contest and fans worldwide are eligible to enter.
The winning name selected will receive a free breeding to the multiple world champion pacing stallion Hes Watching, who stands at both Tara Hills Farm in Port Perry, Ontario and at Alabar Bloodstock in New Zealand. His stud fee for the 2016 season is at $5,000.
The breeding was generously donated by Muscara Racing Trust, Menary Racing, Inc., Brad Gray and Michael Guerriero. There are also second place prizes: $500 in wagers on WatchandWager.com for prize winners that are U.S. citizens residing in a state that does not have a conflict with WatchandWager.com, or dinner for two packages at Flamboro Downs for Canadian winners.
There is no purchase necessary to enter the contest. You must be age 18 or older and a legal resident of the country you live in. All entries must be submitted in English. Just go to the contest page and fill out all the required information.
"I want to thank Steve Wolf, Harnesslink, and everyone associated with Hes Watching (especially you Dave Menary) for putting this promotion together." Said Sydney Weaver. "I also want to thank Joe Bellino as he donated the breeding to Pet Rock for 'Pinky' and to the folks at Flamboro Downs for hosting the Name Pinky's Foal Contest naming night and to Watch And Wager for donating the second place prize!
"This is going to be so exciting," Sydney said. "My dad and mom and I have been thinking about all different kinds of names ever since we knew that 'Pinky' was safe in foal. But now I know that all my friends will come up with some super names for us to choose from."
Sydney Weaver is 15 years old and resides in Acton, Ont. She has been involved with harness racing for years, grooms horses, jogs them on the track, owns Sydney Seelster as well as a Thoroughbred racehorse, has already won major youth writing awards and does public speaking. Sydney also has Cerebral Palsy and spends most of her time in a wheelchair, but has never let her disability hold her back from achieving her goals.
The name for the filly cannot be more than 18 letters and/or spaces combined per the rules of the United States Trotting Association (USTA). Any name that has been used in the past 15 years cannot be entered. You can check on your name suggestion to make sure it has not yet been used by going to the free service at the USTA by clicking this link. Just type in the name of the horse and click. You will then see if the name is already being used. Please note that the name Seelster is an official Farm Name, and thus cannot be used in the competition.
Contestants have until midnight on Sunday, May 1 to enter the contest. Contestants are allowed to enter only one name for the foal per e-mail address and only one winner will be allowed per household.
Within one week after the deadline date, Sydney, Lisa and Don Weaver will select six approved names for the foal. Management at Flamboro Downs, where 'Pinky' raced for most of her career, has graciously agreed to hold a Name Pinky's Foal Contest Night at the track on Sunday, May 8 (Mother's Day), when the final name will be announced in a unique presentation.
If there is only one person that submitted the winning name, that contestant will be declared the official prize winner and receive the breeding to Hes Watching. If there is more than one winning entry with the same name, there will be a drawing to see who wins the Grand Prize of the breeding and then there will be drawing for the $500 WatchandWager.com second place prize awarded.
The official rules for the competition (in detail) can be obtained when entering the contest.
(with files from Harnesslink)