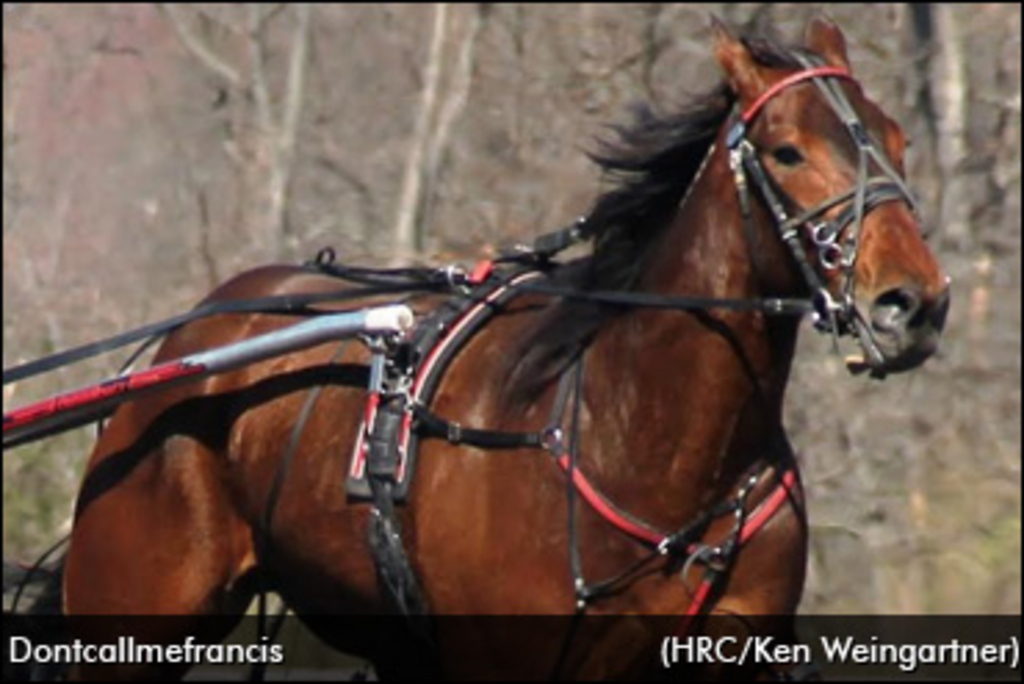 Published:
March 28, 2016 03:19 pm EDT
"I always try to buy a cheaper horse for myself and he had a real good head on him; he's got a real Rocknroll head. He's just a nice tidy little type of horse. His mother was a good mare. And he wasn't a lot of money, so he was a good little horse for me to buy."
Richard "Nifty" Norman thought he came away with a nice little horse when he purchased Dontcallmefrancis for $25,000 at the 2014 Standardbred Horse Sale.
He now thinks he came away with a little bit more.
Named after a popular South Jersey cover band, Dontcallmefrancis has won five of 11 lifetime starts and hit the board a total of 10 times, earning $64,058 for Norman's Enzed Racing Stable. On Tuesday, he will be the lone three-year-old taking on a group of four-year-olds in the $63,000 Sagamore Hill Pacing Series championship at Yonkers Raceway.
Dontcallmefrancis had two wins and a second-place finish in the event's three preliminary rounds, which put him in a tie with Rodeo Romeo for the top spot in the series standings. Dontcallmefrancis will start the final from post six with Jason Bartlett in the sulky. He is the second choice (7-2) on the morning line, behind Chris Ryder's Rodeo Romeo (2-1), who starts from post two with Brian Sears.
"He's had some decent draws and decent trips and it's worked out nicely for him," Norman said. "I didn't expect him to do that well because it's mostly four-year-olds, but he's done a good job. He's picked up $25,000 in three weeks, so I'm over the moon. He's drawn poorly for the final, but he's honest and he'll get a piece of it."
Dontcallmefrancis raced primarily at Freehold Raceway last season, where he won the New Jersey Sire Stakes Green Acres championship. He finished third behind Ideal Rocky and Boston Red Rocks in the Lou Babic and also was third, behind Katies Rocker and Ideal Rocky, in the New Jersey Futurity. Boston Red Rocks was the 2015 Dan Patch Award winner for best 2-year-old male pacer and Ideal Rocky and Katies Rocker were open stakes winners.
"He kind of surprised me," Norman said. "He went some good miles. He was a little bit of a sleeper because he never does anything flashy, but he's very consistent and very solid and he's always got pace.
"I was really happy with him. We didn't stake him a lot; I wasn't really trying to accomplish anything other than get him some experience. I didn't think he would be a stakes horse, but now it's looking like he might be. Not a big-level stakes horse, but he's turned out to be a handy little horse."
Although the majority of Dontcallmefrancis' races have been on half-mile ovals, Norman says the horse is not merely a small-track specialist.
"I just raced him at Freehold because of the Green Acres and because it was close to home," Norman said. "I think he'll be good on a big track, really, because he's not a speed horse; he's more of a grinder type of horse. I think a big track won't bother him."
Dontcallmefrancis is a gelded son of stallion Rocknroll Hanover out of the mare Nanny Withafanny, who was a Open-level competitor on the East Coast and earned $424,323 lifetime.
"I just liked the look of him at the sale," Norman said. "Usually I buy a horse like that as a baby and look to get them going a bit and sell them. I'll probably do the same with him if I get the right offer. He's a real sound horse and a real easy horse to train. He's worked out really good."
---
This story courtesy of Harness Racing Communications, a division of the U.S. Trotting Association. For more information, visit www.ustrotting.com.