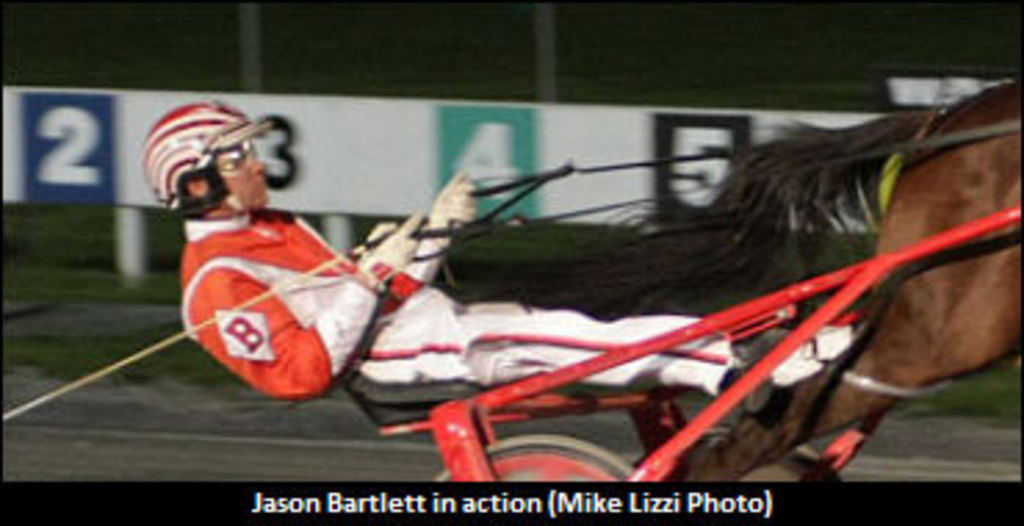 Published:
March 13, 2017 11:26 am EDT
On Monday, March 13, the Standardbred Owners Association of New York released a preview story for the second leg of the Sagamore Hill Pacing Series at Yonkers Raceway. The story was about driver Jason Bartlett, who has just been getting better as the years go by. In the story, Bartlett specifically commented on his Sagamore mounts. Hours after the story was released, Yonkers Raceway announced that it had preemptively cancelled its Tuesday program -- which featured the said Sagamore races -- due to an impending snowstorm. Regardless of the cancellation, the story still appears below, as it contains insight from Bartlett into a handful of his mounts.
---
Bartlett has topped the drivers' standings at Yonkers Raceway each year since 2014, and in 2016 he recorded his best season yet. At Yonkers alone, the 35-year-old reinsman drove 576 winners – twice as many as the next-winningest driver, Dan Dube – and his starters earned $8,412,709. Making his season more impressive, Bartlett logged these milestones with fewer starters than in his prior two years as the Yonkers' dash leader. Despite his success, Bartlett remains humble.
"Last year I was very fortunate with the trainers allowing me to pick the best horse," he said. "Trainers put me back on. Trainers have their horses in the right classes, which makes my job a lot easier. I've got to thank the trainers and owners, definitely."
Showing no signs of slowing down, Bartlett has already made 98 trips to the winner's circle in the first few months of competition at Yonkers this year. His mounts have earned $1,796,831.
"This year started off good. For me, staying healthy and being able to drive every night is the goal for me, and that's the same every year," he explained. "Everything else plays itself out. As long as you're there and able to compete every night, that's all you can ask for."
Contributing to that goal, Bartlett will drive in 10 of the 11 races on Tuesday night's (March 14) program, including all five divisions of the Sagamore Hill Pacing Series second leg. In the night's second division, he takes the lines of Never Say Never, a New Zealand import trained by Heidi Rohr who is three-for-three since coming to New York. Bartlett first drove him in a qualifier at Yonkers January 27 and has been on board for all three wins, two in overnight competition and the most recent last week when he captured his division of the series' first leg by a neck in 1:55.2.
"He was really good in the qualifier, he was just a little steppy, so I had to be a little bit careful with him," Bartlett explained. "But, we tightened the hopples up and he was good his first week. We really didn't know what we had because we couldn't get him in every week. Every time we put him behind the gate, he was really, really good."
So far, the four-year-old horse by Bettors Delight has won on the lead and from off the pace, including a victory from Post 8. He has drawn Post 2 this week, thus giving Bartlett the opportunity to judge the pace before committing to a strategy.
"I'm just going to see what plays out in the first turn because I know he can do it either way. I've got a great spot to see how it plays out early and go from there," he said.
In the night's fifth race, the second division of the Sagamore Series second leg, Bartlett will drive Breaktime Hanover. The four-year-old by Somebeachsomewhere is trained by Mark Ford and finished second to division three morning-line favourite Artmagic last week. Breaktime Hanover is a 9-2 morning line chance from Post 5 and Bartlett is being realistic about his chances.
"He's a nice little horse; handy for Yonkers," he said. "I think he's got a bad spot this week, but he has enough gate speed. He's a nice little horse that you can kind of play the gate with him."
Breaktime Hanover will face first-leg winner Awesomeness for the first time Tuesday. The son of Mach Three sports a five-race win streak and captured the Snowshoe Series final at Woodbine Racetrack on February 3. Bartlett drove against him last week and respects the competition.
"He gets around the track pretty well. He's kind of lazy until a horse comes up to his bridle, then he just takes off," Bartlett explained. "He drew another good spot, so he's going to be tough to beat I would say."
In the third division of the Sagamore Series' second leg, Bartlett will drive Rock Power, a horse co-owned by his wife, Kristen. Jason and Kristen own three horses in training, and a fourth, Rock Power – a favourite of Jason's who the couple bought and retired in Maine – caught their eye as a young horse with potential.
"He fit the non-winners of two. For the amount of money they go for and he showed a bit of talent. Basically because he fit those classes at first and we could get our money back quickly," Bartlett said of the reason for the purchase.
Rock Power's ideal trip is to sit the pocket and it's a move he's grown accustomed to. He's ridden the catbird seat in five of his last seven starts and earned two victories and three more seconds and thirds. This week, he drew Post 5 and is 4-1 on the morning line.
"I think he's better with a target. He's a lazy horse. I try to keep him in the pocket as long as I can and hope he finishes up," Bartlett explained. "He's not quick off the gate at all. It's going to be try to find a helmet and race him off the pace this week."
In Race 7, the final division of the Sagamore Series' second leg, Bartlett picked up the drive on Machiavelli, a horse he's never driven before. Although the Joe Holloway trainee finished sixth during the opening leg of the series, Machiavelli is three-for-six this year and is the 5-2 morning line choice from Post 4. Although he's never driven Machiavelli, Bartlett has been keeping an eye on him.
"I try to pay attention to the horses I'm driving against so I can put them in a spot they don't want to be or know their tendencies to try to put my horse in the right spot. For me, I study that a lot," he explained. "I try to worry about other people's horses: where they are, how to beat them, how to not put them in a good spot. That's what I concentrate on. It's made me a lot better as a driver over the years."
Bartlett doesn't only look for weaknesses in the competition. Before he drives a horse like Machiavelli for the first time, he looks for that horse's weaknesses, too.
"I really don't like watching the winning (replays)," he said. "I like to look at the replays where they show a circle and didn't finish up great, or they were used too hard early. You try to find the weaknesses of your own horses too so you don't put them in that spot. It works both ways."
The complete fields for the Sagamore Hill Pacing Series second leg are available here. First post time is 7:10 p.m.
(SOANY)