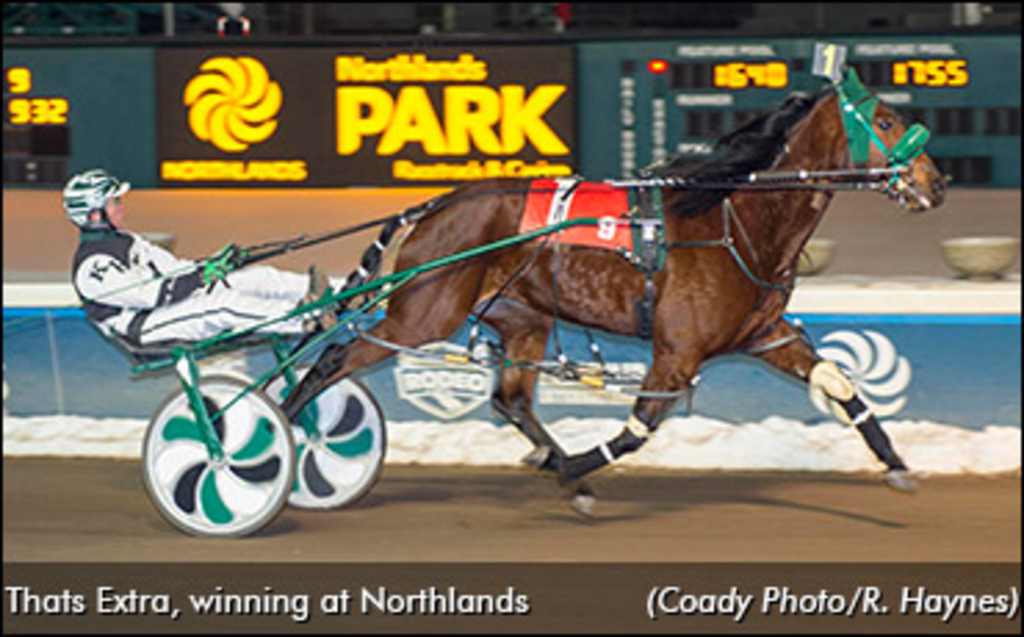 Published:
December 4, 2015 09:16 am EST
Post positions were drawn this week for the $70,000 Northlands Filly Pace and the $90,000 Western Canada Pacing Derby, rounding out Alberta's 2015 stakes season.
Three-year-old pacing fillies Cam Finish and Thats Extra punched their ticket to the big dance for this weekend's Northlands Filly Pace after very dominant victories in their respective $10,000 eliminations held last Friday. The race for place was, ironically, very even in both eliminations.
In the first elim Cam Finish (Keith Clark) parlayed a dream pocket trip en route to a convincing three length win, stopping the clock in 1:57.1. True Rock (Gerry Hudon), Wrapped To Go (Jim Marino) and Take On Da Boys (Rod Hennessy) all finished behind the winner, seemingly all in a line for place honours and all earned a spot behind the gate for the final. Watch My Luck (J.F. Gagne), the B.C. Breeders Stakes champion, was the odds-on favourite but was a non factor resulting in her very first loss of her young career.
Cam Finish (Camystic - Expensive Return) rewarded her backers by picking up her fourth win in 19 starts paying a healthy $17.20 on the win. Now with more than $55,000 in earnings this year for owners John Hind and Verne Rea, Cam Finish drew the outside post eight for the final which means she will need the trip but definitely has the talent to do it.
In the second elimination Thats Extra -- the horse that was pegged here last week as a horse that may be peaking at the right time -- looked solid beating her rivals in a final time of 1:56.4. The script of this race was very similar to the first division. Kelly Hoerdt had Thats Extra in the three-hole trip then pulled the trigger early and got the lead where the half was clocked in :58.2. She never looked back getting the three-quarters in 1:26.4 and going on to win by a convincing three lengths. The Allamerican Native filly was sent off as the 4/5 favourite and paid $3.60 to win.
The connections feel she is ready for the big show. "I don't have much to say except she came back good, has been training and she is ready to go," said Hoerdt. "My other horse True Rock is a nice filly but the post she was assigned will be a hindrance."
Remember Terror (Bill Tainsh Jr.), Blue Star Texas (Keith Clark), and My Villas On Fire (Philip Giesbrecht) all finished spread right across the track at the finish line, similar to the script of the first elimination and all earned a spot behind the gate for the final this weekend. Fire Watch (Travis Cullen), coming off a convincing win in the Super Finals back on October 31 at Century Downs Racetrack and Casino, finished sixth and was a non-factor in the race.
Thats Extra again drew the rail for the Northlands Filly Final and looks to get the same type of trip she experienced in her elimination. She's now won eight of her 22 starts and is closing in on nearly $60,000 in earnings this year alone for Hoerdt and co-owners Blair and Erna Corbeil of Beaumont, Alta.
The complete field for the Northlands Filly Pace:
1. Thats Extra (K. Hoerdt) -- 8-5
2. My Villas On Fire (P. Giesbrecht) -- 15-1
3. Remember Terror (W. Tainsh Jr) -- 6-1
4. Blue Star Texas (T. Cullen) -- 4-1
5. Take On Da Boys (R. Hennessy) -- 12-1
6. Wrapped To Go (J. Marino) -- 10-1
7. True Rock (G. Hudon) -- 8-1
8. Cam Finish (K. Clark) -- 3-1
The Western Canada Pacing Derby, for three-year-old colts and geldings did not require any eliminations as there were only eight entries. Some of the entrants took the weekend off while others found other races to tune up for the main event.
It is obvious that the victory path for the Derby will go through the Keith Clark barn with Clark entering three horses. His best chance for Derby glory is First Class Horse, who has been a terror in both B.C. and Alberta. Being a non-Alberta bred, the Clark pupil was limited to what races he could participate in and found himself tackling older open type horses this year...and did not look out of place. He has not lost when facing rivals his own age ever in his young career. He set the Century Downs three-year-old track record in the $90,000 Brad Gunn Stakes with a 1:52.3 mile. The Western Terror-Susurrus Hanover colt has 10 wins from 15 starts in 2015 and has amassed over $165,000 in lifetime earnings. He was nominated to the $1-million Pepsi North America Cup, but the connections decided to skip that race and keep him in Alberta.
The Clark barn appears to be brimming with confidence for the big race.
"First Class Horse is coming in good. He has been training well and has no problems," said Clark. "He definitely has been the best of the three-year-old crop this year around here. He will be fine."
First Class Horse is owned by his Hall of Fame trainer along with Robert Jones of Slave Lake and Doris McDougall of Cochrane, Alta.
Clark suggests that his other horses in the Derby -- Mysharona Bluechip (Hudon) and Withflyingcolours (Giesbrecht), also deserve a look.
"Chip and Colours were both kind of boxed in with no place to go. With a better trip they should have a shot. The weather and track should be great. It should be a good day."
Other notable major players include Cool Cowboy, the two-time Alberta Sires Stakes Super Final champion and 2014 two-year-old Alberta colt champ. A $19,000 yearling purchased from the 2013 ASHA Sale by Kelly Hoerdt and Alberta partners Blair Corbeil of Beaumont and Witsend Consulting Inc. of Calgary, Cool Cowboy's lifetime earnings are now over $172,000.
However, for the first time ever in his career, he is getting the services of a different driver while Hoerdt himself sticks with his other entrant Have Not Read It.
"I plan on using Jim Marino from B.C. I feel he is the best driver in western Canada so it was a simple choice," advised trainer Hoerdt, continuing on to state that his horses have their work cut out for them. "Keith Clark has three horses in that race and he will be a big threat," added Hoerdt.
Punters looking for value may want to look at the aforementioned Have Not Read It. The son of Dragon Again was a $22,000 purchase at the Harrisburg sale by the Hoerdt barn and sports a very decent 14-3-6-4 amassing just under $57,000 in lifetime earnings. His personal best mile of 1:53.2 was recorded this summer at Century Downs year in the $90,000 Brad Gunn Final where he chased home First Class Horse.
"I liked his performance in 2015 but I feel he will be even better next year as a four-year-old," commented Hoerdt, who seeks a repeat the WCPD after winning the 2014 edition with Outlaw Gunpowder.
Pablos First (a son of former WCPD champ Trust The Artist) was supplemented to the Western Canada Pacing Derby after his connections paid the $3,950 fee to get him in the race. He'll have the services top horseman and recent O'Brien Award of Horsemanship nominee Travis Cullen in the bike.
The complete field for the Western Canada Pacing Derby:
1. Mysharona Bluechip (G. Hudon) -- 8-1
2. Cool Cowboy (J. Marino) -- 6-1
3. First Class Horse (K. Clark) -- 6-5
4. Withflyingcolours (P. Giesbrecht) -- 7-2
5. Have Not Read It (K. Hoerdt) -- 4-1
6. Johnny Gun (W. Tainsh Jr) -- 12-1
7. Pablos First (T. Cullen) -- 15-1
8. Outlaw Deacon Jim (R. Hennessy) -- 20-1
The Friday and Saturday cards will both feature ten dashes at Northlands Park Racetrack and Casino, with a first race post time of 6:30 p.m. each day. Northlands' 13-day winter meet concludes on December 31.
(A Trot Insider Exclusive by Frank Fontana)