Published:
December 28, 2016 12:53 pm EST
The final live programs of 2016 are set to go at The Meadowlands with a three-day week of racing. A ten-race card boasting full fields of ten in every race gets things underway on the evening of Thursday, December 29.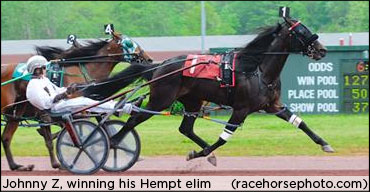 With so few tracks in operation, horses are literally coming from everywhere to race at The Meadowlands. One of the more interesting examples is Johnny Z, a ten-year-old gelding who most recently been grinding it out on the Maine circuit.
Johnny Z has been around, starting his promising career in the George Teague, Jr stable way back in 2008 with a pair of stakes wins at two before an early seasonal shut down. He came back early at three and won the $300,000 Max Hempt Memorial Grand Circuit stake.
Johnny Z remained on Team Teague until mid-way through his four-year-old season where he moved into the Ron Burke barn. From there it's been a long journey from barn to barn racing competitively around the metropolitan area for several seasons before Maine became his home in early 2015.
He's back on the major circuit this Thursday in race seven for his eighteenth owner, Mo Coo, Inc. and Jonathan Klee Racing, with trainer Mike Watson and gets Brett Miller to drive in a spot that may well be to his liking.
It's not too late to join the fun and excitement of being a horse owner without the risk by signing up for the popular "Own A Horse" promotion. Get your name in at customer service before time runs out.
The racing rolls right through the weekend with New Year's Eve on Saturday a focus. Post time each night is 7:15 p.m.
In keeping with the holiday spirit, The Meadowlands extends an invitation to those horsemen racing on the Saturday (Dec. 31) card to welcome 2017 at a gala New Year's Eve celebration in the grandstand skyboxes as a guest of the track.
Sponsored by Jeff and Paula Gural's Allerage Farms, the evening includes complimentary buffet style dinner for owners, trainers, drivers and up to three guests for each licensed horseman participating that evening. There will be a cash bar.
The New Year will be toasted with a "complimentary glass of champagne" and a gala fireworks display after racing is concluded.
After the fireworks show, the party moves down to Victory nightclub for more celebrating hosted by Kirill Was Here and dancing to "Music by Boris; DJ Camilo". Admission to Victory will be waived for horsemen.
Please be advised that Trotters owner's club will be closed for the evening on Dec. 31 and all members are invited to join us for the complimentary buffet in the skyboxes as well.
Interested horsemen must make reservations to attend as soon as possible by calling (201) 460-4079 and ask for Joslyn.
(with files from The Meadowlands)