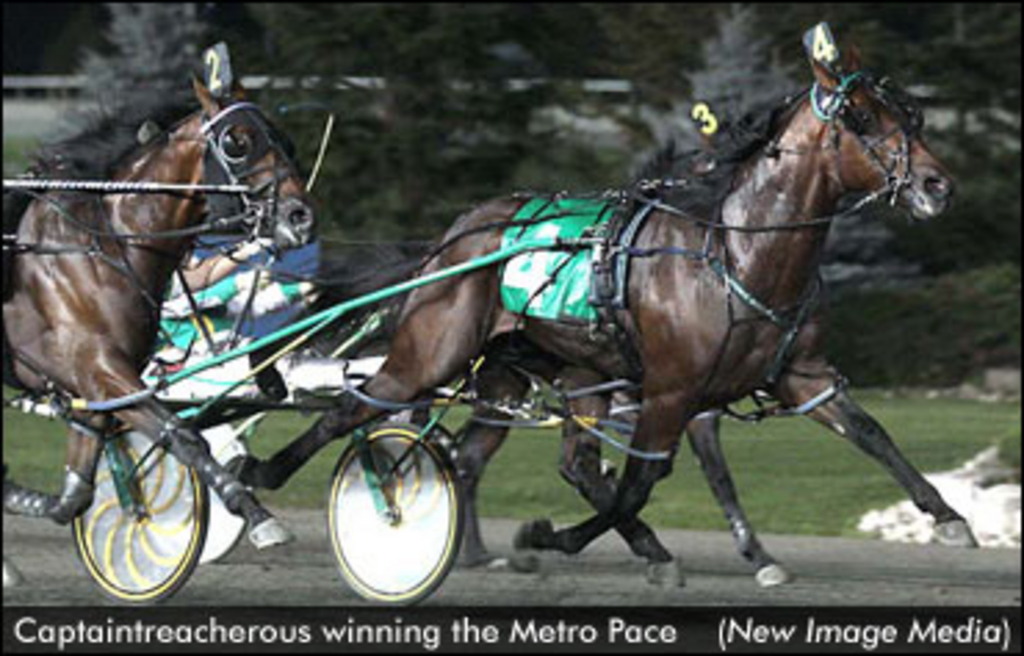 Published:
December 27, 2012 09:00 pm EST

One lucky harness racing fan will experience the thrill of owning a champion racehorse via a unique promotion at The Meadowlands where the Grand Prize is a one per cent share of all future purse earnings by the sensational Captaintreacherous.
Syndicate manager Myron Bell proposed the idea to Jeff Gural when the colt was offered for syndication last fall. A deal was struck to make the concept a reality and The Meadowlands has purchased a share of Captaintreacherous for use in this exciting promotion.
As the star of the phenomenal first crop of super-sire Somebeachsomewhere, Captaintreacherous had a fantastic season in 2012. The "Captain" won the marquee two-year-old events at both The Meadowlands (Woodrow Wilson) and Mohawk Racetrack (Metro Pace) while compiling four wins of 1:50 or faster, the first freshman in racing history to accomplish that feat.
At year's end, Captaintreacherous had won eight of 10 starts and earned $911,277. With the recent announcement of the 2012 seasonal awards, he became the first freshman in 25 years to be honoured as "Pacer of the Year".
Captaintreacherous is currently being prepared for his three-year-old campaign by trainer Tony Alagna and will be reunited with driver Tim Tetrick when he returns to the races next season.
You may enter for your chance to win with paid admission every Saturday night (starting this Saturday, December 29). Entry forms will be available at the admission gates and should be deposited in the designated containers located in the Clubhouse lobby and at the Paddock Level promotions table.
Twenty randomly selected names will be entered into the Grand Prize drawing to be held after Race 10 on May 4. The drawing will be done in reverse order; with the first seventeen drawn receiving a $100 betting voucher, the 18th name drawn receives a $150 voucher and the runner-up will be awarded a $250 voucher. The 20th and final name drawn will receive the 1% share of Captaintreacherous' future purse earnings.
The Grand Prize is one per cent of all purses earned by Captaintreacherous during his racing career and ends when he retires from racing. The contest winner shall be responsible for none of the expenses incurred during the length of the promotion.
Contest regulations are available at meadowlandsracetrack.com.
(Meadowlands)