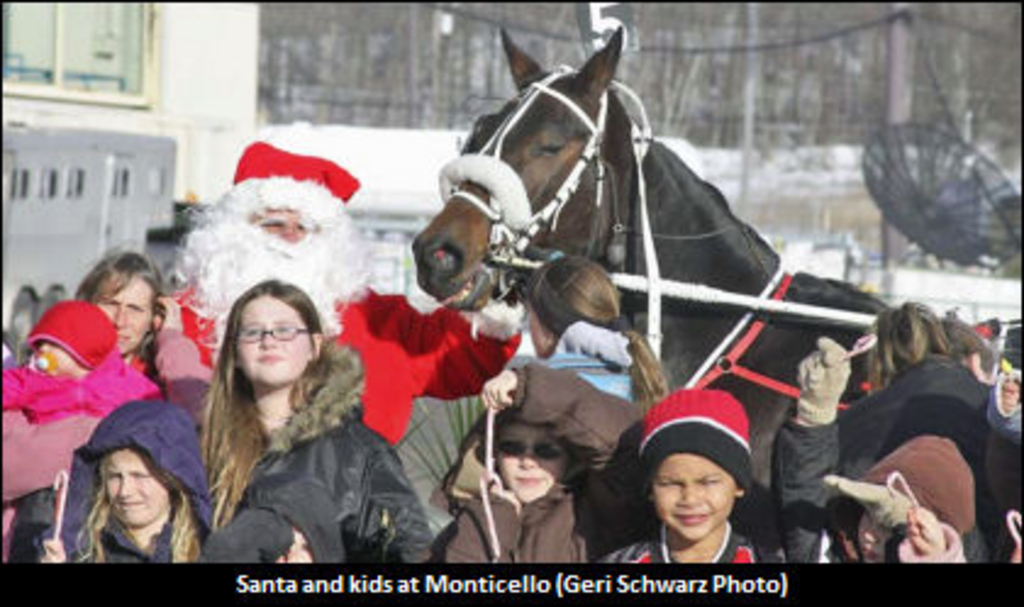 Published:
December 2, 2010 11:17 am EST
For the second consecutive season the Monticello Harness Horsemen's Association and Monticello Raceway will host a Fabulous Fantasy Holiday Party
from 1:00 a.m. until 5:00 p.m. for local children aged toddler to 12 years on Sunday, December 19.
The party will be run in conjunction with the racing program that afternoon. Post time for the race card will be at 12:25 p.m.
Monticello Raceway horsemen will be taking the attending children on a magical make-believe journey to the North Pole where they will visit with, and have photos taken, with Santa and his Elves in Snowy Candy Cane Land.
The party will be centered in the Hype Room in the casino where various activities are planned for the children. There will be games to play and the youngsters can have their faces made- up by a professional face painter. And Elvis will be in the building! Eric 'Elvis' Lost Brother' Bressi will entertain completely gratis.
On the track apron, miniature horses will be made up like reindeer and the children will be able to pet them and have photos taken with them.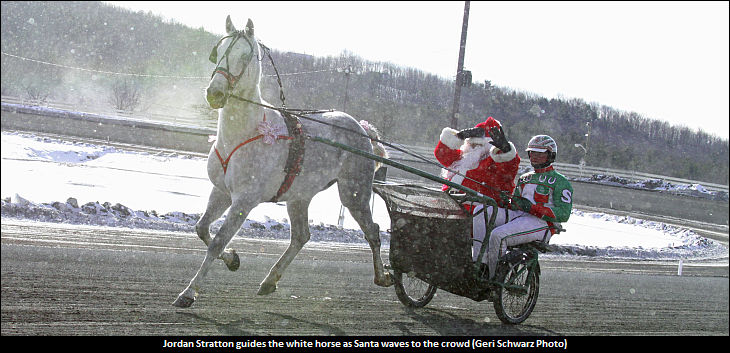 "We have heard from good sources that 'Rudolph' might make an appearance as the Good Will Ambassador for the Candy Cane Pace, the special holiday race featured on the racing program that day," said Alan Schwartz, the president of the Horsemen's Association. "And once again, all children will receive a candy cane after the Candy Cane Pace is completed."
Last year Santa arrived at the party on a cart pulled by a white horse and many of the children joined the 'jolly ole sole' in the track winner's circle. Later, Santa and his white horse led the post parade for the Candy Cane Pace, which was won by Brian's Return. After the pacer's victory, many of the children joined in the winner's circle ceremonies and all received a candy cane. Much of the same is again planned for this year's party.
Attendance to the Holiday Party is free and it promises to be a day the kids will remember. Sweet treats, cookies, hot chocolate and presents will be given to all the attending children courtesy of the MHHA, Monticello Raceway… and, of course, Santa.
(Monticello)