Published:
December 15, 2021 10:09 am EST
In just his second season as a driver, Barton Dalious is making plenty of waves on the Delaware harness racing scene. On Thursday evening (Dec. 16), at Dover Downs, the 23-year-old reinsman will aim for his second win in a six-figure race in as many tries this season, teaming up with First State Joni in hopes of sweeping the Delaware Standardbred Breeders' Fund series for three-year-old pacing colts and geldings at the capital city oval.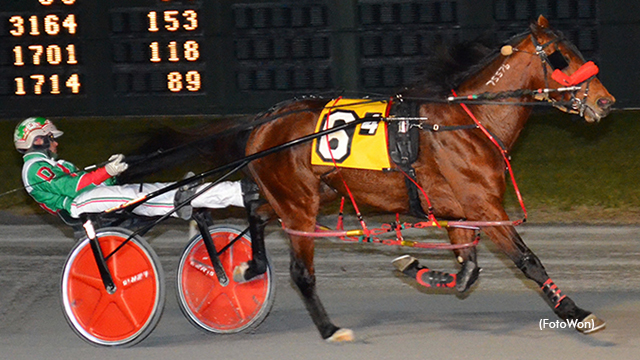 First State Joni looks to cap his sophomore season on a winning note in his $100,000 DSBF final, one of four such events on the Thursday program at Dover. The Delmarvalous-Jonigold colt, owned and bred by Frank Deliberti's The Wiz Kids Stable, has not only won seven times this season and banked $117,674, but has been instrumental in Dalious' development as a driver, as well.
"Over time, you get more experience, and the way I see it is you get better every race and try and learn something every race," said Dalious, a third-generation horseman and the son of long-time Delaware-based trainer W. Bart Dalious. "Every horse is different; every race is different. The more opportunities you get, the more chances you have to do well."
According to Dalious, First State Joni "likes to grab on pretty good," but has turned a corner since the Delaware circuit shifted to Dover in November. After a pair of minor placings in conditioned races, First State Joni reeled off back-to-back wins in his DSBF series preliminaries, taking his lifetime mark of 1:54.1 in last week's second round. And while victory in a DSBF final is nothing new for Dalious and First State Joni — they won the summer series final together at Harrington Raceway on July 29 — the expectations are higher the second time around. Added pressure notwithstanding, Dalious is confident in his charge's ability — and his — to control the terms.
"Since I started driving him, he's come a long way," Dalious said of First State Joni, who has been installed as the 5-2 morning line favourite in Thursday's series final, and will start from the pole in the eight-horse field. "He's always had good gate speed, but he's been letting me rate him more and come home a little bit better."
Dalious has come a long way, too. After winning just seven times in his rookie season of 2020, he has won 44 of 442 starts this year and has amassed over $525,000 in purse earnings — figures he hopes to augment Thursday. And while one six-figure win already this season is surely a point of pride, the impact a second such win would have is not lost on the upstart driver, either.
"It'd be really big," he said. "The first one was a huge accomplishment, but to do it twice would be a complete jump start. It's pretty exciting; I didn't expect to be into something so serious so quick. It means a lot to me."
The Delaware Standardbred Breeders' Fund final for three-year-old pacing colts is carded as the 10th race on Thursday's pari-mutuel program at Dover Downs, and is accompanied by matching $100,000 finals for three-year-old trotting fillies (race four), three-year-old trotting colts and geldings (race six) and three-year-old pacing fillies (race eight). First post for the 15-race card is 4:30 p.m. EST.
(Delaware Standardbred Breeders Fund)