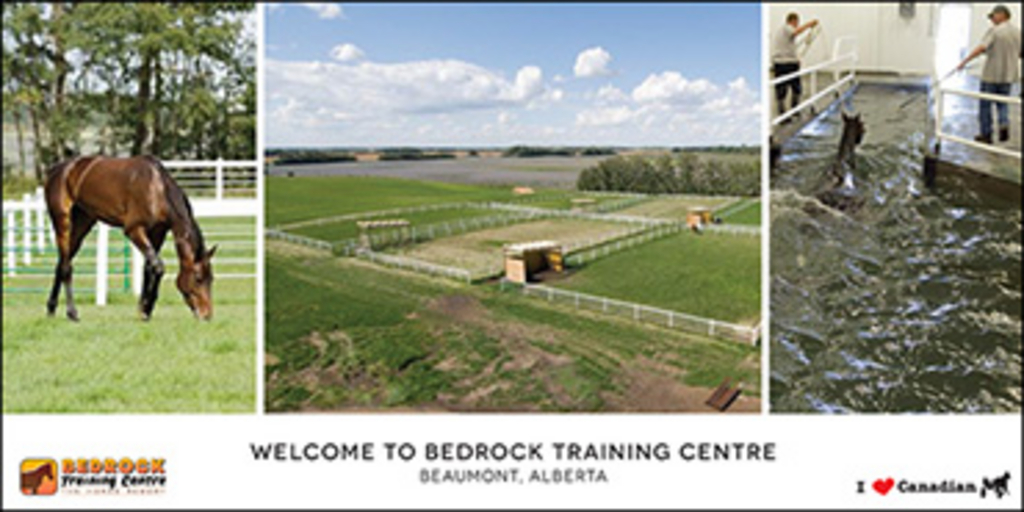 Published:
November 4, 2015 05:55 pm EST
Looking for a great way to spend a fall Sunday morning? The I Love Canadian Harness Racing Fan Club is inviting members to a tour of Bedrock Training Centre, located just outside Beaumont, Alberta on Sunday, November 29 from 10 a.m. – 1 p.m.
Bedrock, one of Alberta's premier Standardbred training facilities is owned by O'Brien Award winning horseman Kelly Hoerdt, one of the Fan Club's Faces of Racing, along with long time standardbred owner and breeder, Blair Corbeil. Bedrock is home to many of Alberta's top trainers and horses.
The tour kicks off at 10 a.m. with a walking tour of the facility. There will be several demonstrations which will include an equine massage, equine swimming, equisizer, and blacksmith. In addition, Fan Club members will have time to visit some of the stables and talk to a number of trainers along with meeting some of Alberta's equine stars including Ghost Pine, Get Thereovernight and Super Final Champions Cool Cowboy and Wrangler Cash.
There will also be a draw for eight lucky people to jog or ride in a double seated jog cart around the track. And two lucky Fan Club members will win each a $100 Gift Certificate for Northlands Park.
The cost of the event is $10 and includes a Fan Club souvenir and a pizza lunch. There are a limited number of spots, and you must be over the age of 18 to take part.
Contact [email protected] or Industry Marketing at (905) 858-3060 to reserve your spot today!
Transportation is not supplied. We'll meet you at the Training Centre!