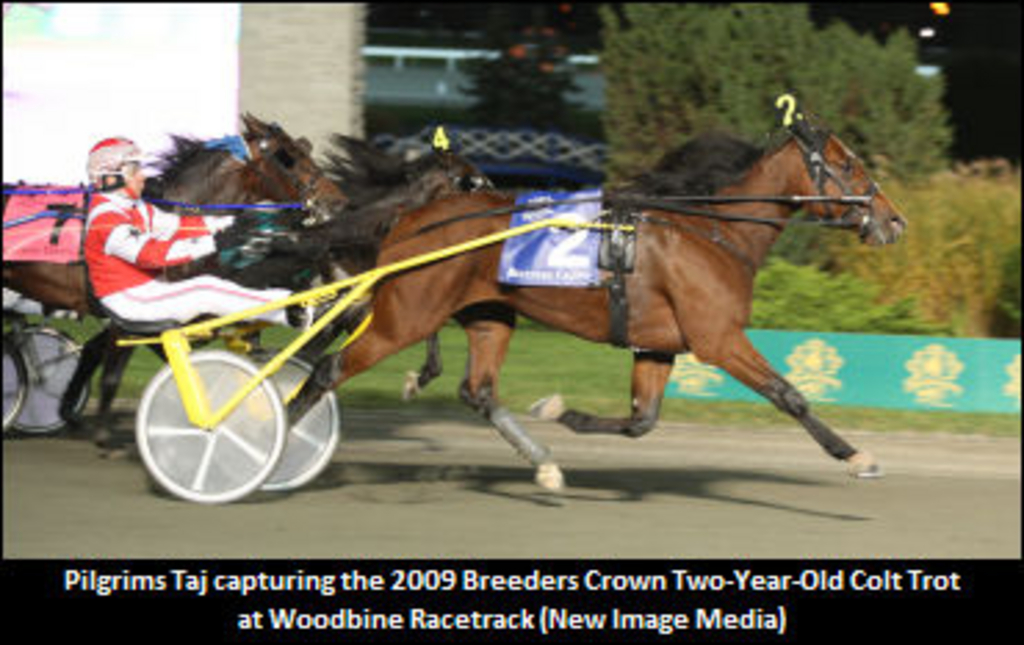 Published:
November 30, 2011 03:08 pm EST

Sugar Valley Farm of Delaware, Ohio in conjunction with R. Peter Heffering, is excited to announce that former Breeders Crown Champion Pilgrims Taj will become the first trotter added to Sugar Valley Farm's stallion roster for the 2012 breeding season
. "To have a Breeders Crown champion trotter join our stallion ranks in our inaugural season is very, very exciting," stated the farm's co-owner Joe McLead. "And it's great for the state of Ohio, also!"
Pilgrims Taj 2,1:55.2f; 3,1:53.3 ($1,006,203) is the second richest progeny of Broadway Hall --- trailing only 2011 Hambletonian Champion Broad Bahn in earnings. He's out of BWT Maija 3,1:56.1f ($137,075) a multiple stakes-winner herself in both the PASS and on the Grand Circuit.
At two, Pilgrims Taj completed one of the most dominant freshman seasons in recent history. In 10 starts he won seven times and finished second in the other three, with notable victories coming in the Breeders Crown (elimination and final), PASS Championship, Valley Victory elimination and Peter Haughton elimination. He also had close second-place finishes in the finals of the Valley Victory (to Lucky Chucky) and the Peter Haughton (to Holiday Road). He was dominant all season, earning $746,939 in a very competitive crop which also included Muscle Massive and Il Villaggio.
2009 Breeders Crown Two-Year-Old Colt Trot - Pilgrims Taj - 1:57.1
At three, Pilgrims Taj was a multiple PASS winner and tied the track record at the Meadows (1:55.2f) in a division of the Keystone Classic. But it was in his Hambletonian elimination where he established his lifetime mark of 1:53.3 while defeating eventual Hambo winner Muscle Massive.
Pilgrims Taj, who will be standing his second season at stud after standing in Ontario at Tara Hills in 2011, will have a 2012 stud fee of $3,000.
Sugar Valley Farm is located in Delaware, Ohio, home of the Little Brown Jug. To reach Sugar Valley Farm, contact the farm's owners, Billy Walters at 740-272-0640 or Joe McLead at 443-309-8688 or email at [email protected].
(Sugar Valley Farm)