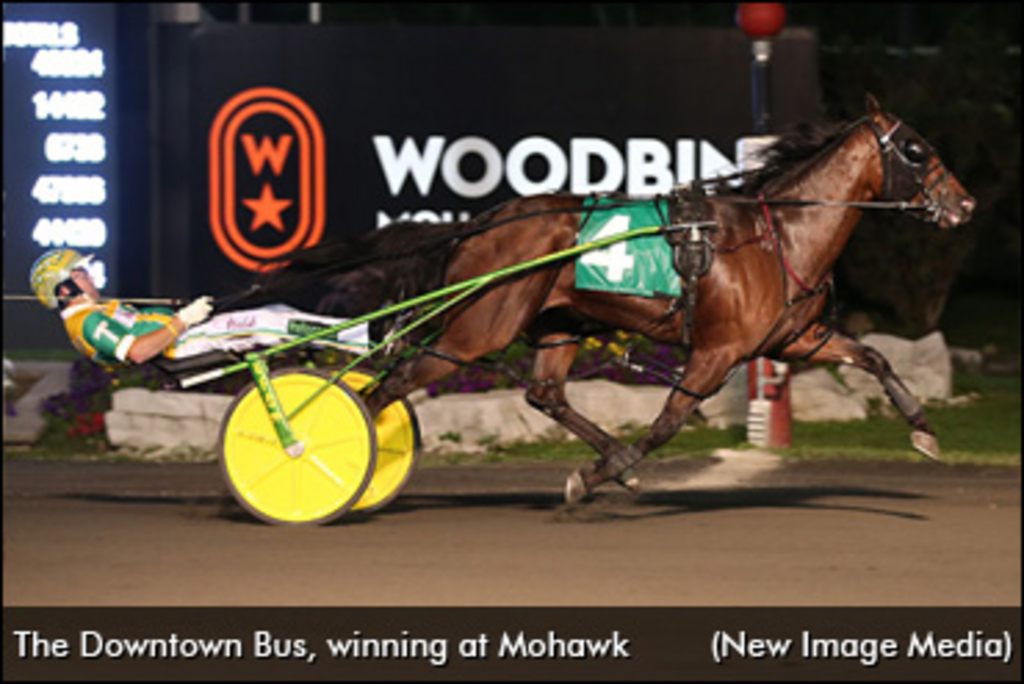 Published:
November 24, 2018 10:53 am EST
A few hours before the start of the Matron Stakes for three-year-old pacing colts and geldings, trainer Jeff Gillis found himself stuck in traffic on the New Jersey Turnpike. Sleet, snow, and freezing rain made the typical three-and-a-half hour drive to Dover Downs a five-and-a-half hour ordeal and Gillis was in a race against the clock to get The Downtown Bus to the track in time to avoid scratching out of the $193,750 stakes.
"The turnpike was a disaster," Gillis said. "I wasn't even sure I was going to make Lasix. Anything after that was a bonus."
Gillis and The Downtown Bus arrived at the track with just 30 minutes remaining in his window to receive the race day medication. Three hours later, Gillis stared up at a television screen in the paddock as his 19-1 longshot charged into a blistering pace and ended up on the far outside in a three-way photo finish with This Is The Plan along the pylons and Jimmy Freight between horses.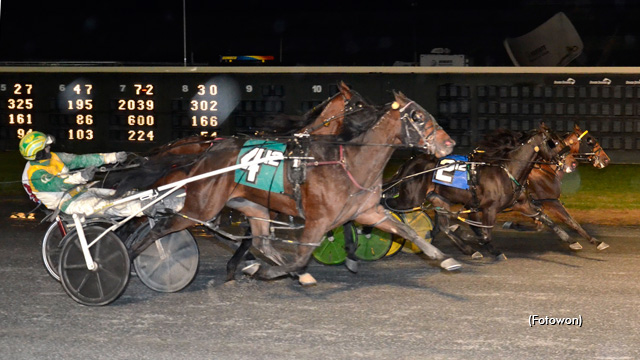 "The announcer called the two on the inside, (This Is The Plan) and Jimmy Freight, so I said to someone under the TV, 'is there an inside bias here,' because to the naked eye, I thought he might have gotten up," Gillis said. "And then, when the announcer called it that way, I thought we were third."
The Downtown Bus did get up in time, but so did This Is The Plan. The pair tied for a dead heat victory in 1:49.1 over the sloppy track, a lifetime mark for both horses. The victory improved The Downtown Bus's record to 11-for-25 with $287,837 earned. Gillis bred The Downtown Bus with longtime owner Ellen Ott and was overjoyed to see the Mach Three gelding win his first start outside Canada.
"I was ecstatic," he said. "We go back a couple generations with this horse and it was a big thrill."
The Downtown Bus is out of Slimsplace, a mare who has special meaning to Gillis. She is named after his father, Raymond "Slim" Gillis, who was killed in a car accident in June 2007. The mare by Artsplace out of the Jennas Beach Boy mare Shes Beachy earned $139,019 on the track for Gillis and became a part of the family.
"I don't desire to be in the breeding industry, but there's some sentimental value. She was born six weeks before my dad was tragically killed in a car accident," Gillis explained. "I always liked her, I liked the family, she's quality, so it made it easier as well."
The Downtown Bus is Slimsplace's second foal to race and the first to win a stakes race. The gelding is similar to his dam in temperament and complexion.
"She was kind of relaxed. He's got kind of a hair-trigger almost. To jog him, you have to take a whip or pack a lunch, one or the other because he mopes along as slow as can possibly be,' Gillis explained. "He wears earplugs in a race because once you stir him up, he's gone. He's a little bit funny like that. Build-wise, they're a little bit similar. They're not very tall, but they have a lot of substance to them, they're thick and muscular."
Gillis kept The Downtown Bus in Canada at two and three, racing in Ontario Sires Stakes. He was winless in seven starts last year after suffering a series of minor setbacks, but put everything together this season. After finishing third in the Ontario Sires Stakes Final in October, Gillis tried his luck abroad.
"I would have to be absolutely, supremely over-the-moon, in love with a horse that's Ontario bred to pay him into stakes in the United States prior to the Super Final in Canada," the trainer said. "You almost have to bypass a goal and I don't particularly see the value in it, so I didn't stake him that way."
After his successful stateside debut in the Matron, The Downtown Bus will test the waters on the half-mile track at Yonkers Raceway Saturday night (November 24) in the $35,000 Three- and Four-Year-Old Open Handicap Pace. He drew post seven and with Tyler Buter in the sulky, is the 3-1 morning line favourite. The start worked out as Gillis is in the area to start Yonkers International Trot participant Will Take Charge in the TVG FFA Trot at the Meadowlands.
"He's not an overly big horse, he should get over a half pretty good and I do plan on racing him there in the future. This is intended to be his final start of the year," Gillis said. "I thought it was worthwhile to see how he liked the track and whether there was something there for him in the future, just to see how he gets over it and have a bit more info before I put him away for the year."
The Downtown Bus's rivals include Macs Jackpot, a winner of two straight including a wire-to-wire score in this class last time out. He is the 7-2 second choice from post eight. Air Strike finished second to Macs Jackpot two weeks ago and is 5-1 from post five for Brent Holland and Erv Miller. Machiavelli, The Wall, Pretty Boy Swag, Maroma Beach, and Avatar J complete the field.
"I don't really know a lot of those horses very well. The seven-hole on a half is never ideal, but he is the morning line favourite," Gillis reasoned. "He looks like he should be competitive in there, we'll see how it turns out. He's pretty versatile. Tyler can leave with him or take back. If we take back, obviously we're at the mercy of the pace, so we'll see.
"I am curious to see how he gets over the track," Gillis continued. "It's maybe something that we'll look to down the road, maybe he'll be a Levy-type horse. Who knows?"
Saturday's 12-race card also features a $44,000 Open Handicap Pace and a $44,000 Filly and Mare Open Handicap Pace. First post time is 6:50 p.m.
(SOA of NY)