Published:
November 16, 2010 04:14 pm EST
Standardbred Canada today announced that Red Shores Racetrack & Casino at Charlottetown Driving Park, Prince Edward Island, will be the host track for the
2011 National Driving Championship.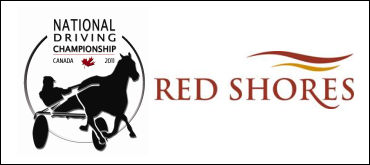 The NDC will take place on Saturday, May 7 and the winner will represent Canada in the World Driving Championship, to be hosted in concert with the World Trotting Conference in the United States. This marks the 25th edition of the World Driving Championship and the 20-heat tournament which will be coordinated by the United States Trotting Association is scheduled for July 31 – August 5.
The top two drivers from three regional championships and two representatives from Quebec will make up the field of eight finalists for the National Driving Championship. Red Shores at Charlottetown Driving Park will host the Atlantic Regional on Saturday, January 22. Fraser Downs, host of the 2009 NDC, will host the Western Regional on Saturday, February 26. The Regionals will wind up with the Ontario event at Western Fair Raceway in March, with the date to be confirmed.
"We are very excited to have been selected to host the National Driving Championship and it will be one of the marquis events on our racing calendar," said Red Shores Racing Experience Manager Brett Revington.
Charlottetown Driving Park hosted the inaugural NDC in 2007, which was won by Gilles Barrieau, who went on to represent Canada at the worlds in New Zealand.
"We're gaining quite a reputation for hosting major events on PEI," said Red Shores Marketing & Sales Manager Lee Drake. "This announcement falls in line with our 2011 strategy where our team plans to introduce a number of new events to our properties. We're proud to land both the Regional and National competitions."
The 2011 event will be the third edition of the National Driving Championship.
"This format and the events have been very well received across the country and in the past each regional event was a major event of the racing season for the host track. The participation and co-operation of the racetracks and horsemen's groups were a critical element to the success of both the '09 and '07 events," commented Standardbred Canada Industry Marketing Manager Kathy Wade Vlaar.