Published:
November 13, 2020 11:15 am EST
Winbak Farm announced on Friday (Nov. 13) that world record holder Royal Mattjesty, p, 2, 1:50.3; 3, 1:50.2s; 1:48.4 ($1,653,367), will be moving from his longtime base in Ontario to Winbak Farm of Delaware for the 2021 breeding season.
"As a yearling, Royal Mattjesty sold for $210,000," said Garrett Bell, Winbak's General Manager. "He is a great-looking individual with an outstanding pedigree."
Royal Mattjesty is the richest living son of Matts Scooter (behind only Mach Three, who sired Somebeachsomewhere).
His dam is Lady Hathaway, is a Harness Racing Hall of Fame Inductee. Royal Mattjesty is a full-brother to His Mattjesty, p, 2, 1:52.1f; 3, 1:51s ($1,038,861).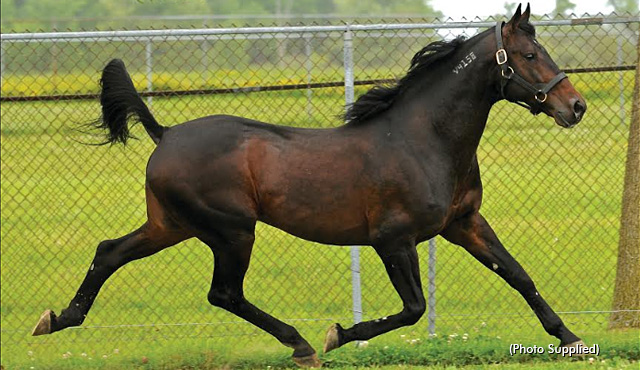 Royal Mattjesty is a proven sire of stakes winners. His outstanding performers include:
Ontario Sires Stakes Gold Winner, Bay Girl, p, 2, 1:52.2s; 3, 1:50s ($576,130)

41x Winner, Uncle Goodfellow, p, 2, 1:58.3f; 3, 1:53.3f; 1:50.2s ($449,119)

Ontario Grassroots Winner, Pointsman, p, 3, 1:51.2s; 1:50.2f ($436,389)

49x Winner, Officernagentleman, p, 2, 1:56f; 3, 1:51.3s; 1:50.3f ($405,438)

Slot Cup Final Winner, Royal Outlook, p, 2, 1:52.2s; 1:52f ($390,378)

Ontario Sires Stakes Gold Winner, Action Majesty, p, 2, 1:52.3s; 3, 1:51.1s; 4, 1:50.2s ($333,606)
"We believe that Royal Mattjesty will provide a great cross for a majority of the broodmares in Delaware," said Bell. "In fact, when Royal Mattjesty has been bred to Badlands Hanover mares, the offspring have averaged $66,294 in earnings. They are led by Ontario Sires Stakes Gold Winner, Kims Royal Day, p, 2, 1:55.2h; 3, 1:51f ($331,648)."
Suggested crosses for Royal Mattjesty (based on USTA's Crosses of Gold) includes mares sired by: Abercrombie, Artsplace, Badlands Hanover, Cams Card Shark, Grinfromeartoear, Jennas Beach Boy, Life Sign, Real Artist, Western Hanover and Western Ideal.
Royal Mattjesty will stand for $3,500 in 2021. For more information on Royal Mattjesty, please visit winbakfarm.com or call 410.885.3059.
(Winbak)