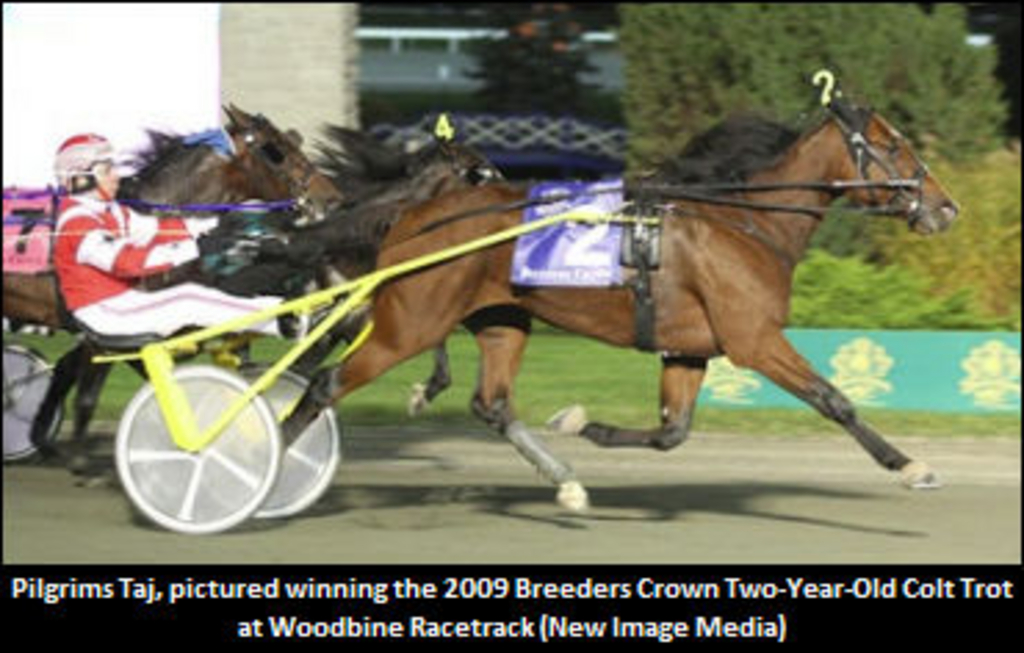 Published:
November 13, 2012 12:01 pm EST

While many stallions are flocking to breed in slots-infused Ohio, Trot Insider has learned that a stud that was standing in the Buckeye State in 2012 is now on the move.
Acting on behalf of April Heffering, agent Jean Cloutier has brokered a deal that has seen millionaire Broadway Hall bay Pilgrims Taj sold and transported to Hyllykallio, Finland.
Bred by the Pilgrims Taj Stable of Boca Raton, Florida, Pilgrims Taj assembled a standout campaign as a freshman in 2009, recorded seven wins and three second-place finishes from 10 starts, capped off by his one-length victory in the $617,880 Breeders Crown Two-Year-Old Colt Trot at Woodbine Racetrack.
2009 Breeders Crown Two-Year-Old Colt Trot
Trained by Scott Andrews, Monte Gelrod, Keith Armer and Trond Smedshammer throughout his career, Pilgrims Taj was retired after his three-year-old campaign, in which he won three of 13 starts and banked $259,264 in purses. He took his record of 1:53.3 that year courtesy of his half-length win in his Hambletonian elimination.
Pilgrims Taj had stood the 2011 breeding season at Tara Hills Stud in Ontario before relocating to Ohio for 2012.
Cloutier told Trot Insider that a 15-person conglomerate entitled Broadway Stable O Y purchased the now five-year-old bay.