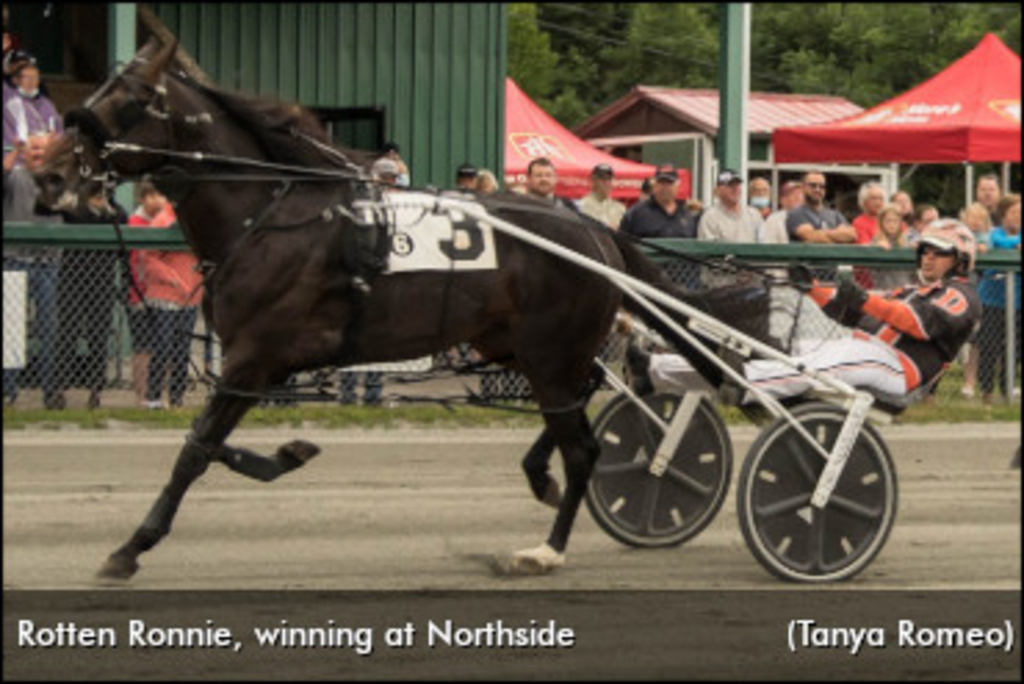 Published:
October 9, 2021 05:33 pm EDT
"You have to go in hoping you'll be one of the top players, but to me, you have to take it as any old horse race because if you put too much into it bad things happen."
The stars of the Atlantic Sires Stakes will be in action on Sunday (Oct. 10) at Red Shores Racetrack and Casino at the Charlottetown Driving Park. Two of the top contenders will be heading into Sunday's lucrative $25,000 Altantic Breeders Crown finals will be making the trek to the island from Cape Breton, and both JJ Scarlett and Rotten Ronnie could take the winner's share of those purses back to Nova Scotia.
The first $25,000 Atlantic Breeders Crown comes in Sunday's fifth race, the ABC Final for two-year-old pacing fillies. JJ Scarlett has the most wins (six), the highest earnings ($41,007) and the second best mark (a 1:57.1h track record effort at Inverness) of the eight fillies entered, but she also drew post position eight for trainer Walter Walker and owner Wwggmacinnismackinnon Stable of Inverness, N.S.
"We've been very fortunate the way we drew all summer, she had been drawing very good post positions," Walker recently told the Cape Breton Post. "It doesn't make it an easy road, that's for sure...Deep down, I think she's the best filly in the Maritimes for her age group and if she brings her 'A' game she could be knocking on the door late in the mile."
In 10 starts the daughter of Tobago Cays-J J Hanna Dawn has never been worse than fourth, sporting a 6-1-2-1 summary. She's never drawn post eight in her career, but Walker noted that the filly now has the services of Redmond Doucet — one of the top drivers in Maritimes — after regular driver Danny Gillis was forced to miss this weekend's action due to work commitments in Western Canada.
"Redmond is probably the best driver in Nova Scotia so we're happy to have him aboard," said Walker of Doucet, who also happens to be his brother-in-law. "He got a little feel for her, so he will know her a little better this weekend."
One horse Doucet knows very well is Rotten Ronnie, one of the top contenders in the $25,000 Atlantic Breeders Crown final for three-year-old pacing colts & geldings. After returning from a freak transportation injury in late July, the son of Malicious - Victory Cry has posted a 2-2-1 summary from five starts. In his most recent start on Sept. 27 at Summerside Raceway, he knocked off divisional rival Woodmere Stealdeal in a division of the PEI Colt Stakes.
In that most recent test, Rotten Ronnie had the inside post advantage over his rivals. The tables are turned on Sunday as Rotten Ronnie leaves to the outside of morning line choice Dustylanegoliath (PP2, Gilles Barrieau, 5-2) and the aforementioned Woodmere Stealdeal (PP3, Marc Campbell, 3-1).
"We didn't draw the best, but we will have to make the best of it," said Doucet. "Two of the best horses are on the inside of me, but we'll see what happens, and see what kind of a trip he can work out – we're hoping to be in the top three.
"It's really just a starting number, it's the number at the end of the mile that you're more worried about," continued Doucet. "I'll pretty much know behind the gate if he's there to play or if he's there just to show up – sometimes it can be a hit or miss."
The history books will be written Sunday (Oct. 10) on the crowning day of the Weekend Of Champions at Red Shores Racetrack and Casino at the Charlottetown Driving Park. The capital oval will host 13 dashes including six Atlantic Breeders Crown finals to decide the champions of the 2021 Atlantic Sires Stakes season with a 12:30 P.M. opening post time.
For more information on the Weekend Of Champions, tune into the Race Day broadcast at Redshores.ca. Live streaming is also available at the Red Shores Youtube page and online wagering can be found at HPIBet.com.
To view the entries for Sunday's stakes-packed card of harness racing, click the following link: Sunday Entries - Charlottetown Driving Park.