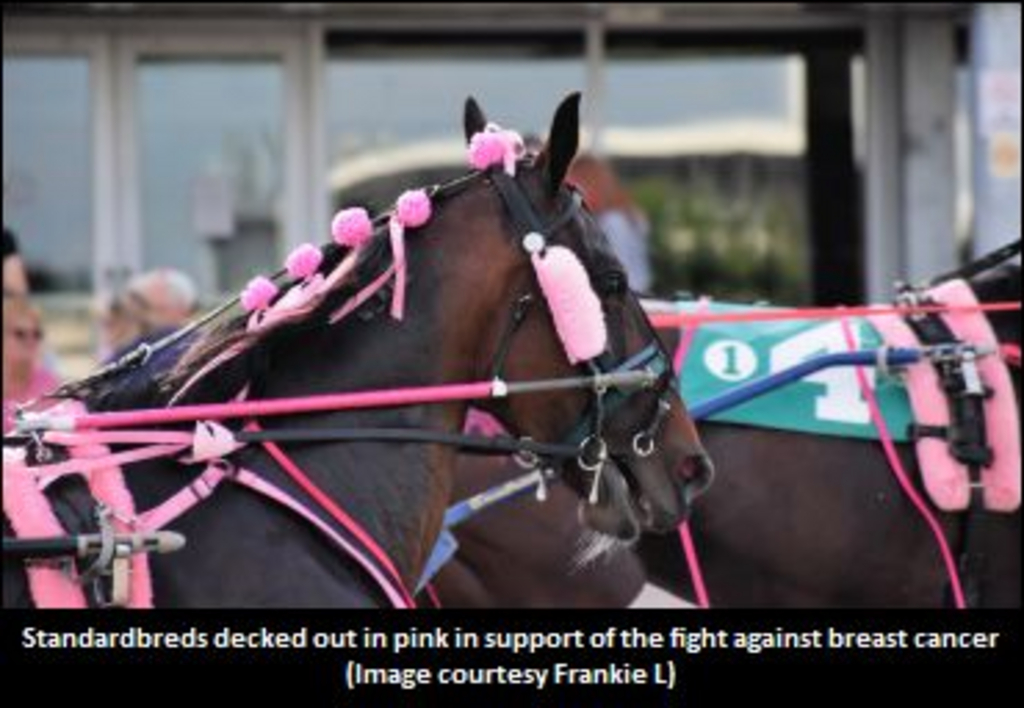 Published:
October 8, 2020 10:03 am EDT
The 15th anniversary of 'Harness the Hope' at The Raceway at Western Fair District is looking a bit different than anticipated this year. But with an exciting twist, 'the show must go online'.
As events adapt to current restrictions circling around COVID-19, you can support Harness the Hope this year by watching the 'Live Virtual Event' on Sunday, October 25 (from 7:00 - 8:30 p.m.), which will be co-hosted by Greg Blanchard and Neil Sammut.
The live virtual event is going to be an exciting show with live draws, musical performances from various artists (including recording artists), industry talents and much more. All proceeds are donated to the Breast Cancer Society of Canada and Pink Pearl Canada.
Virtual tickets for the show are $25 each. Click here to buy your tickets. The more tickets you purchase, the better your chances are of winning one of five grand prizes worth a combined value of $6,900. Prizes consist of an Asus Zenbook 14" Laptop package, Diamond Necklace & Earrings Set, a Lake Huron Cottage Weekend Getaway for six, a Michael Kors Luxury Purse Package, and an Apple Watch 6 & AirPods. Grand door prize winners will be announced live on the show.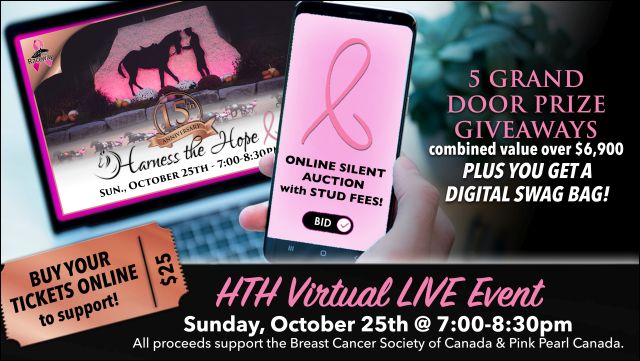 An exciting addition to this year's fundraising initiatives is an incredible online silent auction that features seven Ontario stud fees and over 75 fabulous items available to bid on. Stud fee donations include Big Jim, Control The Moment, Dali, Lookslikeachpndale, Royalty For Life, Sunshine Beach, and Wheeling N Dealin.
The online auction will start on Monday, October 19 and close on October 31.
Many farms and owners are to thank for their generous contributions by donating these fees, including Seelster Farms, Darlene Carr, Tony Infilise, Diane Bertrand, Conrad Leber, Blue Chip Farm, Mac Lilley Farms, Colin Densley Burrows, Determination, Brad & Christina Maxwell, Tara Hills Stud and the Royalty For Life Syndicate.
IMPORTANT LINKS
• To buy tickets, click here
• Visit the website, click here
• Follow on Facebook, click here
(Harness the Hope)