Published:
October 8, 2019 10:08 am EDT
It's that time of year again – calendar time!
Are you an amateur or professional photographer or just someone who loves to take photos? Do you enjoy taking photos of horses and anything that shows off harness racing?
Standardbred Canada is publishing a 2020 "Heart of Harness Racing" calendar, and we want your photos to create a calendar that's inspired by those who love our great sport!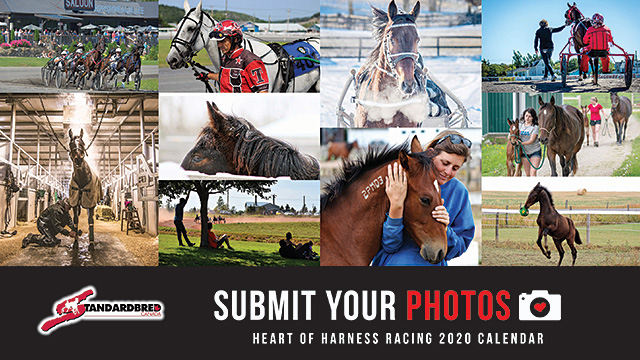 We're looking for unique and interesting images which capture the heart and soul of Canadian harness racing. We don't necessarily need shots of any specific horse or person, but a shot of any person, horse or scene that illustrates emotion and the heart of harness racing. The photos can be action shots or still shots and they should convey an impactful message and a unique perspective of the industry.
Photos MUST be horizontal shots – vertical shots WILL NOT be accepted). All photos should be high-resolution JPEG files at 300 DPI.
If you think you have a shot that captures the spirit of Canadian harness racing, please send it our way!
Please email your submission no later than Monday, November 4, 2019 to Hailey Saunders. Photos cannot be retouched, altered or enhanced in any way.
TIPS FOR SUBMITTING PHOTOS:
Images must be submitted digitally via email, or via FTP.

Photos should be horizontal shots, minimum size of 8" x 10" at 300 DPI. (VERTICAL SHOTS WILL NOT BE ACCEPTED)

Photos must be full colour shots; no black and white images please.

All photos must have been taken between November 1, 2018 and November 3, 2019.

High resolution JPEG files, 300 DPI.

Please keep email attachments under 10MB; if the image is larger than 10MB, please submit a proof and we will contact you to make arrangements for sending the large files.
If you have any questions relating to specific shots, feel free to email Hailey for more information.