Published:
October 5, 2018 10:41 am EDT
It might be hard to believe but there's a harness racing track on the U.S. eastern seaboard where Hall of Famer Roger Huston hasn't called a race. And on Monday, 'The Voice' will check that track off his bucket list.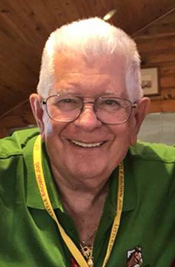 Huston, who has called the Little Brown Jug for the past half-century, is the regular race caller at the Meadows and has been for the last 42 years. During his career, Huston has called 177,700 races at 143 different tracks and he is looking forward to adding Plainridge Park to that list.
"I am proud of going to so many different places all over the world and am excited to call races at Plainridge. A number of horsemen who race there are friends of mine and I'm looking forward to seeing them again. I am also looking forward to working with (Plainridge's regular announcer) Lenny Calderone as we worked together at Dover Downs many years ago," said Huston.
The subject of a feature in this month's Trot Magazine, Huston picked a good day for his visit to Plainridge. He will be calling all the action of the second leg of the Massachusetts Sire Stakes (MASS), which will reconvene on Monday with five divisions of two-year-olds competing for a total of $159,736 in purse money.
There is a non-betting MASS race before the regular card that will start at 1:45 p.m. Post time for the first race of the betting card is 2:00 p.m.
(with files from Plainridge)