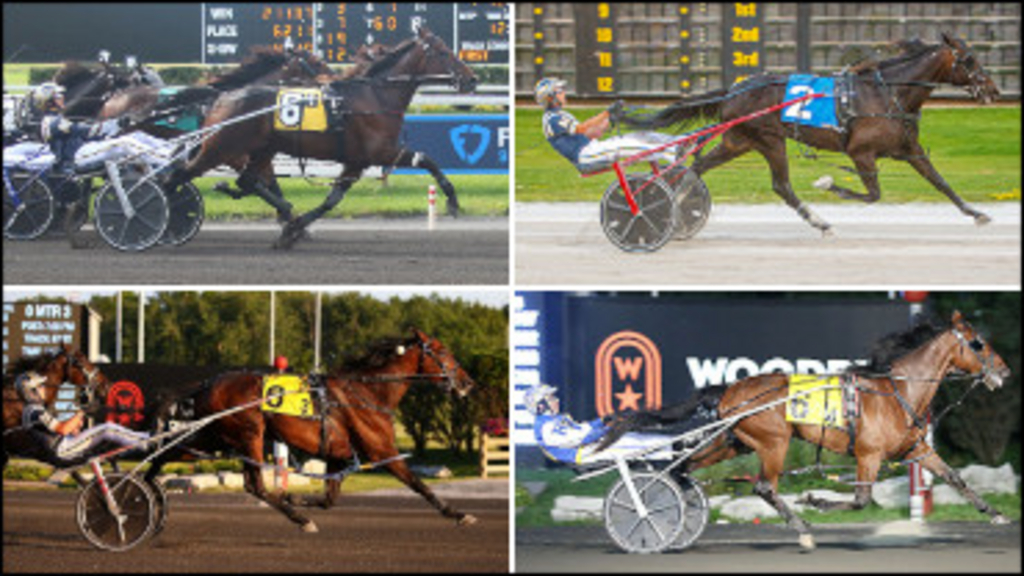 Published:
October 28, 2021 11:12 am EDT
After a challenging year managing stables on both sides of the border, trainer Luc Blais has the good fortune of seeing positive results from those efforts with a quartet of 2021 Breeders Crown contenders racing on Saturday (Oct. 30) at The Meadowlands Racetrack.
With that in mind, the four finalists Blais will send out this weekend at The Meadowlands are not likely the four horses many in the harness racing industry would have predicted at the start of stakes season.
When the tracks remained closed this past spring in Ontario, Blais sent a number of his horses stateside to train and start preparing for Grand Circuit competition.
"It's tough to have two places and manage those two places at the same time, right?" Blais stated rhetorically. "When we made the decision to bring the horses [to New Jersey] because they closed the track for training at Mohawk, and I had a few Grand Circuit horses ready. That's why we made that decision; that's why we came here to get ready.
"I think the start of the year here was good. After that, the horses got sick – we had a few sick horses this year, more than usually. I know that happens in the horse business, but it was a tough year that way."
In addition to issues with sickness, some of the Blais pupils had other issues. Soreness issues plagued O'Brien Award winner On A Streak and finalist Macho Martini through their sophomore seasons. Donna Soprano has shown signs of brilliance, but she hasn't been "100 per cent all the time," according to Blais. The depth of the stable and the patience of his owners, however, have provided opportunities for other horses to come to the fore.
Blais, who has four Breeders Crown titles to his credit, can theoretically double his total in this year's championships although it would take a minor miracle for that to happen. Two of his entrants would have to finish first in a dead-heat and, as last year's freshman colt pace final illustrated, that's not a statistical sure thing. The Determination-owned stablemates Warrawee Roo (PP1, Dan Dube, 9-2) and Forbidden Trade (PP2, Bob McClure, 7-2) will line up beside each other from the inside of the starting gate as the morning line as the third and second choice on the morning line, respectively, in the $650,000 Breeders Crown Open Trot.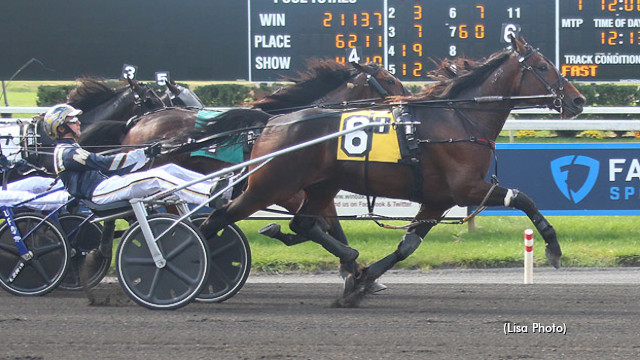 "He's always been a good competitor, that horse," Blais said of Warrawee Roo. "He's on top of his game right now. He feels super good. And he's sound, that's the main thing."
After competing against the best older trotters in 2018, Warrawee Roo was given time to recover from a fracture in his left front foot. Now eight, the son of Majestic Son - Karoon comes into the Breeders Crown fresh off a lifetime best 1:51.2 performance in an Open Trot carded last Saturday at The Meadowlands and five top-five finishes in his last five starts (2-2-1) against Preferred and Open company.
"He's got everything to surprise on Saturday. I know one thing: he is going to try hard, that's for sure."
Effort will certainly be required to defeat the favourite coming into the event, European invader Ecurie D. That five-year-old son of Infinitif makes his Meadowlands pari-mutuel debut on Saturday after a stellar 1:50.4 romp over older foes in the 2021 Allerage Open Trot at The Red Mile on October 10. The horse that finished second in the Allerage is Blais' second Breeders Crown Open Trot finalist, Forbidden Trade.
Since Kentucky, Blais sharpened Forbidden Trade with a qualifying mile last Friday at The Big M. The son of Kadabra - Pure Ivory sprinted home to hit the wire in 1:53 while defeating a pair of Breeders Crown-competing mares, Weslynn Quest and Hypnotic AM.
"We just stretched him the last eighth and he responded very well," said Blais. "You know, those were two nice horses in front of him. He looked really good. I'm very pleased with [both Warrawee Roo and Forbidden Trade] right now. I've got a good feeling."
Another horse that Blais has a good feeling about is older pacer Enavant. Thirteen months ago, Enavant was turning heads in Ontario after starting his career with 11 straight victories over conditioned company at Hippodrome 3R and Woodbine Mohawk Park. After a patient approach to developing the horse this year, the son of Somebeachsomewhere - Lady Be Great has climbed the class ladder to show he belongs with this group. He sports a mark of 1:48.4, taken at Mohawk in August, and finished second to divisional kingpin Allywag Hanover in the 2021 Mohawk Gold Cup on September 18.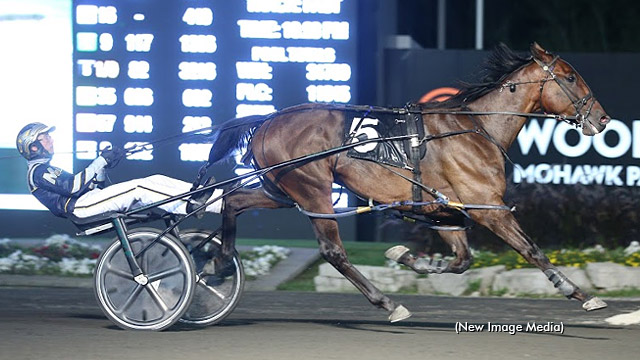 In his Meadowlands debut last week, he rallied from seventh at the head of the lane as driver Bob McClure stick-handled the pacer through traffic to finish third in his Breeders Crown elim while pacing home in :25.3. Enavant and McClure leave from post three this week, listed at 8-1 on the morning line in the $600,000 Breeders Crown Open Pace.
"If you see his last six, seven starts, he hasn't had a bad race. [1:]49, [1:]48, at Mohawk, he came first over a few times," noted Blais. "He's fresh. He looks good. We're lucky to make the final because he was in a bad spot at the half. If you would have asked me if we were going to make it, I was not sure. But he finished really strong in the end, and he looks strong.
"I think we didn't use too much in the elimination, and I hope that's a good thing. We got a nice post. He finished second to Allywag Hanover at Mohawk, and he came first over that night too....He's an honest horse."
Blais gave co-owner Guy Corbeil credit for his patience with Enavant, a yearling that fetched a $260,000 price tag at the 2017 Lexington Selected Yearling Sale. He's co-owned by Determination.
"Guy did a really good job waiting for him. He started him on a small track, gave him confidence. I think he did a great job. He raced a few starts last year and we turned him out to turn out right away. We didn't know how good he was going to be, but we knew he had some talent. We enjoy watching him race."
Enavant might have been a stretch to consider a Breeders Crown contender one year ago. Sophomore trotting colt Inaminute Hanover thus would have been a colossal leap. Making his pari-mutuel debut on October 24, 2020 at Flamboro Downs, the son of Bar Hopping - Im On Cloud Nine ended his rookie season for Team Determination with a 2-0-1 summary from three starts but has since developed into a speedy sophomore with Grand Circuit level talent. He definitely looked the part in his Simcoe win last month, trotting to a confident win in a lifetime best 1:52.4.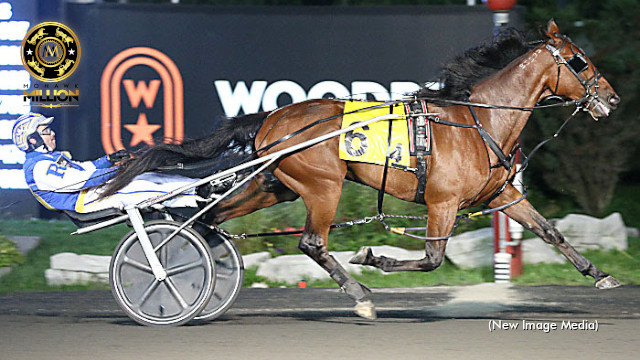 "When I brought him here to New Jersey [in the spring], he showed me lots of good things. We raced him in the Sire Stakes in Pennsylvania, and he showed me he wanted to race, he tried hard. I said 'Maybe, if he steps up, he is going to be a nice horse' because he had no experience, either. He is a big, big horse.
"I think when I came back home, he was a little bit tired. And I stopped him right away and gave him a rest. And when he came back, you can see he stepped up. I'm surprised and I'm not surprised because he showed me that in the beginning. In the Pennsylvania Sire Stakes, he showed some some talent – he went [1:]54 the right way. And he was very green in the beginning. You expect when he has experience, he is going to step up. And he stepped up. He forced us to bring him to the Breeders Crown."
Inaminute Hanover and Bob McClure have the rail on Saturday for the $650,000 Breeders Crown Final.
"The post is going to help, and we need a little bit of luck in the race, too. But he looks good, he's fresh and you never know. I got a good feeling. I'm going to be honest with you, I've got a good feeling with my horses for this weekend. The way they qualified, and they came back very fresh from those races. That's good."
Having a number of horses in peak condition for races like the Breeders Crown series isn't something one trainer can do on his or her own. It takes a village, and Blais is quick to acknowledge the support of his team for the success achieved. Despite relatively low numbers compared to some of his fellow conditioners, Blais ranks fourth among Canadian trainers in seasonal earnings ($1,914,598) and he's on the cusp of his sixth consecutive $2-million season.
"I've got a good staff. And I think that's a part of the key, you know, to be patient, too. I think I've got the right owner. He's got lots of patience to wait for the horses. It's teamwork."
To view the full entries for Saturday's Breeders Crown card of harness racing at The Meadowlands, click one of the following links: Entries ♔ Program Pages.