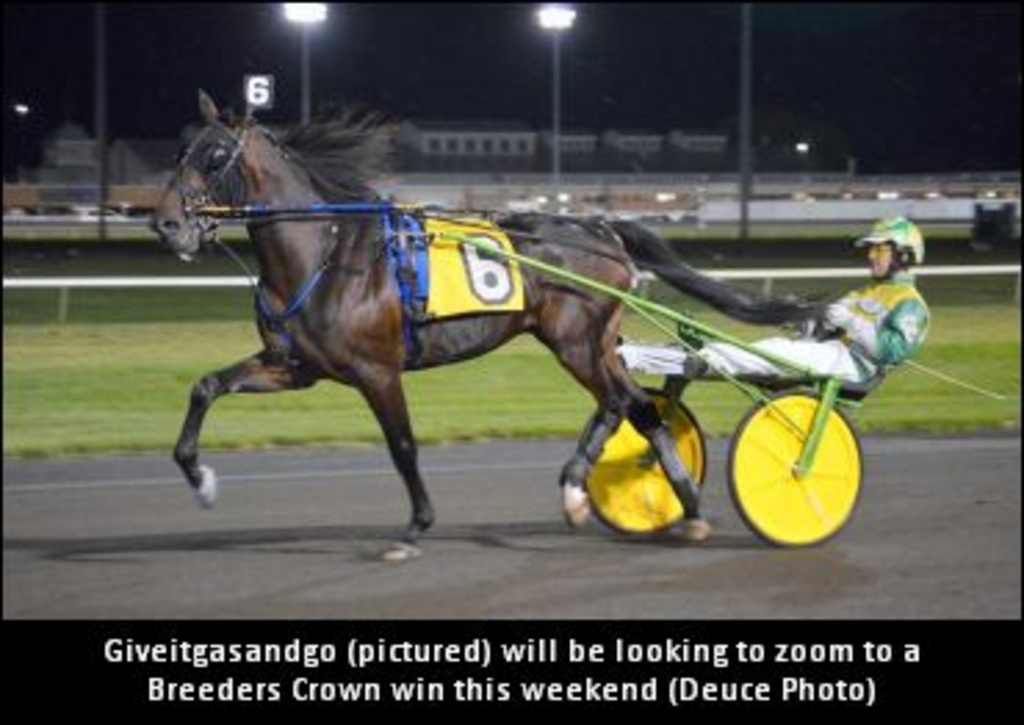 Published:
October 27, 2016 03:22 pm EDT
Pennsylvania Sire Stakes champion Giveitgasandgo is certainly creating his own VIP experience leading up to this weekend's Breeders Crown.
Trained by John Butenschoen, Giveitgasandgo had won seven straight races prior to finishing third in last week's Breeders Crown elimination, in which he qualified for the $600,000 Two-Year-Old Colt & Gelding Trot final this Saturday at the Meadowlands Racetrack in East Rutherford, New Jersey.
Scheduled as Race 6 on the stacked 13-race card, Giveitgasandgo will start from the rail in the 10-horse field, with Corey Callahan in the sulky. Post time is scheduled for 8:40 p.m. ET.
"He's a very nice colt that's done everything we've asked of him so far this year," said Callahan, who is seeking his first 'Crown' trophy. "Last week was his first start on a big track for me and it was great acclimating mile for him. We drew a great spot and think he'll give a good showing of himself in the final."
The Yankee Glide-Mazda Hanover ridgling is owned by Harmony Oaks Racing Stable (Sorrento, FL), David Miller (Lake Wylie, SC), Lawrence Means (Camp Hill, PA) and VIP Internet Stable.
VIP Internet Stable, based out of Piscataway, New Jersey, is a racehorse syndication group that was started by co-partners Ed O'Connor and Tom Janes in 1999. The concept was that anyone from any location could now get involved with harness racing ownership, with the goal of offering fractional ownership in order to get as many people as possible involved in the game.
"In 2009 we were fortunate enough to take an interest in a horse by the name of River Shark. This eventual million-dollar earner took us to various stakes events (including the Little Brown Jug) and got us interested in the excitement surrounding two and three-year-old stakes racing," Janes said. "At the time we were also introduced to John (Butenschoen). John had relocated from the struggling Illinois horse program to Pennsylvania. He enjoyed the baby game, so we started buying a few pieces of yearlings with him and some of his partners."
From there, the relationship between the two expanded and grew.
"We then started getting seven to eight yearlings with John each year and were again introduced to the exciting world of stakes racing. We started winning a sire stakes leg here and there as well as few other events. The interest and excitement continued to build when in 2012 we won the $250,000 Kentucky Sire Stakes with Duel In The Sun. That continued in 2013 when we won the $260,000 PA Sire Stakes with Allstar Partner," Janes said. "We fell a little short in 2014, but finished a close second in the PA sires with Tomy Terror, and last year we were back in the loop with a nice trotter by the name of Hititoutofthepark, who has earned over $300,000 for us."
Enter Giveitgasandgo in 2016.
"We took an interest in Giveitgasandgo at last year's Lexington Sale where he was purchased for $32,000. John looks at hundreds of horses prior to the sale and then provides his owners with his overall ratings based on several factors. We then walk the sale grounds with John and review his top selections as well as any that we might like. We've had some luck with some fairly priced Yankee Glides in the past, so certainly were keeping an eye on any that John had rated as an 'A,'" Janes added.
Back track to two weeks ago at the Meadows, where Giveitgasandgo had a statement performance.
In the $103,800 Keystone Classic Two-Year-Old Colt & Gelding Trot, Giveitgasandgo (with driver Scott Zeron) won his seventh straight in a career-best 1:54.4. The time eclipsed the old stakes record of 1:55.2 (which was set by Keystone Activator and Pilgrims Taj) and equalled Sutton's track record.
Thus far, he has set the fastest time on a five-eighths-mile track in the division this year. His purse earnings currently sit at $264,240.
"We are of course thrilled to have Giveitgasandgo in the Breeders Crown. Our members are extremely excited to own a piece of such a nice horse and many of them have only dreamed of owning a horse like this and we're excited to give them that opportunity," Janes said. "We realize that it's going to be very tough going up against Linda's (Toscano) horse, Walner. However, Giveitgasandgo is pretty talented and has been prepped nicely for this."
RACE 6 - Meadowlands - NJ - October 29, 2016
BREEDERS CROWN
Two-Year-Old Colt & Gelding Trot
(Post – Horse – Driver – Trainer – Line)
1 – Giveitgasandgo – Callahan – Butenschoen- 5/1
2 – Walner* – Tetrick – Toscano- 7/5
3 – Snowstorm Hanover – Kakaley – Burke-15/1
4 – Sortie* – McCarthy – Daley-8/1
5 – Dover Dan – S. Zeron – Butenschoen- 15/1
6 – Sir John F – Kakaley – Takter-20/1
7 – Moonshiner Hanover – S. Zeron – Beaver-12/1
8 – What the Hill – D. Miller – Burke-8/1
9 – Fly On – A. Miller – J. Miller-12/1
10 – Jake – Filion – Blais-6/1
(Asterisks in the field indicate elimination winners)
(Breeders Crown)