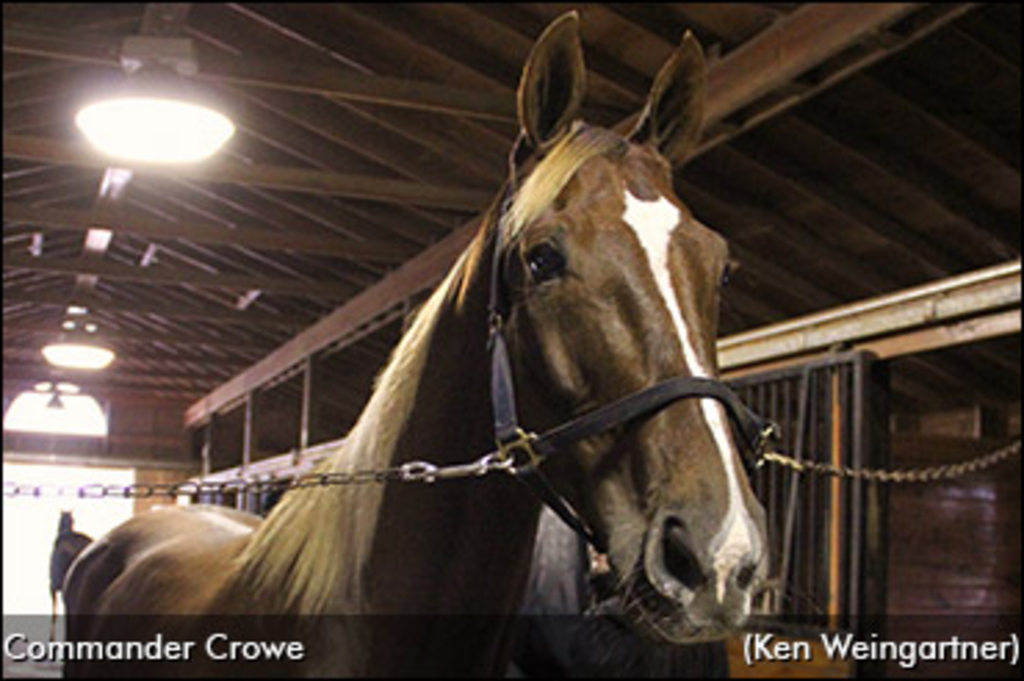 Published:
October 23, 2014 01:08 pm EDT

"We hope for the best. In Europe we know the track, we know what to do. But in America, we don't know so much. We don't know the track, we don't know which (post) is the best; it's a little new to us. If it's a race in France or Scandinavia, I could say, yes, that's good. We'll see."
Baseball fans in New York are familiar with the "Le Grand Orange," the nickname of popular former Mets star Rusty Staub. Now, nearly 30 years after Staub's retirement, racing fans in New York will get their first in-person look at "Le Grand Blonde," globe-trotting trotter Commander Crowe.
Commander Crowe races Saturday night in the $250,000 International Trot Preview Invitational at Yonkers Raceway. It will be Commander Crowe's first start on American soil. He has raced twice previously in North America, both in the Breeders Crown Open Trot at Woodbine Racetrack in Toronto, finishing third each time.
An 11-year-old Swedish-born gelding, Commander Crowe has won 60 of 104 career races, earning $4.78 million. His earnings rank No. 5 among all trotters in history and his triumphs include the prestigious Elitlopp Invitational, which he captured in 2012.
The International Trot Preview, to be contested at 1-1/4 miles with a field of eight horses, is the precursor to the return of the International Trot next year at Yonkers after a two-decade hiatus. Joining Commander Crowe in this season's event are Sebastian K, another star from Europe who this year became history's fastest trotter, and 2013 Horse of the Year Bee A Magician, the lone female in the field.
Also in the race are Arch Madness, a multiple-stakes-winner of $4.25 million lifetime who finished second to Commander Crowe in the 2012 Elitlopp, and 2012 Yonkers Trot winner Archangel. Rounding out the group are Obrigado, Natural Herbie, and Not Afraid.
Commander Crowe will start the International Trot Preview from post No. 1 with Orjan Kihlstrom at the lines for trainer Fabrice Souloy. He enters the race off a second-place finish in the Grade 1 Gran Premio Turilli in Rome on Oct. 5. In August, he raced three heats to win the Grade 1 Aby Stora Pris in Sweden.
Souloy expects Commander Crowe to have no trouble negotiating the turns on Yonkers' half-mile oval.
"The turns are not a problem for him," Souloy said. "He will not care about it."
Commander Crowe arrived in central New Jersey on Saturday, following two days in quarantine, and will remain there in preparation for November's Breeders Crown at the Meadowlands. Souloy hopes the extra time will help Commander Crowe get acclimated to racing in North America. In his previous trips to the Breeders Crown, the horse arrived just prior to the event.
"We were disappointed, yes and no," Souloy said about Commander Crowe's previous Breeders Crown starts. "The season was so long for him; he started to race in March and he went all the season, so many transports, and I think when he got here he was a little down. I think in 2012 if he had come in June or July, he would have been much better than that. The trip was really tough.
"In 2012, he had raced 14 times. He went to Norway, he went to Denmark, he went to Sweden; he went everywhere. It was a tough season. It is so difficult to keep him on the top until November."
Commander Crowe, a chestnut gelding who didn't begin racing until late in his three-year-old season and won the first 23 starts of his career, moved to Souloy's stable in 2010. He is owned by the Snogarps Gard ownership group of Barbro Wihlborg, Ulf Wihlborg and Joakim Wihlborg. He is a son of Juliano Star, out of the Mack Lobell-sired mare Somack.
"For me, in 2012, the horse was fantastic," Souloy said. "He won everything in Europe. In 2013, he had so many problems, (including) an infection in the leg. This year, he has been really good. It is nice to be asked to come back here again because we feel the horse has come back really good."
On Saturday, Commander Crowe will renew his rivalry with Sebastian K, who followed trainer/driver Ake Svanstedt to the U.S. last winter and has won eight of 11 races and $663,853 this season. On June 28, he won in 1:49 at Mohegan Sun at Pocono Downs to become the fastest trotter in history.
"I am not surprised because he was so fast in Sweden," Souloy said. "Long distance, I think he is not his best. He is a real miler, really fast. It's not the same style (of racing here). In Europe, you get many attacks and you need to be really strong. For me, it is a horse for a mile. I am not surprised by his success."
Souloy, like many fans, is looking forward to Commander Crowe's starts in the States.
"It's nice for the sport," he said. "It's nice to have many good horses."
Race 9 – $250,000 INTERNATIONAL TROT PREVIEW (1¼ miles)
1-Commander Crowe (Orjan Kihlstrom)
2-Bee A Magician (Dave Miller)
3-Archangel (Matt Kakaley)
4-Obrigado (Jason Bartlett)
5-Arch Madness (Trond Smedshammer)
6-Sebastian K (Ake Svanstedt)
7-Natural Herbie (Verlin Yoder)
8-Not Afraid (Brett Miller)
---
This story courtesy of Harness Racing Communications, a division of the U.S. Trotting Association. For more information, visit www.ustrotting.com.