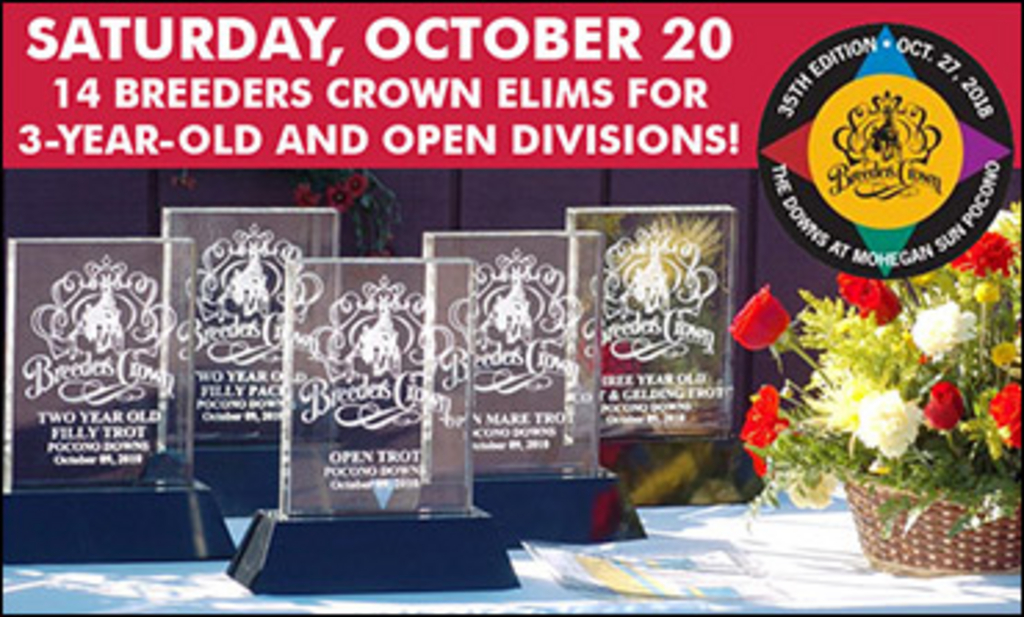 Published:
October 20, 2018 06:31 pm EDT
After an action-packed Friday card for freshmen, The Downs at Mohegan Sun Pocono hosted the second night of Breeders Crown eliminations with three-year-olds and older horses on display vying for spots in next weekend's lucrative finals.
Here's what transpired in Saturday's elims over a soggy surface in Wilkes-Barre, Pennsylvania.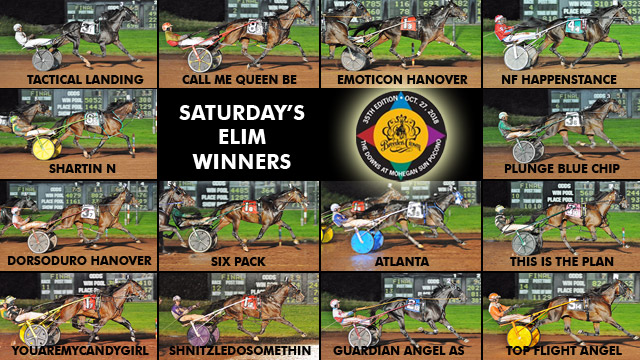 THREE-YEAR-OLD COLT AND GELDING TROT
Tactical Landing took the first elimination on the night with a first-over swoop rounding the final turn in progress to an open-length victory over Mets Hall in 1:52.2 on a track rated "good".
Driver Brian Sears positioned the Jimmy Takter-trained Muscle Hill colt fifth as Lawmaker cleared control from rail-starter Mets Hall circling the first bend. Mets Hall then pulled from the pocket and moved to the front past a :26.4 opening quarter. Tactical Landing edged first over heading to the clubhouse turn and marched into third as Mets Hall trotted to the half in :55.
Mets Hall held control in the backstretch as Tactical Landing floated into second approaching three-quarters, timed in 1:23.1. Tactical Landing quickly slid to the lead midway around the final turn and kicked clear into the stretch as Mets Hall chased in second. Jula Downtown, off a rail trip, held third from Evaluate closing for fourth while Gemologist finished fifth.
Winning his seventh race in 14 starts, Tactical Landing competes for The Tactical Landing Stable and has earned $394,300. The colt out of Southwind Serena, bred by Steve Stewart, Black Creek Farm and Andrea Lea Racingstables, returned $3.60 to win.
Unhurried from the rail, Six Pack held the lead and set soft fractions as he trotted a 1:53.3 mile to take the second sophomore colt trot elimination.
The field lined in post-position order as Six Pack inherited the top approaching a :28 opening quarter. With no challenge to the half in :57, Six Pack entered the backstretch accelerating the pace slightly as Run Director began his advance first over with Fiftydallarbill tracking on cover.
Six Pack continued on the lead past three-quarters in 1:25.1 as Run Director sat within two lengths of the lead turning for home. Fiftydallarbill edged off cover and closed in tandem with Run Director towards Six Pack who shortened in stride to the line but remained in front at the wire. Crystal Fashion took fourth with fifth-place finisher Wolfgang also advancing to the final.
"He can show speed if I ask him and [we got] to the lead easy," trainer-driver Ake Svanstedt said after the race. "He is really lazy also when he comes on the front. He looked tired at the end but I don't think he was tired. He felt good and trained good after the Kentucky Futurity so he's a tough horse."
Bred by Brittany Farms LLC, Six Pack, a colt by Muscle Mass from the Cantab Hall mare Pleasing Lady, won his 10th race form 13 starts this season and his 14th from 21 overall, earning $1,169,215 for owners Ake Svanstedt Inc., Little E LLC, Stall Kalmar Ff and Lars Berg. He paid $2.60 to win.
Three-Year-Old Colt and Gelding Trot Final
1. Run Director
2. Evaluate
3. Fiftydallarbill
4. Tactical Landing
5. Six Pack
6. Jula Downton
7. Crystal Fashion
8. Mets Hall
9. Wolfgang
AE1 Gemologist
AE2 Lawmaker
THREE-YEAR-OLD FILLY TROT
Trainer-driver Ake Svanstedt and Plunge Blue Chip pressured tempo-setter Top Expectations heading to three-quarters and powered to a 1:53.3 victory in the first elimination for sophomore filly trotters.
Top Expectations took control before the first turn with Looking For Zelda moving into the pocket ahead of Highland Dynamite third. Past the quarter in :27, Top Expectations soon braced for Plunge Blue Chip marching first-over into a :56.2 half.
Plunge Blue Chip stuck a nose ahead of Top Expectations past three-quarters in 1:25 with Courtney Hanover tracking second over and Impinktoo third over. The backfield chased Plunge Blue Chip through the lane with Impinktoo taking second lengths back from Looking For Zelda third and Courtney Hanover fourth. Top Expectations faded to fifth.
A filly by Muscle Mass out of the Donato Hanover mare Dunk The Donato, Plunge Blue Chip entered the Breeders Crown elimination equaling her 1:49.4 world record in the first heat of the Kentucky Filly Futurity but then finishing last of eight in the final.
"I think she was just dehydrated," Ake Svanstedt said after the race. "She's [on] Lasix and a lot of trainers say that two heats on Lasix is not so good. That was the problem [but] tonight she was the same horse again."
Plunge Blue Chip won her eighth race in 14 starts this season and her 17th in 24 overall, earning $926,291 for owners Ake Svanstedt Inc., Blue Chip Bloodstock Inc., Tomas Andersson and Rick Zeron Stables. The Blue Chip Bloodstock-bred filly paid $3.20 to win.
Atlanta endured no pressure when wiring the field in 1:53.1 to take the second Breeders Crown elimination for three-year-old filly trotters.
Driver Scott Zeron sent the Rick Zeron-trained filly by Chapter Seven to the lead with Lily Stride inheriting the pocket from the rail approaching a :28.2 opening quarter. Manchego sat third as no movement came after Atlanta through a :57.4 half and 1:26 third-quarter. Lily Stride cut her deficit on the pacesetter into the stretch but only managed second while Manchego chased in third and Phaetosive, sitting last, closed for fourth. Supergirl Riley, finishing fifth, also advances to the final.
"I'm sure Yannick [Gingras on Manchego] was being conservative and at the same time I wanted to be conservative as well just to make sure my filly bounced back off the double heat in the [Filly] Futurity," Scott Zeron said after the race. "She didn't bounce back the same after the Hambletonian—it took her a little bit to get back into form. So I was able to command the lead early, stole the first fraction and from then on, when there was nobody power moving, I was able to control it even more."
Winning her eighth race from 13 starts this season and her 12th from 23 overall, Atlanta, out of the Cantab Hall mare Hemi Blue Chip, has earned $1,025,689 for owners Rick Zeron, Crawford Farms, Holland Racing Stable, Howard Taylor and Brad Grant. The $4.20 winner was bred by Order By Stable.
Three-Year-Old Filly Trot Final
1. Plunge Blue Chip
2. Supergirl Riley
3. Atlanta
4. Lily Stride
5. Looking For Zelda
6. Courtney Hanover
7. Phaetosive
8. Manchego
9. Impinktoo
AE1 Top Expectations
AE2 Ciao Dolce
THREE-YEAR-OLD COLT AND GELDING PACE
Brushing to the lead before the half, the Ron Burke-trained Somebeachsomewhere gelding Dorsoduro Hanover held off the passing-lane bid from pocket-sitter Thinkbig Dreambig to take the first of three $25,000 Breeders Crown eliminations for three-year-old colt and gelding pacers.
Driver Matt Kakaley positioned Dorsoduro Hanover fourth to the quarter as Hitman Hill swooped to the top from post seven. Thinkbig Dreambig, away second, pulled from the pocket approaching the quarter and cleared past the :27.1 opening marker while Dorsoduro Hanover made his move first over in progress to a :55.2 half.
Dorsoduro Hanover controlled the pace heading to three-quarters with Ideal Feeling, tracking the favourite's stand-side brush, advancing into second through the 1:22.4 clip. Thinkbig Dreambig, off the pocket trip, thrusted into the passing lane after Dorsoduro Hanover through the stretch but settled for second in the 1:50.1 mile. Springsteen, trailing the field throughout, fanned widest of all into the stretch and stormed home for third.
"I just didn't want to be first up tonight," Kakaley said after the race. "I had him first up in his last couple of starts, so I just controlled things my own way [and] he was really good. When they get to his bridle, he usually digs in and fights—when Yannick [Gingras on Thinkbig Dreambig] shot into the passing lane he just hit another gear; he was super."
Owned by Burke Racing Stable LLC, Silva Purnel And Libby, Weaver Bruscemi LLC and Wingfield Five LLC, Dorsoduro Hanover won his ninth race from 17 starts this season and his 11th from 31 overall, earning $991,856. The Hanover Shoe Farms-bred gelding from the Artsplace mare Deer Valley Miss returned $4.60 to win.
Somebeachsomewhere gelding This Is The Plan powered to the front early and wired his competition with a 1:51 performance to take the second sophomore colt pace elimination.
The Ron Burke trainee slid to the top from post seven with I'm A Big Deal securing the pocket to a :26.4 quarter. Courtly Choice, sent the 4-5 favorite and positioned fourth to the quarter, angled first over and ranged into second heading to a :55.4 half.
Courtly Choice continued to pressure This Is The Plan heading past three-quarters in 1:23.1 before giving way into the final turn. This Is The Plan spun into the stretch and sprinted to the wire under pursuit from I'm A Big Deal chasing to finish second ahead of American History, circling past Courtly Choice from second over, closed for third.
Winning his third race in 16 starts this season and his fifth in 29 overall, This Is The Plan, out of the Western Ideal mare That's The Plan, competes for owners Burke Racing Stable LLC, Weaver Bruscemi LLC, Silva Purnel and Libby and Lawrence Karr. Yannick Gingras drove the gelding bred by Moni Market Breeders and paid $18.80 to win.
With Lather Up breaking stride around the first turn and placed towards the back of the pack, Shnitzledosomethin swept past pacesetter Hayden Hanover heading to three-quarters and maintained control from Grand Teton closing and Lather Up recovering to take the final sophomore colt pace elimination.
Stay Hungry took the lead with Hayden Hanover between horses and Lather Up carried three wide attempting to clear the lead around the turn. Lather Up broke stride heading to a :26.3 opening quarter and got back on gait into the stretch, positioned fifth while Hayden Hanover brushed to the lead.
Shnitzledosomethin launched his first-over move heading to a :55.2 half. As Hayden Hanover faltered towards the inside, the Dylan Davis-trained colt by Fred And Ginger darted to the lead with Done Well chasing first over and Lather Up second over to a 1:22.3 third-quarter. Shnitzledosomethin, slowing into the stretch, held a wide enough margin to best Grand Teton, sweeping from last to finish second, and Lather Up, from second over, in third.
Returning $81.00 to win, Shnitzledosomethin won his third race in 15 starts this season and his ninth in 28 overall, earning $536,087. The Aaron Dale Stutzman-bred colt from the Sand Shooter mare Summer N Sand races for owners Bfj Stable, Thomas Lazzaro, Edwin Gold and Abraham Basen and had David Miller in the bike.
Three-Year-Old Colt and Gelding Pace Final
1. Dorsoduro Hanover
2. This Is The Plan
3. Springsteen
4. Thinkbig Dreambig
5. Shnitzledosomethin
6. American History
7. Grand Teton
8. Lather Up
9. Im A Big Deal
THREE-YEAR-OLD FILLY PACE
Driver Yannick Gingras circled Youaremycandygirl to the lead and withstood a late rally from Alexas Power in the stretch to take the lone Breeders Crown elimination for three-year-old filly pacers.
The filly by American Ideal sat third around the first turn as Alexas Power led Double A Mint to a :27.4 opening quarter. Youaremycandygirl soon vacated the cones into the stretch and strolled to the lead before a :56.3 half.
Im Trigger Happy tipped first over moving towards the backstretch and applied minor pressure to Youaremycandygirl heading to a 1:24.2 third-quarter. Alexas Power stalked from the pocket until the passing lane opened in the stretch where she lunged towards Youaremycandygirl but finished a nose shy of victory. Double A Mint finished third with Solitary rallying for fourth.
Youaremycandygirl, trained by Ron Burke, won her seventh race from 14 starts this season and her 16th from 25 overall, surpassing $1.3 million in career earnings for owner William Donovan. The filly from the Somebeachsomewhere mare Sweet Lady Jane was bred by Birnam Wood Farms and paid $4.20 to win.
Only Im Trigger Happy and Sidewalk Dancer do not advance to the final. The top seven from the elimination will compete against Kissin In The Sand and Baron Remy, both of whom recieved byes.
Three-Year-Old Filly Pace Final
1. Strong Opinion
2. Alexas Power
3. Double A Mint
4. Percy Bluechip
5. Youaremycandygirl
6. Dance Blue
7. Baron Remy
8. Solitary
9. Kissin In The Sand
MARE PACE
Off a win over the surface a week before, Call Me Queen Be commandeered the field from post eight and upset the first elimination for the aged mare pacers at 18-1 going wire to wire in 1:50.3 on a track downgraded to "sloppy".
Call Me Queen Be crossed over to the cones and led Carols Z Tam into the first turn with Newborn Sassy third and Agent Q fourth. Through a :26.2 opening quarter, Call Me Queen Be faced no pressure through a :55.3 half and to three-quarters in 1:23.1. Agent Q, flushed first over by favourite Pure Country, stalled around the final turn.
Widening her lead into the stretch, Call Me Queen Be coasted through the lane as Pure Country fanned off cover and swept her rivals for second. Newborn Sassy beat Carols Z Tam in a photo for third ahead of fifth-place finisher Lakeisha Hall.
Returning $38.00 to win, Call Me Queen Be, a five-year-old mare by Somebeachsomewhere from the Western Terror mare Preppy Party Girl, won her seventh race in 25 starts this season and her 21st in 74 overall, earning $1,359,335. Bred by John Carver and competing for Let It Ride Stables Inc. and Dana Parham, Call Me Queen Be had Eric Carlson in the bike for trainer Ross Croghan.
Shartin N advanced to the front past the quarter and maintained the lead through the wire to take the second mare pace elimination in 1:52.
Twinkle shot for the top with Frost Damage Blues away second and Caviart Ally third. Shartin N, the 6-5 second choice, paced into fourth and progressed towards the lead rounding the first turn and passing the :27 opening quarter. Shartin N then controlled the tempo to a :56 half with Caviart Ally beginning her bid first over.
Caviart Ally progressed into second heading to three-quarters as Shartin N went through that panel in 1:24.1. Twinkle dove into the passing lane turning for home in pursuit of Shartin N but only chased as Shartin N turned away her competition to win. Caviart Ally held third from Blue Moon Stride sweeping into fourth.
Racing for owners Richard Poillucci and Jo Ann Looney-King, Shartin N, a five-year-old mare by Tintin In America from the Live Or Die mare Bagdarin, won her 17th race in 22 starts this season and her 24th in 35 overall, exceeding $900,000 in career earnings.
"That's a pretty big deal for us," trainer Jim King Jr. said after the race. "She just keeps coming. I was just hoping to get her paid for some day and she's just so exceeded all of our expectations. It's pretty damn good for a couple of old people I tell you."
Tim Tetrick drove the G. J. Crabbe-bred mare and paid $4.40 to win.
Mare Pace Final
1. Twinkle
2. Shartin N
3. Call Me Queen Be
4. Lakeisha Hall
5. Pure Country
6. Carols Z Tam
7. Newborn Sassy
8. Blue Moon Stride
9. Caviart Ally
AE1 Nike Franco N
AE2 Tequila Monday
MARE TROT
Luc Blais-trainee Emoticon Hanover shot through the open stretch to upend pacesetter and 1-5 favourite Ariana G in 1:52.4 to take the first elimination for mare trotters.
Ariana G secured the top with Emoticon Hanover in the pocket through a :27.4 opening quarter. The favourite slowed the tempo heading to the half as Ice Attraction pulled first over and supplied cover to Celebrity Ruth through a :57 midpoint.
The top two separated from the field as the pace quickened towards three-quarters with Ariana G passing that marker in 1:24.4 while Emoticon Hanover sat close in tow. Driver Dan Dube angled the five-year-old Kadabra mare into the passing lane at the head of the stretch and powered past Ariana G in the final strides to win. Ice Attraction held third with Celebrity Ruth beating The Erm in a photo for fourth.
"I wanted to follow [Ariana G] and my horse right now she's been racing good with cover," Dube said after the race. "Today, the way she was feeling I guess she's back like last year. It's like she was last year when you can't even hold her; [she's] grabby and everything. That's a good sign."
Owned by Determination Inc., Emoticon Hanover won her fourth race in 13 starts this season and her 20th in 51 overall, earning $1,242,076. The $11.00 winner, out of the Ken Warkentin mare Emmylou Who, was bred by Linda Wellwood, Tammy Aspden, Anne Shunock and Diane Ingham.
Jack Parker Jr. asserted Nf Happenstance towards the front and wired their competition after favourites Dream Together and Broadway Donna lost stride in the second mare trot elimination.
Pink Pistol pushed for the lead and cleared heading into the first turn as 4-5 favourite Dream Together took the pocket and Nf Happenstance floated into third. Nf Happenstance stuck outside and marched towards the lead through a :27 opening quarter and continued under no pressure through a :56.3 half.
Dream Together, trying to mount a bid, eventually committed first-over into the backstretch and rushed towards Nf Happenstance heading to three-quarters. Stalled, Dream Together broke past the 1:25.1 third-quarter and backed Broadway Donna out of the mix into the final turn.
Nf Happenstance held a wide lead through the stretch with Parker Jr. highlining the eight-year-old SJs Caviar mare to a 1:55.3 win. Barn Bella circumvented the far-turn interference to snag second from Pink Pistol in third. Caprice Hill finished fourth and Broadway Donna, placed fifth after the disqualification of Dream Together for interference around the final turn, advances to the final.
Bred by John Hurtgen and owned by James Moore III, Nf Happenstance won her 11th race from 29 starts this season and her 31st from 110 overall, surpassing $600,000 in career earnings. Carol Jamieson-Parker conditions the mare from the Conway Hall dam Moira Hall and returned $20.80 to win.
Mare Trot Final
1. Broadway Donna
2. Barn Bella
3. Nf Happenstance
4. Caprice Hill
5. Emoticon Hanover
6. Celebrity Ruth
7. Pink Pistol
8. Ariana G
9. Ice Attraction
OPEN TROT
Guardian Angel AS and Top Flight Angel recorded commanding wins in their respective $25,000 Breeders Crown Open Trot elims.
In the first elim, Matt Kakaley steered Guardian Angel As to victory after taking the lead past the :28.1 first quarter set by Pinkman. Guardian Angel As easily came from third to take control of the race, going on to cut the half in :57 and three-quarters in 1:24.3.
Pinkman drafted behind Guardian Angel As as Cruzado Dela Noche attempted a second-tier challenge, which was only enough to finish third, as Pinkman held for second. Yes Mickey broke at the top of the stretch, causing no interference with Marion Marauder, who floated behind Cruzado Dela Noche and finished fourth.
The winning time was 1:52.3 and the winner paid $11.60.
Anette Lorentzon trains Guardian Angel As (Archangel—Provide As) for owners ACL Stuteri AB, who also bred, and Kjell Johansson.
Andy Miller guided the Julie Miller-trained Top Flight Angel to a similarly dominating win in the second elim. Top Flight Angel went directly for the lead leaving the gate, followed by Dunbar Hall, Warrawee Roo and Homicide Hunter.
Top Flight Angel recorded a :27.3 first quarter and continued afloat as the leader in a :57.1 half. Warrawee Roo came out of the pocket to challenge the leader heading for three-quarters but never got close enough to threaten as three-quarters went in 1:25.
The top three remained in their stalking positions as Top Flight Angel floated home to win in 1:52.3. Will Take Charge finished fourth and Homicide Hunter took fifth to be the last eligible entry for the final.
Legendary Standardbred Farm owns Top Flight Angel (Arcangel—Top Photo), who was bred by Alan C. Hainsworth.
The winner paid $20.60.
---
All finals, with purses totalling $6 million, will be contested on Saturday (Oct. 27) at Pocono. Elimination winners, in an order determined by lot, will draw for post positions one through five for the finals.
The draw for the $421,000 Open Pace will take place on Tuesday. The eight-horse field for the final will consist of All Bets Off, Dealt A Winner, Donttellmeagain, Filibuster Hanover, Lazarus N, McWicked, Rockin Ron, and Western Fame. Lazarus N was supplemented to the event for $50,000.
(With files from Breeders Crown)