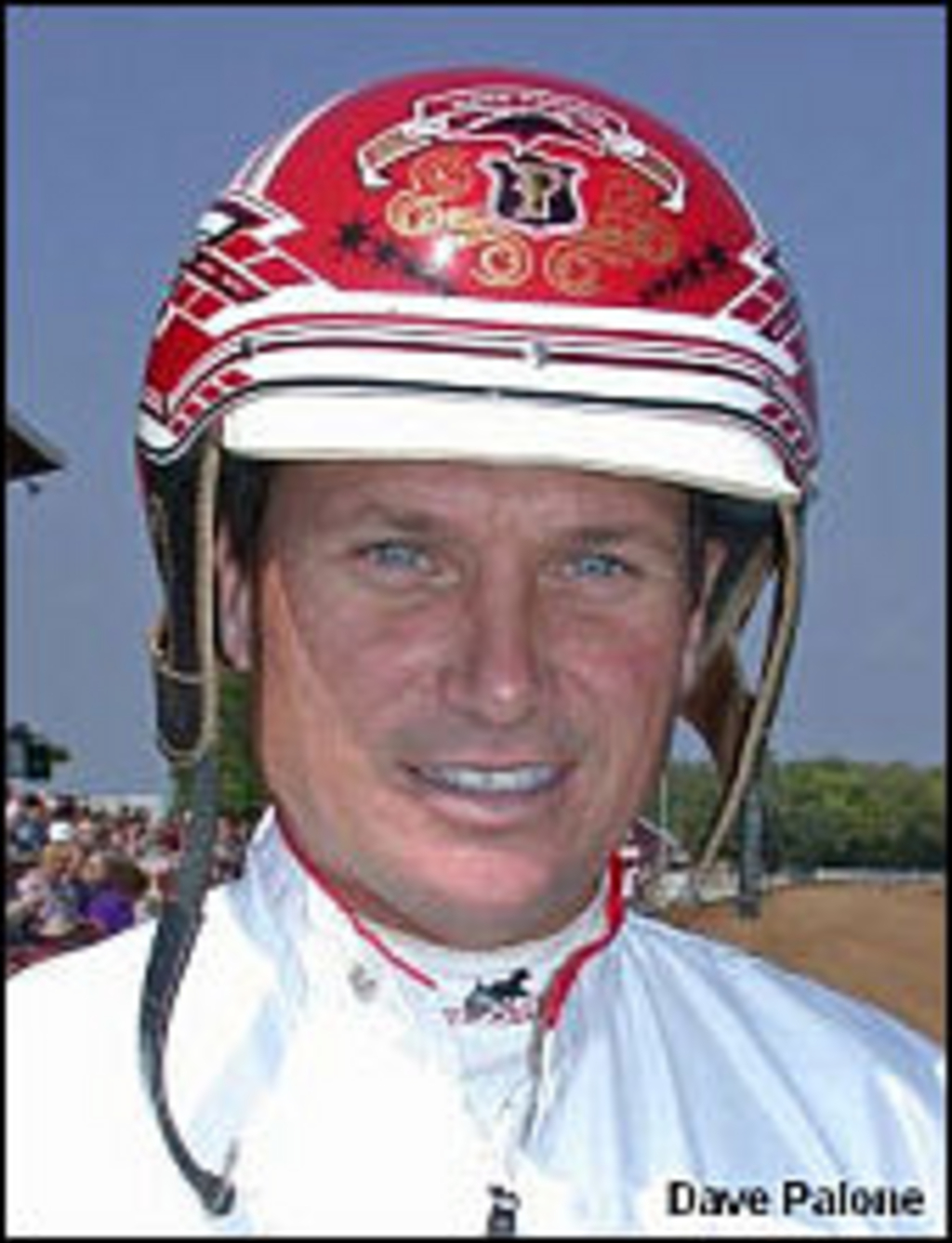 Published:
September 8, 2009 12:19 pm EDT
Dave Palone, the dominant driving force at the Meadows for the last two decades, and Hal Jones, who revolutionized the game with artificial insemination, have been elected to Harness Racing's Living Hall
of Fame.
Murray Brown, pedigree guru and publicist for Hanover Shoes Farms, and Jim Moran, the iron-man announcer and publicist at New York's Vernon Downs were elected to the Communicators Hall of Fame. All balloting was conducted by the United States Harness Writers Association.
Palone, a native of western Pennsylvania, is well on his way to his 21st consecutive driving title at the Meadows. But his handling of Grand Circuit-type stock who invade his home track for stakes racing has also caught the eye of notable trainers, who do not hesitate to use Palone, not only at 'home,' but whenever and wherever Palone is on the road. A five-time recipient of Harness Tracks of America's Driver of the Year award, Palone could soon be second in North American lifetime victories, behind only the legendary Herve Filion.
The shrewd Jones became the 'father' of artificial insemination almost by necessity: he was so busy managing Pickwick Farms in the '60s, he saw the means of impregnation by other than natural cover a timesaver. But artificial insemination has had other, far-reaching effects: the ability to breed a stallion to a larger number of mares and the strengthening of the speed and powerfulness of the modern standardbred horse. Jones was also associated with Blue Chip Farms, Hanover Shoe Farms, Lana Lobell Farm and his own Cameo Hills Farm in New York.
Brown, a native of Quebec, went stateside and quickly connected with Hanover, the largest standardbred farm in the world. Brown is in charge of selecting the yearlings that will be sold at the Standardbred Horse Sales Company venue in November, the largest standardbred sale in the world, of which he is also general manager. An expert on pedigrees, and most anything else about harness racing, Murray is also known as a 'good guy' who shares his time freely with others. This will not be the first great honour bestowed upon Brown, as he was elected to the Canadian Horse Racing Hall of Fame in 2003.
Moran started at Vernon Downs in 1962, and while he hasn't strayed too far from home over the ensuing 47 years. His ability as a track announcer and harness writer are certainly known far and wide. He has called many champions that have graced the upstate New York oval, from Bret Hanover to Niatross to Deweycheatumnhowe. Moran is also both an excellent written describer of a race, and a person who can make a subject come alive in a feature story.
This quartet will be honoured twice in the next year. First at the annual USHWA awards banquet, at Yonkers Raceway on Sunday, February 28, 2010, and then formal induction ceremonies take place at the Harness Racing Museum and Hall of Fame in Goshen, New York, on Sunday, July 4, 2010.
(USHWA)