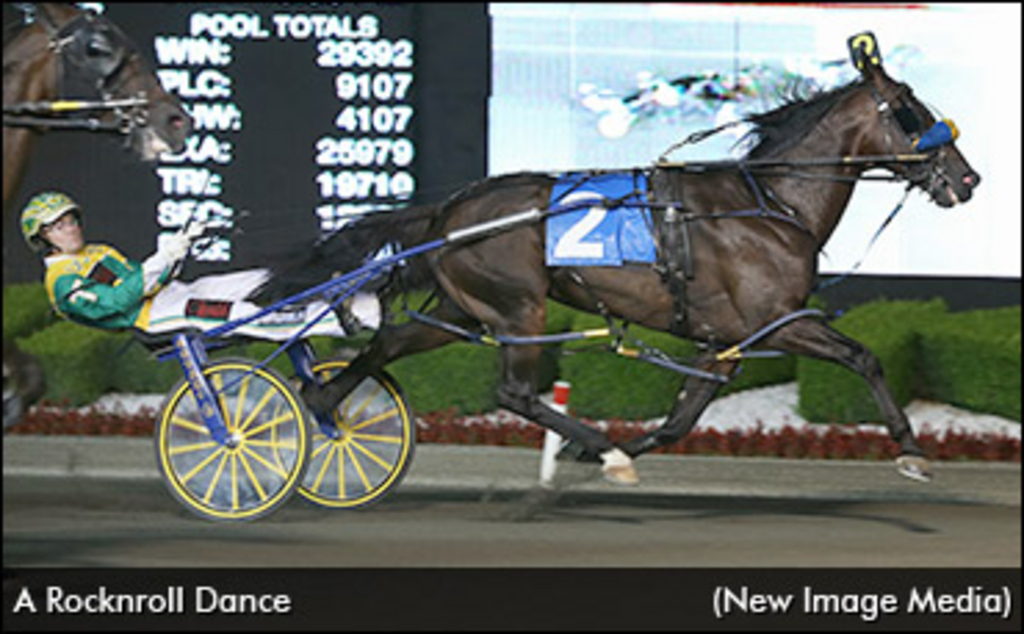 Published:
September 7, 2013 10:50 am EDT

"I'm not trying to sound arrogant, but it was no secret last year that (1):48 isn't enough to do it against this group. We knew we had to go (1):47 and nine months ago we started planning to be able to do that."
Jim Mulinix has seen months of work go by in less than 108 seconds, but he doesn't mind. That's what he's been working for.
Mulinix's A Rocknroll Dance last weekend became the first pacer in harness racing history to win three consecutive races in less than 1:48 when he captured the Canadian Pacing Derby by a nose over Clear Vision in 1:47.2 at Mohawk. The time set the stakes record and equaled the track and Canadian records.
In his two previous starts, A Rocknroll Dance won his Canadian Pacing Derby elimination in 1:47.3 and won an invitational at Mohegan Sun at Pocono Downs in 1:47.4. The time at Pocono equaled the fastest mile in history on a five-eighths-mile oval.
On Saturday, A Rocknroll Dance is the 5-2 morning line favourite in the $125,000 Jim Ewart Memorial Invitational for older pacers at Scioto Downs in Mulinix's home state of Ohio. Counting the multiple-stakes-winning A Rocknroll Dance, the nine-horse field includes five millionaires, with Fred And Ginger, Pet Rock, Sweet Lou and Up The Credit completing that group.
Kayne Kauffman will drive A Rocknroll Dance in the Ewart. The two teamed to win the Battle of Lake Erie at Northfield Park, near Cleveland, in July.
"This horse takes every bit of our attention," said Mulinix, who works with his wife, Ellen, in training and caring for A Rocknroll Dance. Mulinix owns the horse with Diamond Creek Farm, Denny Miller, J&T Silva Stables and the Muscara Racing Trust in a group called the A Rocknroll Dance Stable.
"It's not just one thing, either. It's working extra trips, the shoeing, the equipment, the driver – even giving him more room in the trailer and more cushion for when he ships.
"He's a big, strong horse so I'm able to work him between races and that helps keep him sharp. It's hard to keep that sharp every week, but I'm lucky that he's sound enough to do it. People don't realize how much effort it takes. I've got 40 years in the business and I'm putting every ounce of it into this horse."
A Rocknroll Dance was bothered by a sore mouth early in the season, but since having the issue resolved has won five of eight races, including his last three in a row. For his career, the four-year-old horse has won 16 of 45 starts and earned more than $2.38 million.
Tim Tetrick drove A Rocknroll Dance in his five starts since winning the Battle of Lake Erie. After finishing third in his elimination of the U.S. Pacing Championship and seventh in the final, A Rocknroll Dance has been doing the quick step.
"It was amazing Tim was available and he's been a good fit," Mulinix said. "I just had to get Tim to have some confidence in the horse. I told him not to worry about trying to set up a trip, this horse can rough it a bit. Once he did, (Tim) got a little more confident in the horse and in me."
Mulinix, who is based in Wauseon, west of Toledo, is happy to be racing in Ohio for the next several weeks. After the Ewart Memorial at Scioto, A Rocknroll Dance's next dance will be Sept. 19 in the Winbak Farm Pace at the Delaware County Fairgrounds on Little Brown Jug Day.
"When we get to Scioto, he'll think it's just the first stop for water," Mulinix joked about the much-traveled A Rocknroll Dance. "It's nice to race at home. So many people follow this horse (from the region) that it will be nice to race there."
Following is the field for the Ewart Memorial with driver, trainer (and morning line):
1. Ideal Champ, Chris Page, Joe Holloway (8-1)
2. Up The Credit, Ronnie Wrenn Jr., Carl Jamieson (8-1)
3. Pet Rock, Dan Noble, Virgil Morgan Jr. (7-2)
4. Fred And Ginger, Mike Wilder, Ron Burke (6-1)
5. A Rocknroll Dance, Kayne Kauffman, Jim Mulinix (5-2)
6. Our Lucky Chip, Greg Grismore, Jason Miller (10-1)
7. Sweet Lou, Tony Hall, Burke (9-2)
8. Rockin Finish, Brad Hanners, Morgan Jr. (15-1)
9. Hurrikane Kingcole, Randy Tharps, John McDermott (10-1)
---
This story courtesy of Harness Racing Communications, a division of the U.S. Trotting Association. For more information, visit www.ustrotting.com.