Published:
September 7, 2011 11:23 am EDT
News of the sudden passing of Great Canadian Gaming Corp. CEO Ross McLeod came as quite a shock yesterday. Now, just a day later, those that knew the founder of the BC-based gaming giant are offering their reflections
.
Details regarding McLeod's passing or arrangements have yet to be released, but an article today by The Vancouver Sun did state that McLeod did undergo heart surgery earlier this year.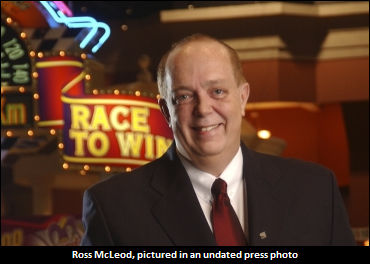 He is survived by his parents, Roy and Dora McLeod, his wife, Sheila, his sons, Malcolm and William, stepchildren Stuart, Rachel and Trevor, Trevor's spouse Julie and their three children, Antonio, Daniel and Jeremy.
"That's how this whole gaming industry in British Columbia started," GCGC VP Howard Blank, a close friend of McLeod's, was quoted as saying in the report. "It was Ross, starting Great Canadian Casino Supply Company, where they went out to different ballrooms and put on social occasion casino nights."
"He was an incredibly passionate British Columbian and Canadian," Social Credit cabinet minister Grace McCarthy was quoted as saying. The article explains that McLeod was an avid fundraiser for the foundation Children with Intestinal and Liver Disorders.
"He was never asked for anything that he did not respond to, with real heart, with real cheerfulness," she said.
"(McLeod was) the guy who changed the face of gaming and the public acceptance of gaming in BC," said the province's energy minister, Rich Coleman.
(With files from The Vancouver Sun)
(In an effort to consolidate comments on topics, if you would like to post a comment in regard to this story, please click here.)