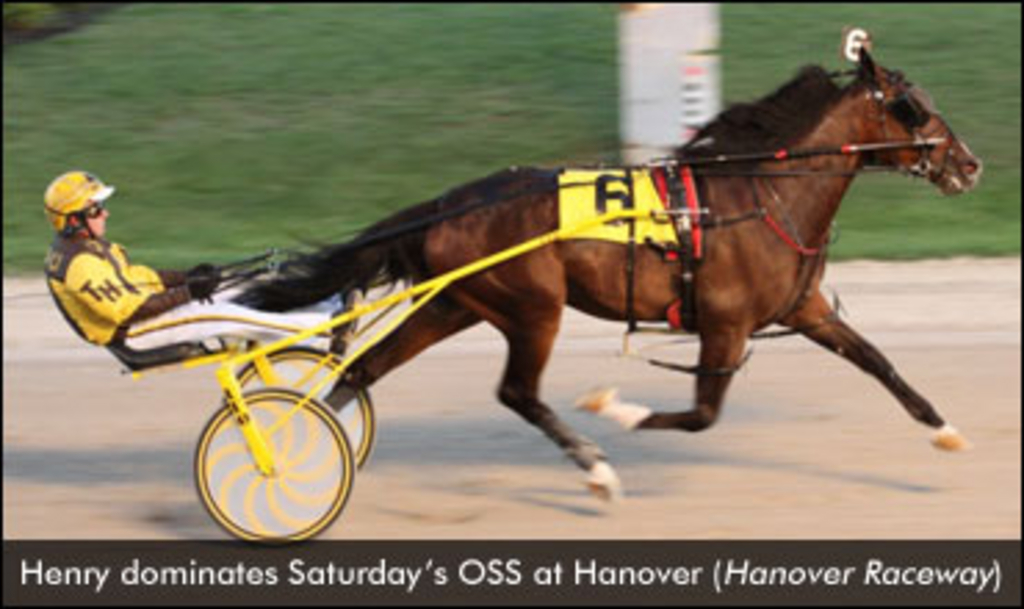 Published:
September 6, 2014 11:25 pm EDT
Driver Trevor Henry was the star of the show on Saturday night at Hanover Raceway as he won five of the six $18,000 Ontario Sires Stakes Grassroots Series events for two-year-old male trotters that were staged and added an overnight victory to give him a total of six triumphs on the 10-race program.
Henry teamed up with trainer Paul Reid for a pair of his wins. That duo struck for the first time in the third division with Snapshot Springs, who led through fractions of :31, 1:04.1, and 1:34.4 on his way to a 2:04.3 victory, and they were back for another win photo after Olympic Son overcame an early break and a first-over trip to take the nightcap by half a length in 2:03.1.
Snapshot Springs, a Striking Sahbra gelding, is a homebred for Rick and Regina Beinhauer of Venetia, Pennsylvania. He has won half of his six starts this year, with all his victories coming in Grassroots company, and he has earned $31,500. He's the eighth foal out of the S Js Photo mare Spring Photo ($246,089).
Reid trains Olympic Son, a colt by Majestic Son, for owner/breeder Bob Key of Leechburg, Pennsylvania. Olympic Son picked up his second win from four attempts and he has now put away $22,320. The winner is the second foal out of the Yankee Glide mare Graceful Sister ($104,714).
Henry also swept the early Daily Double, which was comprised of Grassroots races, with Rob Roy, who led at every call on his way to a 2:03.4 tally, and Kadabrasnewrecruit, who turned a first-over journey into a 2:01.2 score. Henry then bagged the fourth split with Call Me Richard in 2:02.
Rob Roy is trained by Richard Moreau for owner Mike Wassilyn of Rockwood, Ont. Rob Roy, an Angus Hall colt, broke his maiden in his fourth try and pushed his bankroll to $10,550. Roy Roy, who was bred by Mike Sparks, fetched $5,500 at last year's Standardbred Horse Sale. He's the first foal out of the Yankee Glide mare Callisto Blue Chip.
Trainer Bob McIntosh of Windsor, Ont. owns Kadabrasnewrecruit, a gelded son of Kadabra. Kadabrasnewrecruit, who was bred by Tymal Farms, is two-for-three in the win column and he has now earned $22,500. He's the fifth foal out of the Mr Lavec mare Keystone Alberta, who was third in the $100,000 Grassroots final when she was a two-year-old.
Call Me Richard, who picked up his third win in Grassroots action, is trained by Clare Bradshaw. Andrea Arthur of Scotland, Ont. owns Call Me Richard, whose dam is Andover Hall mare Olympic Dreams. Call Me Richard, now an earner of $32,940, was bred by Tri Star Farms Ltd. of Brantford, Ont. and was hammered down for $11,500 at last year's Canadian Yearling Sale.
The only horse to stop Henry's run was Parkhill Lancelot, who prevailed by a head in 2:02.4 in the fifth Grassroots tilt. Steve Byron drove the victorious Muscle Mass gelding for co-owner/breeder Parkhill Stud Farm of Peterborough, Ont. and co-owner Marshall Bax of Mississauga, Ont. John Bax trains Parkhill Lancelot, who has won once from six trips behind the gate and earned $24,660. Parkhill Lancelot's dam is Harlequin Seelster (Duke Of York), a three-time OSS winner in her racing career.
This concluded the Ontario Sires Stakes season at Hanover Raceway and the regular season for two-year-old colt and gelding trotters in the Grassroots Series. The next time they compete will be in the Grassroots Semifinals on September 19 at Mohawk Racetrack.
Hanover Raceway plays host to Blackburn Radio next week. The staff from Am920, 101.7 the one and 94.5 Classic Rock will be on hand and will give away a 50 inch high definition TV package courtesy of Blackburn Radio and Leons Furniture. Hanover Raceway will also give out Bingo Cards to patrons 18 and over and will give prizes to the first person with a full line and a full bingo card. Post time Saturday, Sept. 13 is 7:15 p.m.
To view Saturday's harness racing results, click on the following link: Saturday Results - Hanover Raceway.
(OSS & Hanover Raceway)