Published:
September 5, 2021 12:05 am EDT

The betting favourites prevailed in the pair of eliminations for the Fan Hanover on Saturday (Sept. 4) at Woodbine Mohawk Park, with Hot Mess Express and Fire Start Hanover emerging victorious as decisive choices on the board.
Hot Mess Express seized control early and held firm to the finish of a 1:50.3 mile to take the first $35,000 Fan Hanover elimination as the 1-5 favourite.
Driver Andrew McCarthy grabbed the top with the Panther Hanover filly past a :27.2 first quarter, pocketing Game Of Shadows to the backstretch. Scarlett Hanover sat third to a :56 half, where a headstrong Lady Arthur angled first over before promptly retreating to the final turn. With the backfield circumventing the tiring horse, the top three scooted away to three-quarters in 1:23.2.
Scarlett Hanover came first over coming for the top of the stretch and dug into Hot Mess Express through the lane. But Hot Mess Express turned away Scarlett Hanover's challenge to win with Mackie Hanover rallying for third, Game Of Shadows holding fourth and Best Head West having enough room at the pylons to make the top five.
"She was good enough tonight for sure," McCarthy said after the race. "I know there's a little bit more improvement there. She's a great horse, and I'm sure if she had to go [1:]49 tonight she would've went [1:]49. But I feel like there's going to be a little step up next week too. She's beautiful; she's really nice to drive.
"There's some times she's in on the turns, out on the straights a little bit, but she prefers the bigger track and she got over this Mohawk surface great," McCarthy also said. "She kind of just does what she has to – when Scarlett [Hanover] came, she picked the bit up and got moving. I got the earplugs out and just wanted to make sure she got enough work into her for next week and she busted home pretty good."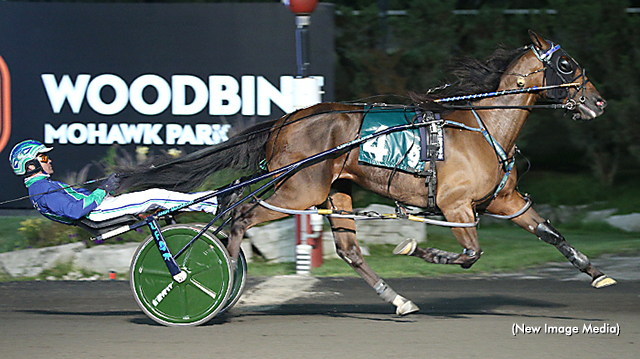 Owned by Sam Bowie, Hot Mess Express won her eighth race from nine starts this season and her 12th from 18 overall, earning $467,155. Tony Alagna trains the $2.40 winner.
Fire Start Hanover was in no hurry as the 2-5 favourite and weaved through traffic to take the second $35,000 elimination for the Fan Hanover in 1:51.1.
Voelz Delight dashed for the front before yielding command to Twin B Sunkissed past a :27.2 first quarter. Fire Start Hanover raced sixth up the backstretch as the field moved single file to a :56 half and caught cover to the far turn from Off The Record, who became rough gaited and forced driver Dexter Dunn to dive to the pylons with Fire Start Hanover. She made gains up the inside and slid off the pylons through a seam as the field clicked three-quarters in 1:23.3.
Once fed racetrack, Fire Start Hanover rolled alongside her competition and soon blew by, strolling clear to win over Voelz Delight. Notorious Pink took third with Off The Record finishing fourth and Spellcheck Hanover completing the finalists.
"She's obviously a classy filly, but when she's out there she's back to feeling really good," Dunn said after the race. "Her races lately have been great, but she just hasn't been quite herself. But she was back tonight. It's a good bunch of fillies here, and she's up near the top with them. She was obviously great last year and put some good miles in this year, but really tonight – the way she felt, made me really pleased."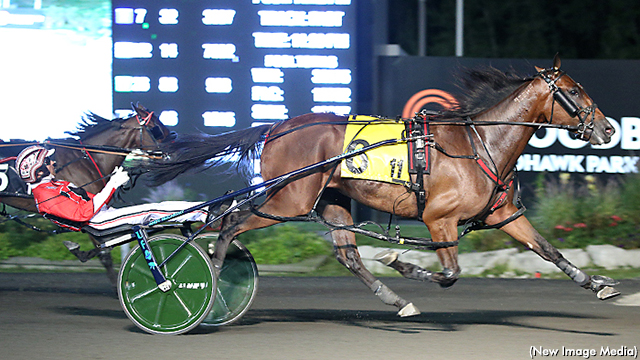 A daughter of Somebeachsomewhere, Fire Start Hanover won her third race from eight starts this season and her 11th from 21 overall, earning $802,272 for owners Pinske Stables, David Hoese and Lawrence Means. Richard "Nifty" Norman trains the $2.80 winner.
To return to the News Centre, click here.