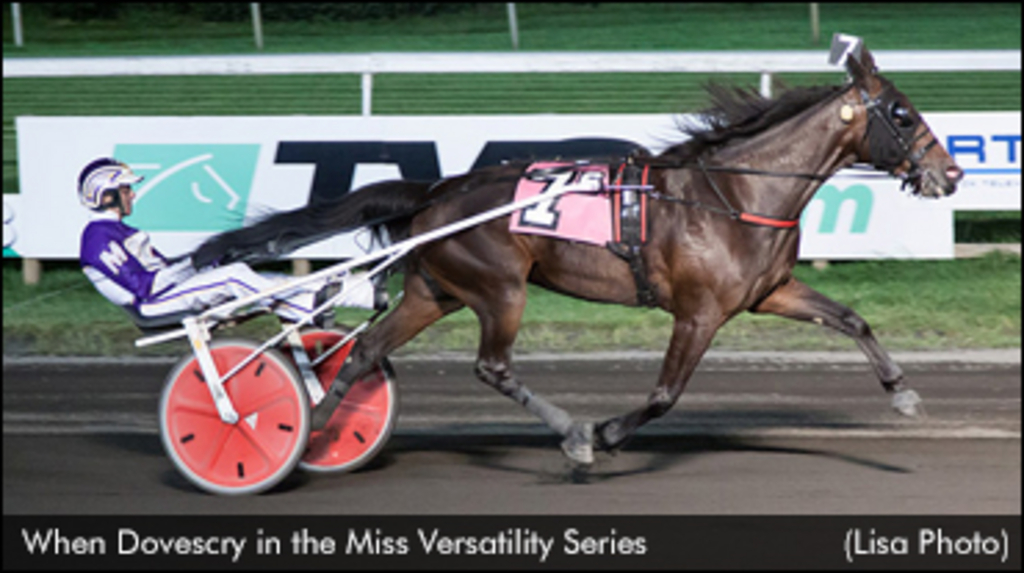 Published:
September 4, 2021 12:26 am EDT
It's tough to make a lot of noise in a division that includes Atlanta and Manchego, but When Dovescry continued to be heard loud and clear in the Miss Versatility, taking the sixth and final $40,000 leg of the series for open trotting mares at The Meadowlands Friday night, her fourth Miss Versatility score of the season.
A five-year-old daughter of Muscle Hill-Cedar Dove, the 2019 Hambletonian Oaks champion was on the go early but was stacked up wide around the first turn from post seven in the seven-horse field before driver Dave Miller urged the Brett Pelling trainee alongside leader Sorella as that one hit the quarter in :27.1 before taking the top shortly thereafter.
When Dovescry kept rolling on the point down the backside, trotting a spirited :27.4 second fraction to maintain the top. As the field made its way onto the far turn, Sorella, the 9-2 third choice, vacated the pocket to take a shot at the leader and got to within three-quarters of a length as three-quarters was timed in 1:24.1.
But through the stretch, Sorella was no match for When Dovescry, who went on to an easy 2-3/4-length win in 1:51.4. Felicityshagwell S was third.
"That's what we've seen before," said Pelling. "We just love her to death. She's matured into a rock-solid horse with no maintenance issues. She's very good and awesome to be around."
When Dovescry now has four wins from 10 starts this year (including a victory over Atlanta on July 31) and is 16-for-39 lifetime, with earnings of more than $1.3 million for owner John Lengacher.
As the 3-5 favourite, she paid $3.20 to win.
Up next on her dance card is the Armbro Flight at Mohawk before the estimated $100,000 Miss Versatility Final at the Delaware Ohio County Fairgrounds on Little Brown Jug Day (September 23).
Pelling had high praise for the two giants in the mare trotting division, horses When Dovescry will likely face in the coming weeks.
"Manchego and Atlanta? They're champions. They might be the best I've ever seen," he said. "Manchego is one of the finest gaited horses I've ever seen. She's incredible. But When Dovescry, she is a champion to us."
Friday night Grand Circuit stakes action also included the W.N. Reynolds Memorial Stakes for two-year-olds.
Dexter Dunn drove a pair of trotters to victories as the Walner filly Lilbitalexis took her $71,200 division in 1:53.2 for trainer Richard 'Nifty' Norman and the Muscle Hill colt B A Superhero was a 1:55.1 winner in a $42,600 split for trainer Lucas Wallin. The other trotting colt division went to the maiden-breaking Muscle Hill son Villain in 1:56 for trainer/driver Ake Svanstedt.
Tim Tetrick also had a pair of Reynolds victories in the pacing divisions with Captaintreacherous offspring, courtesy of the Brett Pelling-trained filly Treacherous Dragon, who won a $76,300 division in 1:53 flat, and Captainryanmichael, who took the $87,200 colt event in 1:51.3 for conditioner Joe Pavia Jr.
A LITTLE MORE: Dexter Dunn, fresh off winning the driving dash-win title at the Championship Meet, got his bid for a second consecutive Fall Meet crown off to a good start by winning three times on the card. … Paul Fusco, Pelling and Nifty Norman each trained a pair to victory lane. … All-source handle totaled $1,826,635. … Racing resumes Saturday at 6:20 p.m.
(With files from The Meadowlands)