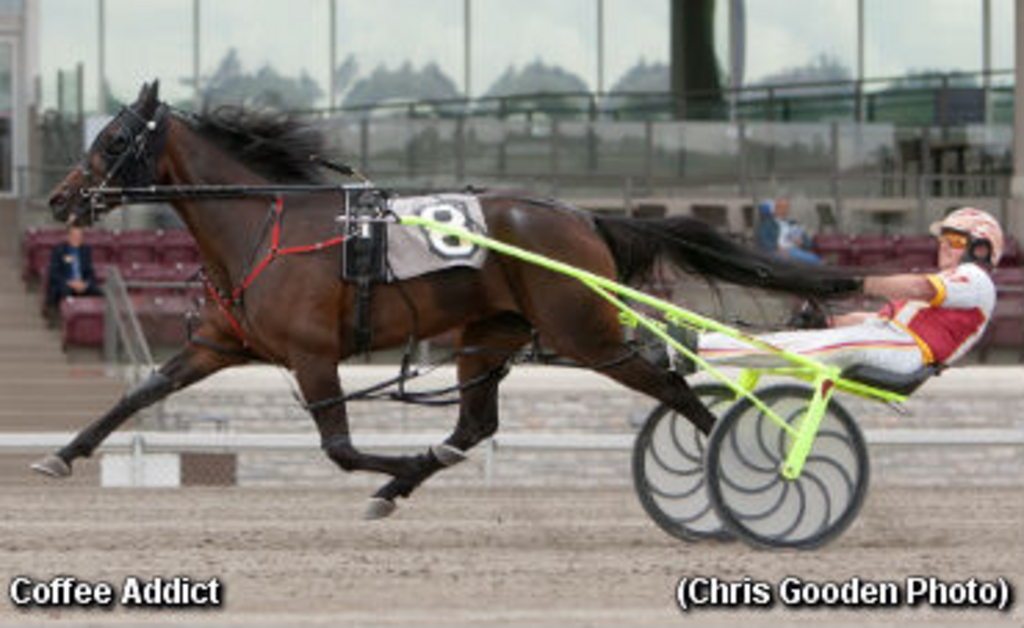 Published:
September 30, 2013 09:10 pm EDT
Classic Martine, Pennsylvania's co-champion three-year-old filly trotter, flashed that championship form Monday at The Meadows as she powered to victory in 1:53.3, a Keystone Classic record.
The $90,000 event was contested over three divisions, with Thistle Dhu and Drink The Wine — both piloted by Brett Miller — taking the other splits.
Classic Martine last raced in the PA Sires Stakes final Sept. 13 at The Meadows, when she and her stablemate, Frau Blucher, crossed the wire together in 1:53.2 – the fastest trotting dead heat ever. She was just as sharp Monday, quarter-poling to the lead for Dave Palone and drawing off to defeat the pocket-sitting Coffeecake Hanover by three lengths. Upfrontluckycarol was third.
"This might be one of the best trotting fillies I've driven," Palone said. "She's awesome. She was well within herself. I never let her trot at any point in the mile. Pretty impressive."
The time erased the previous stake mark of 1:54.3 established by Panthalops in 2011. Chris Oakes trains the daughter of Classic Photo-Drinking Days, who soared over $500,000 in career earnings, for Hauser Bros Racing, Susan Oakes, Conrad Zurich and Edwin Gold.
Thistle Dhu made it four straight wins — all since adding Lasix — but had to bear down to hold off the rallying Gliding To Glory by a nose in 1:55.1. Promisemethis earned show.
"We didn't want her on the front today; it just worked out that way," said Del S. Miller, who conditions the daughter of Donato Hanover-Yankee Topaz for William Donovan. "It was 17 days since her last race. I thought she was beat for sure. She just dug in."
In the PASS championship, Drink The Wine challenged down the backside but stalled and had to settle for fifth. She was much sharper in the Keystone Classic, converting a similar trip to victory in 1:56.1. UF Tadys Donato was a half-length back in second while Faith closed from well back to complete the ticket.
"I've been having trouble steering her," Brett Miller said. "Today, she steered perfect. That was the difference. It definitely made her go faster."
Nifty Norman trains the daughter of Andover Hall-Naked Lyric for Melvin Hartman and RAW Equine Inc.
Stunning upsets marked Monday's companion feature, as Coffee Addict scored at 21-1 while Live Entertainment took the other split at a nearly-as-juicy 19-1.
Coffee Addict figured to be racing for a check after drawing in with PASS champion Charisma Hanover, the 1-9 favourite. But when Charisma Hanover went off stride after breaking a hopple hanger, Coffee Addict took full advantage, brushing from the pocket to triumph in 1:52.3 for Aaron Merriman, trainer Bruce Saunders and owners James C. Clarke, Sr. and Andrew Altobelli. R Marie Hanover was 4-1/2 lengths back in second, with Canary Island third. The daughter of Dragon Again-Kahlua Queen vaulted over $100,000 in lifetime earnings.
"I actually thought I had a chance; I raced her like I did," Merriman said of the daughter of Dragon Again-Kahlua Queen. "I'm nut sure if that (break by Charisma Hanover) mattered. That's how good my filly was. She won very, very handy."
Live Entertainment endured a tough first quarter before finding a seat fourth, but she followed cover beautifully and prevailed in 1:52.4 for Dan Rawlings. Novascotia Hanover was second, a length in arrears, with Icommandmyspirit third.
"All the fractions were big, but the track seemed tiring today," Rawlings said. "I followed the horse I wanted to follow. The trip worked out to my benefit."
Jimmy Takter trains Live Entertainment, a daughter of Real Artist-West Side Glory, for Christina Takter and John Fielding.
Stake racing at The Meadows continues Tuesday with a pair of Keystone Classics — a $90,000 stake for three-year-old colt and gelding pacers and a $94,998 event for sophomore colt and gelding trotters. First post is 12:55 p.m.
(The Meadows)