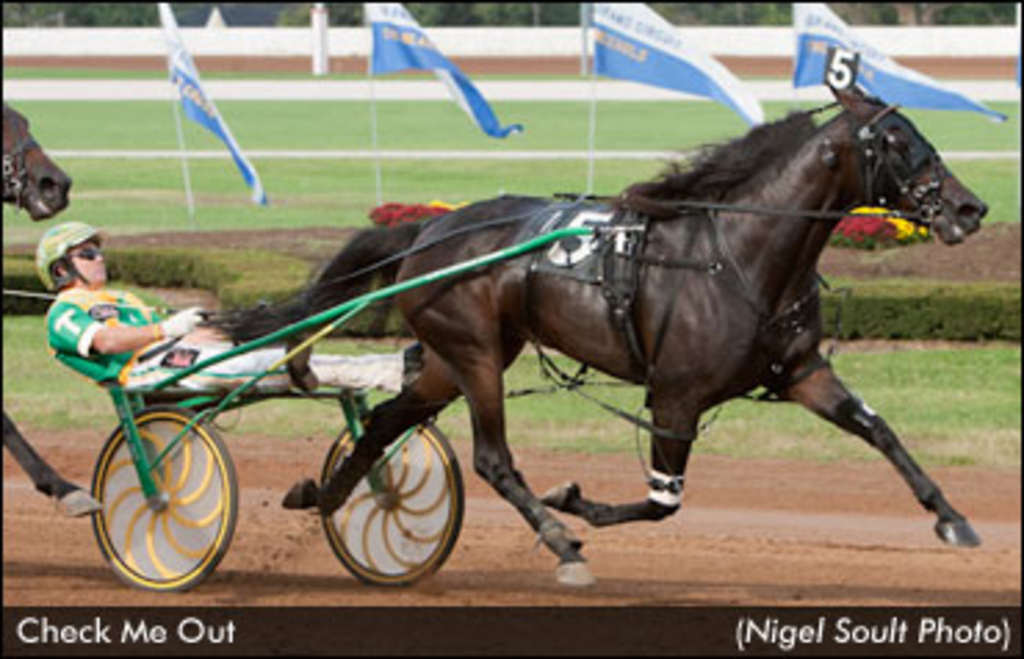 Published:
September 30, 2012 01:16 pm EDT
O'Brien Award winner Check Me Out trotted the fastest mile in harness racing history by a three-year-old trotting filly in her Bluegrass Series division on a stakes-filled Sunday afternoon at The Red Mile.
With Tim Tetrick in the sulky, heavy 2-5 favourite Check Me Out floated off the gate from the middle of the track alongside her main rival Maven (Yannick Gingras) and cleared to command around the first turn. She carved out fractions of :27.1, :56 and 1:24.2 with Maven pulling the pocket down the stretch. However, Check Me Out was untouchable as she cruised home to win in 1:51.2. Maven settled for second and Dream On Hanover (John Campbell) finished third.
Check Me Out shaved one-fifth of a second off the world record clocking of 1:51.3 over a one-mile track, which she set at Meadowlands Racetrack. The two-time Bluegrass Series winner has also turned in 1:51.3 miles two other times this year at the seven-eighths-mile Vernon Downs and five-eighths-mile Pocono Downs.
Ray Schnittker trains and co-owns the millionaire Donato Hanover-Illusion Bi filly, who is 11-for-13 this year, with Charles Iannazzo of Tappan, New York.
"She showed some toughness and Maven got a good trip behind her and it was a real good race. You need a great horse to race against to really show how good yours is," said Schnittker after the race. "She was great, they came to her and she put them away. I thought she would, but anyways it's a great feeling."
"I hope she stays sound and has about three or four more years in her," continued Schittker, adding that he would like do an embryo transfer with Deweycheatumnhowe and race her in Europe in two years time.
Three-year-old trotting fillies and colts were in the spotlight Sunday at The Red Mile as they faced off in a total of six Bluegrass Series divisions ranging from $69,700 to $76,000 in purses. The other filly winners were On The Bright Side and Chilitodayhotamale while Guccio, Money On My Mind and Appomattox won the colt divisions.
On The Bright Side kicked off the Sunday afternoon card with a career-best 1:53.4 wire-to-wire victory as the 6-5 favourite in the first filly division for driver Yannick Gingras and trainer Jimmy Takter.
The Cantab Hall-Passionate Glide filly made the lead easily after the insiders, 7-5 second choice Bluff (Tim Tetrick) and Real Babe (Ray Schnittker), broke stride behind the gate. She then led the field past fractions of :28, :57 and 1:26 en route to her fourth win of the season in 11 starts. Dorsay (Corey Callahan) pulled the pocket down the stretch, but still finished one length behind in second while Bluff, who caught the field going into the first turn, rallied wide at the third quarter mark and closed for third.
On The Bright Side is owned and bred by Brittany Farms of Versailles, Kentucky.
Takter swept the early Daily Double as heavy 1-5 favourite Guccio wired his trotting foes in a personal-best 1:52.1 clocking in the first colt division.
Guccio swept from third to first after the :28-second opening quarter and never looked back as he led the field -- which was scratched down to five (Magic Tonight) with one late breaker (Scary Good) -- past middle splits of :56.1 and 1:26 and kicked home in :26.1 to the one and a half length victory. Early leader Solvato (Trond Smedshammer) chased him home for second-place honours with a broken race bike and Modern Family (Mike Lachance) followed in third.
The son of Yankee Glide and Southern Senorita is owned by Christina Takter of East Windsor, New Jersey, Toronto's John and Jim Fielding, and Falkbolagen Ab of Allentown, New Jersey.
Although Guccio has only won two races in 12 seasonal starts, he's has seven top three finishes while facing the best sophomore colts in the trotting division and has stashed away close to $650,000 in purses. The colt came up just a neck short in the Hambletonian and finished third by half a length in the Canadian Trotting Classic.
"He's been racing fantastic all year," commented Takter in the winner's circle. "He's a horse that has been a project all year. He was very easy to go on a break. You have to be very careful, especially the first half [of the race], and he comes good at the end all the time. He's getting better and better."
Takter said that recently adding hopples to Guccio's equipment has allowed the colt to improve on his performance earlier in a race.
"With hopples I can use him better out of the gate," noted Takter. "He really doesn't need them, but it's so tough when you end up seventh or eighth at the half every time and have so much ground to make up."
Driver Yannick Gingras picked up a live catch-drive behind Trond Smedshammer trainee Chilitodayhotamale, who bested her foes in the second filly division with a career-best 1:52 off-the-pace score.
Helen Smith Trot champion Chilitodayhotamale capitalized off hot early fractions of :26.4 and :54.1, avoided the first over breaker and kicked home to win for the third time this year in 13 starts.
Win Missy B (Ron Pierce) fired to the lead from post five with Superstar Hanover (Jimmy Takter) rolling up alongside from post six. Superstar Hanover eventually cleared to command after the opening quarter, but Win Missy B moved back out for the retake down the backstretch. She then opened up four lengths en route to the 1:23 third quarter mark with Personal Style (David Miller) advancing first up before breaking stride and forcing second over Uncommon Night (John Campbell) three-wide.
Win Missy B maintained her open length lead into the stretch, but Chilitodayhotamale emerged from the pack and swept by to win by three lengths. Win Missy B held off Oasis Dream (Tim Tetrick) for second.
"It kind of set up for her with the big fractions up front," said Gingras after the race. "I had her too close to the gate actually; she was a little bit shaky when the gate opened, but as fast as they were going it worked out for us."
Despite being affected by the breaker in the final turn, Gingras said he knew his filly could get by Win Missy B in the stretch.
"I had to check her pretty good as I actually went to the inside first," he noted. "I thought David [Miller] was going to go out, but then John [Campbell] put his leg there so David had to wait. So I had to check her pretty good, but the other one [Win Missy B] was coming back to us, so there was never an anxious moment."
The winning Muscles Yankee-Miss Molly Tamale filly is owned and bred by Michael Andrew of Gorham, Maine.
Money On My Mind converted from the pocket and wore down 2-5 favourite Little Brown Fox to upset the second colt division in a career-best 1:52.2 for driver Andy Miller and trainer Julie Miller.
Leaving from post six, Money On My Mind established the early lead while outside post seven starter Little Brown Fox (Yannick Gingras) rolled up alongside him and poked a head in front at the :27.1 opening quarter mark. The favourite cleared to command down the backstretch and carved out middle splits of :55.4 abd 1:24.3 with Lightning Storm (Corey Callahan) moving first up from third. However, Money On My Mind pulled the pocket as they turned for home and got up for the 19-1 upset in the photo finish. Banker Volo (David Miller) came in third.
"I thought I got by him [Little Brown Fox], but it was pretty tight. This guy really dug in to get by him," said Miller of the tight finish. "He was great today and he raced really good on Tuesday at The Meadows. He just didn't like Canada much a couple of weeks ago there [breaking in the Canadian Trotting Classic], but he showed up today and he's been getting better. It's kind of been an up and down year for him."
Miller credited the Money On My Mind's Sunday winning effort to the colt's team and the change in racing surface.
"We made a couple of changes and I'm sure he loves the surface here at The Red Mile; all horses do," he said. "It's such nice place and such a nice day today."
Money On My Mind, a Colonial Consolation and Reynolds Stakes winner, earned his third victory in 13 seasonal starts for owner Black Horse Racing of Lebanon, New Jersey. The Cantab Hall-Repititions gelding is now just a couple thousand dollars shy of the $500,000 earnings mark.
Appomattox came charging down the home stretch to win the final colt division in a new mark of 1:52.2 giving driver Scott Zeron his first stakes victory at The Red Mile.
Beer Summit (Ron Pierce) took the lead off the gate from post four while From Above (Tim Tetrick) broke stride to his outside in the opening turn. His lead was short-lived though as Big Chocolate (Homer Hochstetler) pulled the pocket at the :28.2 first quarter mark and swept to command down the backstretch.
Big Chocolate raced past the half in :56.1 while Another Amaretto (Andy Miller) was flushed first up from third and cleared to command leaving 8-5 favourite Fusion Man (Tyler Smith) first over. Another Amaretto reached three-quarters in 1:24 and spun into the stretch with Fushion Man picking up the chase and Appomattox rallying wide off his cover. Appomattox eventually wore down Another Amaretto for the narrow score while Fushion Man settled for third.
Frank Antonnaci trains the Yankee Glide-Courtney Hall gelding for Lindy Racing Stable of Enfield, Connecticut, Adam Victor And Son Stable of New York City, New York, Toronto's John Fielding, and Brittany Farms of Versailles, Kentucky. The win was just his second of his career.
"He really stepped up," said Zeron after the race. "He's been racing good all year, but he's been out-shined by a few other ones. Today we really lucked out on the trip. I was able to keep him in all the way to the last turn and then shake loose for a nice second over trip following the favourite...He really dug in and beat some good horses today."
Zeron added that he is hoping for similar results in their next assignment, the Kentucky Futurity next week.