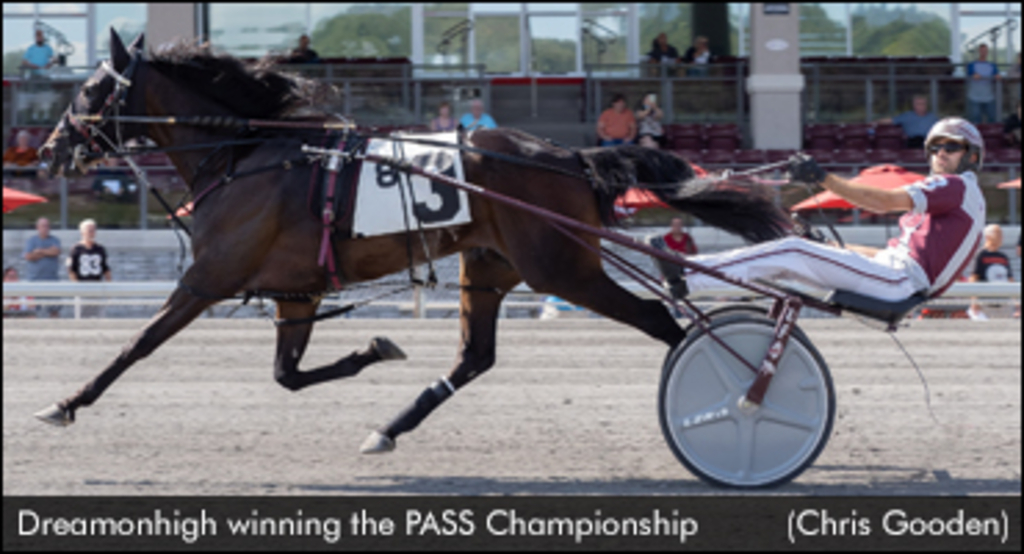 Published:
September 3, 2021 08:36 pm EDT
Dreamonhigh became the fastest freshman trotter ever at The Meadows — regardless of gender — when she blazed a 1:54 mile to capture Friday's $253,000 Pennsylvania Sire Stakes championship for two-year-old filly trotters.
The Meadows hosted all four PASS championships for two-year-olds, with True Blue Lindy, S I P and Captain Cowgirl also winning finals. Tim Tetrick collected a pair of titles with True Blue Lindy and Captain Cowgirl.
Dreamonhigh was away third for Joe Bongiorno, who made an alert quarter-pole move to the top that kept several contenders, including 2-5 favourite Mon Cheval, parked. The strategy was flawless, as the daughter of Andover Hall-Rich Dream drew off late to triumph by 4-1/2 lengths. Although Mon Cheval never saw the pylons, she was good enough for second, with Tie One On third.
"Sometimes from the inside here, it's hard to get them off on the right foot," Bongiorno said. "I wasn't about to rush her. I know she's fast enough, and I think she prefers being off a helmet. So I gave her that chance today, and she proved to be real tough.
"She's always had the tools; it's a matter of keeping her mind right. She wants to get a little aggressive, but she did her job today."
Jennifer Bongiorno trains Dreamonhigh, who kicked up her bankroll to $219,191, for KAT Stables.
Her time eclipsed the 1:54.1 track record for colts, held by Captain Corey, and Sister Sledge's 1:54.1 mark for fillies. (Real Cool Sam is the fastest gelding at 1:54.4). The time also lowered the 1:54.4 stakes record established by Frau Blucher in 2012.
Highlights of the other PASS finals:
$254,000 PASS Championship — Pacing Colts & Geldings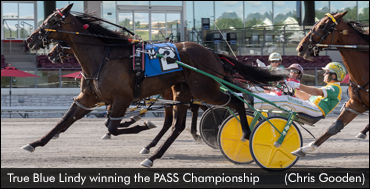 Trainer Jeff Cullipher and Tom Pollack of Pollack Racing purchased the budding Canadian star True Blue Lindy less than three weeks ago. In his first two U.S. starts, he won the final PASS preliminary leg and Saturday's final — but he was all out to claim the title.
When Tetrick sent him on a first-over move, the Always B Miki-Think Pink gelding easily cleared the weary, previously undefeated I Did It Myway, who suffered a demanding trip from post nine. But when True Blue Lindy moved, he tugged along Wearinmysixshooter, who peeled wide for a serious challenge in the stretch. True Blue Lindy dug deep and turned him back by a neck in 1:52.1, while Fourever Boy earned show.
"After watching all the video before we purchased him, we thought he was that kind of a fighter," Cullipher said. "That's what makes a good horse. We look like we know what we're doing."
He indicated he's unsure of the next race for True Blue Lindy, who now boasts a bankroll of $276,372.
$253,000 PASS Championship — Trotting Colts & Geldings
S I P hadn't started from inside post seven in his last four starts, so he figured to be much better from post four, right? He was, but not without adventures, as Yannick Gingras had to steer him through tight quarters both early in the mile and late before S I P could knife inside and prevail in 1:55.2, a neck better than Parola Hanover. Global Pandemic overcame post nine to finish third.
"He finally drew better this week, and Yannick put him in a perfect spot that allowed him to get through late," said Ron Burke, who conditions the son of Bar Hopping-Barbara Brooks for Burke Racing Stable, Hatfield Stables, Brixton Medical Inc. and Weaver Bruscemi LLC.
S I P, who's ticketed for Kentucky Sires Stake action at Lexington, not only extended his career earnings to $258,932, but he also matched the stakes record held jointly by Dontyouforgetit and Alexander Hanover. Gingras was aboard for all three record-sharing performances. Asked if he "owns" this event, Gingras joked: "Talk to me after next year's race."
$253,000 PASS Championship — Pacing Fillies
This final had its share of drama. As Hit Me up rallied through the Lightning Lane and gained on Captain Cowgirl, the pair hit the wire together and appeared all but inseparable. However, the judges' lengthy examination of the photo revealed that Captain Cowgirl was a nose ahead in 1:52.2. Somesweetsomewhere completed the ticket.
Tetrick, who owns the daughter of Captaintreacherous-Rideintothesunset with Jo Ann Looney King and Kenneth Frieder, said that ownership role makes the filly's success — she's won five of six career outings — particularly sweet.
"It's special when you get to own a few. Luckily, they let me buy in on her," Tetrick said. "It was tight today, but I did think I held on to the wire. A step after the wire, he got me."
Winning trainer Jim King Jr. said Captain Cowgirl would race next in the Keystone Classic at The Meadows.
"This place has been pretty kind to us, so why not?" King said.
The $50,000 PASS consolations went to Caviart Scout (colt and gelding pace), Andoverthewinnings (colt and gelding trot), Hood Party (filly pace) and Danznqueen Hanover (filly trot).
Live racing at The Meadows continues Saturday when the 13-race program features a $69,272 carryover in the final-race Super Hi-5.
(With files from Meadows Standardbred Owners Association)